A united fight against COVID-19 helped members of the B.C. boxing world come together to fight against each other in an event held Saturday at North Vancouver's Griffins Boxing.
Nine bouts were held with strict pandemic protocols and without spectators Saturday afternoon, as fighters from clubs in Nelson, Mission, Vancouver and Nanaimo came to Griffins for the first event the club has held since the COVID-19 crisis hit in March. The fact that they were able to organize and carry out the event following all of the new regulations put in place by the sport's governing bodies and viaSport was a testament to the determination of the clubs and fighters across the province who want to keep their sport moving forward in a safe manner, said Griffins head coach and club owner Dave Brett.
"All the clubs are working together really nicely, and Boxing B.C. – we're all on the same page, to stay healthy and stay safe, but also to stay active," he said. "We're all competing against each other, but we're all working together as well."
Brett gave a huge hat tip to Empire Boxing Promotions, who on Oct. 9 put on the first Boxing B.C. sanctioned event since COVID hit. That event, held in Richmond without spectators, provided the blueprint that Griffins followed for their COVID-safe slugfest, the second card to be held in B.C. under pandemic restrictions.
"They went through all the hell to actually get the protocols," said Brett. "They did a ton of legwork. We were very fortunate because they gave us all the protocols, we just followed it and it worked really well."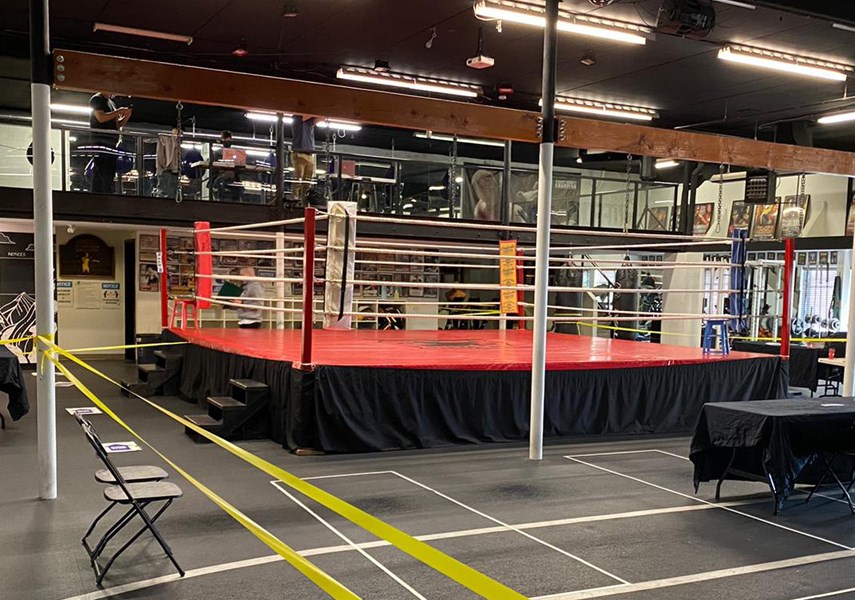 Saturday's event included a wide range of new safety regulations that saw each team following strict protocols throughout the day, arriving together for weigh-ins, staying isolated from other team cohorts in the gym, and leaving the club promptly at the conclusion of their bouts. Boxers were not required to get tested for COVID-19 before their fights, but medical checks were conducted and each fighter was required to be symptom free before stepping in the ring. All of the fighters are also required to stay isolated from other opponents for two weeks following their bouts.  
When all the COVID precautions were finally checked off, fans across the country were treated to an event featuring several of the top amateur boxers from across the province. The card was broadcast live on a pay-per-view livestream that featured boxing announcers and commentators describing the action.
Brett said that getting back in the ring for a real fight provided a major motivational boost for his fighters, many of which have big dreams for their boxing careers.
"They have goals to go to the Olympics," said Brett. "And when they've been stalemated with no real goal, it's been very hard. But then when a goal came, there was actually hope. It was awesome. We have a really incredible team right now that trains healthy and trains safe, but they also train hard."
The successful event has the Griffins team fired up for more action, said Brett.
"It helps the sport overall when people can see that the possibilities are there and we can still be safe and we can still run things smoothly and take into account the COVID protocols and health restrictions," he said.
Griffins Boxing is set to host another card following the same protocols and with pay-per-view streaming on Nov. 28.