Come late August, Sea to Sky residents will be invited to look up - way up.
It won't be a marathon screening of the 1980's CBC classic, The Friendly Giant, but giant fun will be in the offering just the same.
The Arc'teryx Climbing Academy is returning to Squamish from August 26 to 28 to highlight its milestone 15th anniversary, a celebration that promises something for the littlest climber up to the most seasoned outdoor enthusiast.
Over this action-packed event, downtown Squamish will play host for two days and nights of cultural touchpoints, films, athlete presentations and live music.
While celebrating is at the heart of the event, so too is education. To that end, Arc'teryx has teamed up with Canada West Mountain School to host an array of unique learning opportunities curated by Arc'teryx athletes who'll take your mountain skills to new heights. Each clinic is a full day of hands-on practical experience - be sure to sign up today before spots are gone.
Running from noon to 7 p.m. on August 26 and 10 a.m. to 7 p.m. on August 27, the vendor village will come alive with community partner activations, a dyno competition, live music, youth climbing opportunities and more.
Geared specifically towards the younger set, the Hive Bouldering Wall Youth Climbing Day runs from noon to 4 p.m. on August 26. Whether it's your first time or you're a seasoned pro, the wall has routes for everyone.
Day one rounds out with a handful of engaging evening offerings kicking off at 7 p.m.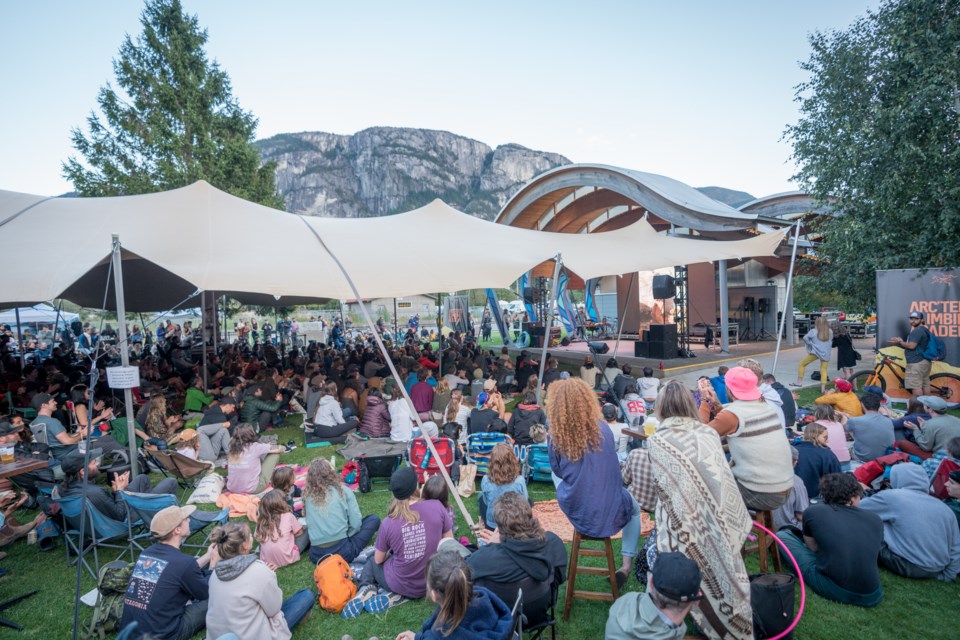 Starting at 7:25 p.m., Jimmy Martinello's presentation "Elevate the Soul" takes attendees from the Coast Mountains to the Himalayas, from Iceland to India and beyond, featuring adventure stories, live music slideshows and a dance performance you don't want to miss.
A premier screening of the film Frontlines at 8:05 p.m. will follow three emergency room nurses who find balance in their lives through rock climbing while dealing with the rigours of COVID-19.
Professional rock climber, first ascensionist and public speaker Timmy O'Neil shares stories from his climbs and travels around the world – including early speed ascents of Yosemite's 3,000-foot El Capitan – at 8:40 p.m.
Subcontinental pop supergroup Delhi 2 Dublin rounds out the evening at 9:30 with its immersive mix of deep South Asian roots and expansive, crazy-fun appeal.
Those looking to continue the festivities can do so from 11 p.m. on both evenings at One and a Half Ave in downtown Squamish for the Arc'teryx Academy after hours.
Day two includes the Hive Bouldering Wall Adult Dyno Comp running from 10 a.m. to 5 p.m. at Pavilion Park; plenty of prizes are to be won, and the finals go at 4 p.m.
Long-time Squamish climbing luminary Tami Knight presents "A Climbers Approach," beginning at 7:25 p.m. From there, local filmmakers and cast members Jen Randall, Michelle Le Blanc, Sandy Ward and Knight present their film Pass It On, a series of short vignettes celebrating the Squamish climbers who remind us of why we choose to put down roots here.
Jordan Cannon and Mark Hudon close out Day 2 with a behind-the-scenes recap of their film As Free As Can Be before live music courtesy of The Funk Hunters + Chali 2na begins at 9:30 p.m.
Organizers do note a couple of key points for attendees:
Parking is very limited near Pavilion Park; cycling or walking to events is encouraged. OurSquamish will be onsite offering bike valet by donation. *Please note, bike valet is by cash only donation.
With the exception being the bike valet, the rest of the event will be cashless, so please expect bar and raffle ticket purchases to be done via credit or debit card.
Chairs will be available for the evening programming on a first-come-first-served basis.
A variety of alcoholic and non-alcoholic beverage options will be available for sale during the evening events: Backcountry Brewing, Strait & Narrow Cocktails, Tality Kombucha and more.
Doors open at 6 p.m. and programming starts at 7 p.m.
For more information on this sensationally stellar event, visit squamish.arcteryxacademy.com.