NDP Leader John Horgan made a campaign stop at Squamish's Carbon Engineering on Friday morning to say that, if re-elected, his party would work to pass legislation requiring B.C. to reach net-zero by 2050.
By net-zero emissions, he means there would be either no harmful carbon emissions or they would be offset by natural carbon sinks, carbon capture or other technologies.
"Based on the technologies that are evident here at Carbon Engineering, we are committed to a net zero emission profile by 2050, which means not only will we meet our reduction targets, but we will also aggressively go to make sure that any new emissions are offset by either sequestration or some other technologies to make sure that net zero allows our economy to continue to grow and also addresses the challenge of further greenhouse gas emissions," said Horgan.
Horgan made the announcement at Carbon Engineering because its technology will help B.C. meet its net-zero target, he said.
The company located on the Squamish Oceanfront, is working on Direct Air Capture technology to scrub carbon from the air.
George Heyman, the former executive director of Sierra Club BC and BC NDP candidate in Vancouver-Fairview, was also on hand.
"The climate crisis is not a challenge we can leave to future generations, it's here right now — we can see it all around us with more wildfires and natural disasters," said Heyman. "Today's commitment builds on the progress we've made to reduce emissions and create new opportunities with CleanBC."
CleanBC is the plan to reduce greenhouse gas emissions by 40% by the year 2030, based on 2007 levels.
While fossil fuel projects such as LNG Canada and Woodfibre LNG have moved forward under the NDP's term, Horgan said these projects must meet environmental standards.
He also said there was space for new but not excessive industrial emissions.
Should emissions come up in one sector, they must go down in another, Horgan said.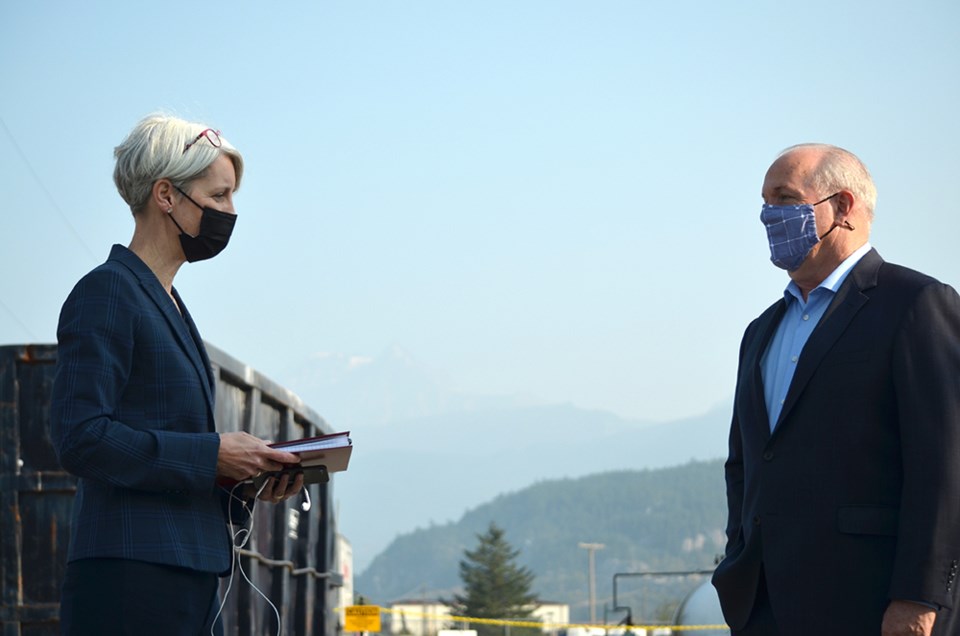 Squamish Mayor Karen Elliott was also at the conference, but was not a featured speaker. Shortly afterward, she exchanged some words with the leader about Woodfibre and the broader LNG industry.
"[I] talked to the leader about the fact that [the LNG] industry has to take care of its own emissions, because if they don't, that means the rest of us have to work harder," Elliott told The Chief.
"It's important to set that expectation at the senior government level."
The Green Party was quick to criticize Horgan's announcement.
In a news release, the party's leader, Sonia Furstenau, said that studies show that when the B.C. NDP's LNG Canada fossil fuel project is factored in, emissions from oil and gas production will exceed the BC's existing 2050 target by 160% even if all other emissions are reduced to zero by 2035.
"With their approval of the biggest point source of emissions in B.C.'s history just last year — a project that will pollute well into the 2060s — the NDP have shown they cannot be trusted to act on climate change. If the NDP are serious about climate action, they must end fossil fuel subsidies now," Furstenau said.
Squamish's local Green candidate was also quick to add his voice.
"Targeting net-zero in 2050 is great, but the progress on CleanBC so far shows that BC needs Green MLAs in Victoria to get us there. We need to finish planning how to meet the current targets, which the NDP has been reluctant to do," said Jeremy Valeriote in a news release.
He also said remarks regarding the Woodfibre project.
"Woodfibre LNG is a carbon stake in the heart of the fragile Howe Sound ecosystem, one of our precious natural assets beginning its recovery from a century of over-industrialization," said Valeriote.
"Why re-industrialize Howe Sound when it is making such great progress in green jobs in tourism, outdoor adventure and clean tech? We need to turn our backs on the fuels of the past and embrace a clean energy future. By supporting LNG, the NDP is not walking the talk of Clean BC. Only the BC Green Party has consistently opposed LNG and its direct conflict with the health of Howe Sound and our planet."
The election is slated for Oct. 24.