The end of a long, hot drought on B.C.'s South Coast is expected this weekend as rain will fall for the first time in over a month.
For water managers and local stream keepers anxiously awaiting the autumn salmon runs on local rivers, the change in the weather can't come soon enough.
"There is a pretty big shift in the weather we're expecting starting on Friday," said Environment Canada meteorologist Alyssa Charbonneau.
Between five and 15 millimetres of rain is expected on Friday (Oct. 21), followed by more rain on Sunday and early next week.
It'll be a stark change from the complete lack of rain so far in October and the negligible 11 millimetres of rain that fell in West Vancouver in September.
"We do get dry Octobers," said Charbonneau. "But to go all the way from July to mid-October, that is extremely rare."
The rains will be welcome news to water managers throughout the South Coast.
Water reservoirs drop
On the Sunshine Coast, extreme drought in region's Chapman Creek water system prompted the regional government to declare a state of emergency this week, shutting off water to non-essential commercial users including breweries.
In Metro Vancouver, residents have been urged to conserve water and take shorter showers as the water supply in the area's three reservoirs – the Capilano, Seymour and Coquitlam – dipped to 120.6 billion litres of storage on Oct. 16.
That's still within normal range, according to Metro – but only just, with reservoir levels dipping lower than they have in any recent drought year.
Since Aug. 1, watershed areas have received only 50 mm of rain, compared to an average of 400 mm between Aug. 1 and mid-October in a more typical year, said Marilyn Towill, general manager of water services for Metro Vancouver.
Recently, Metro has been drawing about 28 per cent of its water from the Capilano Reservoir – where areas around the shoreline usually under water have recently been visible– and 23 per cent from the Seymour Reservoir, while just under half is being drawn from the Coquitlam Reservoir.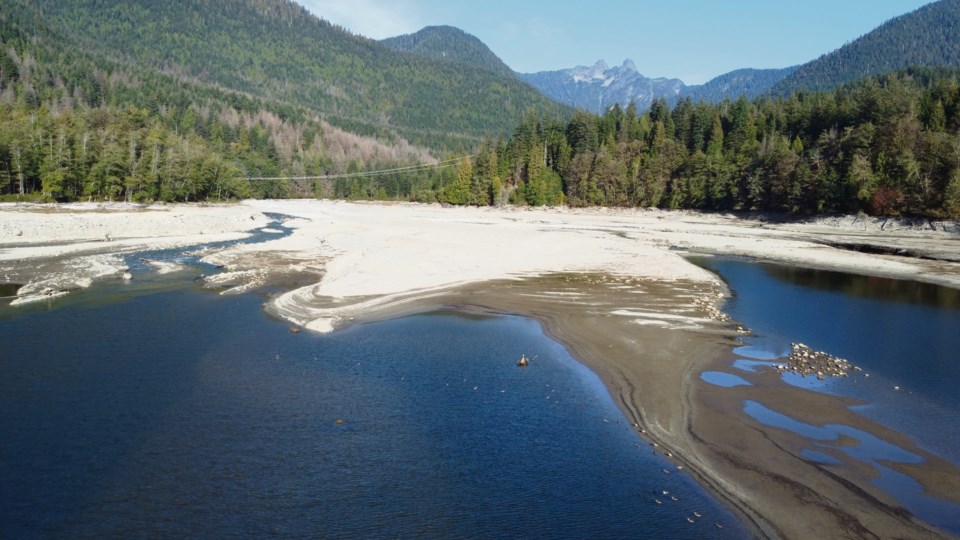 Water consumption up 20% in Metro Vancouver
Water consumption in the Greater Vancouver region has recently been about 20 per cent above normal for this time of year. Last year, Metro Vancouver delivered about one billion litres of water per day in October compared to average daily demand of 1.2 billion litres this month.
Water consumption varies considerably throughout the region.
In Metro as a whole, 398 litres per capita per day is average with peak water use in summer topping out at about 662 litres per capita.
Figures for "per capita" use, however, also include water that is used for commercial and industrial purposes. In the City of North Vancouver, for instance, about 24 per cent of water use is for industrial and commercial purposes, while in the District of North Vancouver, the number is about 20 per cent.
Residential water use in the city is currently about 377 litres per capita daily, according to the municipality, while in the district it is about 306 litres per capita daily. Water consumption figures for West Vancouver were not available at press time.
Another group that will be cheering the anticipated rains this week are local stream keepers.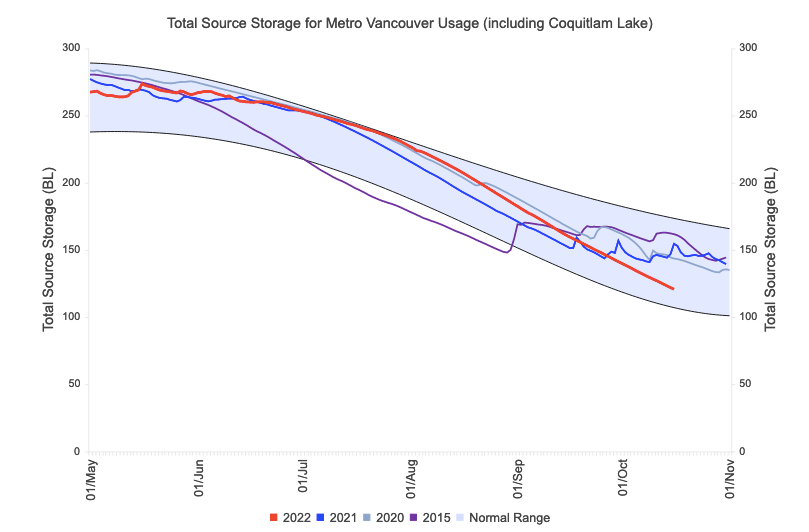 Salmon waiting for rain to spawn
Salmon usually return to local rivers to spawn with the fall rains in October. This year, with most local creeks bone dry, that cycle has been delayed, said Eric Taylor, professor of zoology at the University of British Columbia.
"Sometimes they'll mill around in the Strait of Georgia," while waiting for the rains, he said.
Salmon are quite adaptable, said Taylor, but the drought will put extra pressure on the fish. "It's not too late for them, but there is a limit to how long they can wait. I think a month would be pushing it."
Glen Parker, a board member of both the North Shore Streamkeepers and Seymour Salmonid Society, said conditions can vary quite a bit depending on the stream.
Early runs of coho, which head up local rivers in the earlier part of summer,benefited from a wet June, he said. But some fall runs of salmon have been delayed.
Some of those fish have come into the rivers and been stalled at the point where the streams aren't passable, he said. Others are waiting at the mouth of the creeks.
"Nature is pretty resilient," he said. As soon as it rains, "We're going to see rivers come alive with fish."
Expect to see that big weather shift on Friday, said Charbonneau.
Temperatures to return to seasonal normal
In addition to the end of the drought, the weekend will see temperatures fall.
During October, West Vancouver smashed six high temperature records as well as several overnight minimum temperatures. The most recent of those was this past weekend, when West Vancouver recorded temperatures of 24.8 C on Oct. 15 and 24 C on Oct. 16.
Starting next week, however, temperatures should be back down to seasonal norms, she said – with daytime highs around 13 degrees.