Vancouverites have added plays, sporting events and festivals back into their post-pandemic routines but are not yet consuming live, in-person entertainment as frequently as they did before COVID-19 shut down and then dramatically altered in-person gatherings.
Some organizations, such as the Vancouver Opera and the BC Lions, are reporting far stronger attendance than what they registered pre-pandemic. Most, however, continue to see attendance lag what it was in 2019.
Some would-be attendees may have simply lost the habit of consuming in-person entertainment. Some may have discovered that they prefer to stream entertainment at home, or aren't keen to travel into the city for fun after a day of remote work.
A higher cost of living has also crimped budgets.
While Canadian inflation slowed to a 3.3-per-cent annual rate in July, down from a peak of 8.1 per cent in June 2022, many people in B.C. are feeling financially pinched and are less willing to pay for in-person entertainment.
Those who are willing to pay to go to events in some cases find that prices have soared.
Fans pay higher prices to see concerts
Ticket prices to see concerts tend to be much higher now than they were pre-pandemic.
Concert promoters in many cases are charging what ticket vendor and Vancouver Ticket and Tour general manager Kingsley Bailey called "crazy prices."
Sometimes that strategy works out well.
British singer Ed Sheeran attracted more than 65,000 fans to his Sept. 2 concert at BC Place – a record for a concert at the 40-year-old venue.
Bailey, however, said that in many cases the concerts are not fully attended because ticket prices remain high even close to showtime.
"There's just too much availability for different shows," he said. "There are too many shows, and not enough butts to be able to afford to go to them all."
He said many tickets to see artists such as Drake, Beyoncé and 50 Cent have hovered in the $500-to-$700 range, and those are not for seats in the best sections.
Drake had two shows and each had at least hundreds of prime tickets available nearing showtime, Bailey said.
Concerts at smaller venues, such as the Commodore, have been packed for recent shows, such as the Aug. 30 Collective Soul performance.
Bailey told BIV that the B.C. government should pass legislation to help concert fans get a better idea of how many tickets concert promoters are putting on sale at once. That would help fans determine how strong demand might be if the show appears to immediately sell out.
Promoters often put only 30 per cent of tickets on sale initially to create a perception of high demand that justifies high ticket prices, he said.
BC Lions are sports franchise with highest attendance growth
One Vancouver organization pricing tickets appropriately, Bailey said, is the Canadian Football League's (CFL) BC Lions.
Entrepreneur Amar Doman bought the team from the estate of David Braley in mid-2021 and put in place a spate of initiatives to get fans in seats, including lowering some ticket prices.
Bailey said he thinks efforts to have more fans in the stadium is smart because it creates a better game atmosphere and helps the team generate more revenue from concession stands.
CFL data show that the BC Lions at the beginning of September attracted an average 23,937 fans per game. That was up 3,550 fans per game from last year, and up 6,134 fans per game from the per-game average of 17,803 fans in 2019.
"Our season tickets alone are close to doubling," BC Lions president Duane Vienneau told BIV, without specifying exactly how many season tickets his team has sold.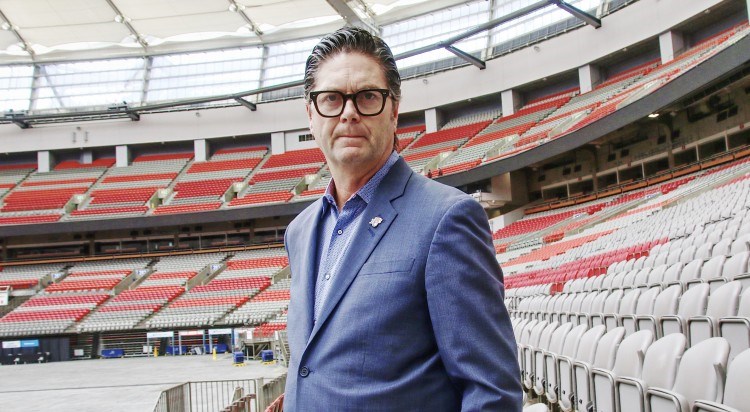 Some of the BC Lions' strategies to get fans into seats include:
• Starting more games at 4 p.m. so families that live in the Fraser Valley can get home earlier, and fans on Vancouver Island have time to catch a post-game ferry;
• Having a youth ticket rate of $10 for anyone younger than 18 years old;
• Hosting pre-game "tailgate" parties at Terry Fox Plaza, where an area is fenced off and licensed for alcohol and food sales while bands play to entertain fans;
• Sometimes providing an in-stadium pre-game concert, such as a performance by LL Cool J at the team's home opener this year;
• Initiating packaged transportation-and-ticket offers to fans on Vancouver Island; and
• Sometimes having merchandise giveaways for the first 5,000 fans in the building.
"We're still implementing [Doman's] strategy today," Vienneau said. "It's about how we attract the kids – how do we attract families? How do we be more accessible? How do we have everybody in the province wanting to come to Lions games?"
The BC Lions next year host the Grey Cup championship game. That has prompted some fans to buy season tickets this year because doing so gives them better access to Grey Cup 2024 tickets, Vienneau said.
The fact that the BC Lions have fielded a quality team has also helped generate fan interest.
The team last year hosted the first professional sports playoff game in Vancouver in what had been more than five years. The Lions followed that up by winning eight of the team's first 12 games this year.
The Vancouver Canucks have also seen a rise in attendance compared with 2019, albeit a slim one.
The team last year saw an average 18,702 fans per game at Rogers Arena, up from an average of 18,680 fans per game in the 2019-20 season.
"We do not share details of our season-ticket data," the Canucks told BIV in an email. "As for marketing strategy, that is also something we prefer to keep in house."
Bailey said he sees little demand for Vancouver Whitecaps tickets even though that team, like the Lions, has a winning record and is poised to make the playoffs.
The Whitecaps in early September had averaged 16,164 fans per game, which was the fourth-worst average of the 29 teams in Major League Soccer (MLS). In 2019, the Whitecaps averaged 19,514 fans per game.
Whitecaps CEO Axel Schuster is trying to increase attendance by working closely with youth soccer organizations.
The team has no reduced ticket prices for children and teens who buy single-game tickets, but the team provides discounted tickets to youth soccer organizations to attract young fans to games, Schuster told BIV.
Schuster said he plans to create special ticket packages for families, where there is one price for two adults and two kids to attend as a group, for example.
"We have to figure out how we do that at the entrance gate," he said.
Schuster said another of his strategies is to have themed nights to honour various communities, such as celebrating the LGBTQIA2S+ community with Pride Night, and other nights for South Asian and Indigenous communities.
Sometimes the team provides merchandise giveaways to fans, but he said that this was not a main strategy to get them in the stadium.
Schuster also said he has discussed with the league having more games start in the later afternoon, as opposed to early evening, and having home-game dates spaced out more evenly so that the team does not play three home games in eight days, which has happened. The team has also gone long stretches within the season without playing any games at BC Place.
Apple Inc. (Nasdaq:AAPL) is MLS's new broadcast partner, and it also has sway on the kickoff time for games, Schuster said.
The Whitecaps' main sponsor switched this year to Telus Corp. (TSX:T) from BCE Inc. (TSX:BCE) which previously broadcast all Whitecaps games. Schuster said he doubts that the shift has affected attendance.
"Apple is putting in a lot of marketing dollars and it helps us also to get more awareness into the markets," he said.
"Right now, I would not say that [the change in broadcast partner] has any impact on tickets."
The minor-league Vancouver Canadians is doing well in attracting crowds. When the weather is nice, it usually sells out its 6,500-seat Nat Bailey Stadium.
Arts organizations struggle to attract audiences
Most arts organizations in Vancouver, like their counterparts elsewhere in North America, are finding it harder to attract audiences today than pre-pandemic.
The New York Times in late August investigated the phenomenon across the continent and found theatre-company attendance was down significantly from 2019, particularly when it came to season-ticket sales.
Seattle's 5th Avenue Theater had 13,566 season-ticket subscribers last season, down from 19,770 before the pandemic, the Times reported. Atlanta's Alliance Theater ended last season with 3,208 subscribers, down from 5,086 before the pandemic, while Northlight Theater, in Skokie, Ill., had about 3,200, down from 5,700.
Vancouver's Arts Club Theatre Co. finished its 2022-23 season on Aug. 20, and attracted about 175,000 people to its productions, executive director Peter Cathie White told BIV.
That is down about 32 per cent from the approximately 210,000 people who went to Arts Club shows in the 2018-19 season, he added.
"Just about everyone saw about a third of their patrons (audience attendees) drop out last year," Vancouver Fringe festival executive director Duncan Watts-Grant told BIV.
"Pre-pandemic, we would have probably had around 40,000 to 45,000 tickets sold," he said. "This year we are anticipating about 30,000 to 32,000 people."
Fewer attendees could be expected given that Vancouver Fringe, which runs Sept. 7 through 17, has fewer participating artists and theatre troupes.
In 2019, the festival included around 95 productions that each had six shows, Watts-Grant said. This year, 86 productions will put on six shows each.
The festival is also offering streaming options for a price.
"The changing nature of how people are engaging with performances is significant," Watts-Grant said. "We can see the trend where there are people who want [streaming] to be their way of engaging with the festival."
Executives at other arts or theatre organizations have similarly told BIV that their attendance has yet to return to pre-pandemic levels.
The Vancouver International Film Festival (VIFF) is readying to welcome between 90,000 and 100,000 people at a scaled-down 11-day festival from Sept. 28 through to Oct. 8, executive director Kyle Fostner told BIV.
In 2019, a 16-day VIFF attracted approximately 125,000 people, he added.
The shorter festival will screen 140 films, down from more than 200 films in 2019.
It is unlikely it will return to its pre-pandemic size because, Fostner said he prefers a smaller festival.
"It was too much of a mammoth program to communicate really concisely, or to communicate with real purpose," he said. "Shortening the festival allowed us to densify the film program, but also to create a more meaningful experience for any guests who are actually in attendance."
VIFF is not streaming its films because getting the rights to sell streaming is an obstacle, Fostner said.
Over at Bard on the Beach, the Shakespeare festival's attendance is starting to normalize.
"Bard is seeing an increase in overall tickets sales from 2022, but still slightly behind pre-pandemic sales," said executive director Claire Sakaki, without revealing exact numbers.
She told BIV that 2018 and 2019 were her company's most successful seasons, and that she was disappointed the pandemic cost her organization momentum.
"Before 2020, people purchased their Bard tickets a month or more prior to the performance they were attending, whereas now, people are buying less than a week out," she said. "This pattern also affected the number of people who purchased ticket packages or subscriptions immediately after the pandemic – people were less willing to plan in advance."
The only arts organization executive who told BIV that season-ticket sales were up compared with 2019 was Vancouver Opera's general director Tom Wright, but he cautioned that the upcoming 2023-24 season and the 2018-19 season are not comparable.
Pre-pandemic, the Vancouver Opera had a 10-day festival of opera performances, whereas this year the company has three distinct productions: The Magic Flute, Oct. 21 through 29; Don Pasquale, Feb 10 through 18; and Carmen, April 27 through May 5.
Pre-pandemic the company sold about 1,200 season tickets for its 10-day festival of opera, whereas this year the company has already sold about 2,500 season tickets, or bundled packages of either two or three shows, Wright said.
"We're almost $100,000 above our subscription goal, financially, for this year," he said. "We're coming up on $875,000 in subscription sales."