A West Vancouver resident has captured some sweet moments of a bobcat kitten near a field last week.
Daniel Fine was walking his dogs around the field near Twin Creek, just southeast of Cypress Bowl Road, when he saw two orbs of light reflecting in his head lamp.
Initially thinking it was his wildlife camera that he had previously set up, Fine walked closer, turned on his flashlight, and to his surprise revealed a small bobcat watching him and his dogs.
"He just was super calm … and then the bobcat just gently got down from the rock and walked away," Fine said.
The following day, he realized his wildlife camera would've captured the whole thing.
"And so, I checked it and I was like, 'Wow!' Because the mom has been hanging around for at least a month or so. And I've seen bobcats before around here, but it was so cool to see the babies."
It's not the first time Fine has captured local critters on his cameras. Often capturing coyotes and bears, Fine set up his cameras in the area about a year ago.
"This big bear was pretty freaking amazing, he's huge! This year, I saw him several times. And then the neighbour got a shot of him right on her patio."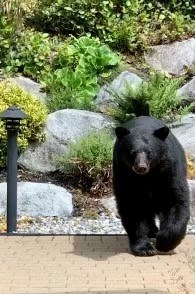 Fine's cameras have even played a part in finding a lost dog and a person who got injured on a trail and needing rescuing by a search and rescue team.
Speaking to the North Shore News earlier this year, Sgt. Simon Gravel, of the B.C. Conservation Officer Service, said it wasn't very common to receive reports of bobcat sightings on the North Shore, with more reports usually coming from Squamish, Whistler and Pemberton.
"We do have a healthy population of bobcats," he said. "Usually they're very discreet so you don't see them much, but it is very likely that a bobcat can be seen in North Vancouver."
He said while the conservation office didn't have data on their populations, bobcats were doing well and played a good role in the ecosystem, hunting small prey like rodents.
Gravel said bobcats, which grow to about 14 kilograms, were not a big concern for public safety, but it was important for people in residential areas near wildlife to control attractants.
"We don't want bobcats to associate our backyards with a source of food," he said.
"We don't have any reports of a bobcat attacking a human, but we do have knowledge that they can go after chicken coops or small pets.
"They are very small animals and we do not have much concern in terms of public safety. However, if a bobcat approaches you it is important not to feed it, not to approach it or have any positive interaction but to chase them away."