Slowly sipping her tea at a coffee shop in downtown Squamish, Diane Rudge explains the intricate process of macramé,  a form of textile-making using knots rather than weaving or knitting. 
The cotton rope is un-dyed, leaving a natural cream hue that she sometimes accents with neutral colours. 
Each project – whether it's a backdrop hanging from foraged wood or a dreamcatcher adorned with feathers – is one-of-a-kind and takes hours to make in her home studio in Garibaldi Estates. 
"I'm inspired by my home in the mountains, connected to the forest. I'm inspired by all things West Coast," said Rudge, who recently sold her partnership in Wild and Heart, a fashion boutique in downtown Squamish that she co-founded in 2012. 
Now she focuses on creating pieces that are "slightly raw and untamed," incorporating feathers, bark, large wooden beads and flowers, that bring elements of nature into her clients' homes. 
Most of her work is commissioned and the designs, some of which can be rented, have proven to be popular in the wedding industry in the Sea to Sky Corridor. 
"I found a book on Coast Salish weaving at the thrift store and that really inspired me," said Rudge, sitting forward in her seat at 1914 Coffee Company. A couple of her hanging basket holders are across the street in the window of The Green Moustache, an organic and gluten-free juice bar that her friend owns.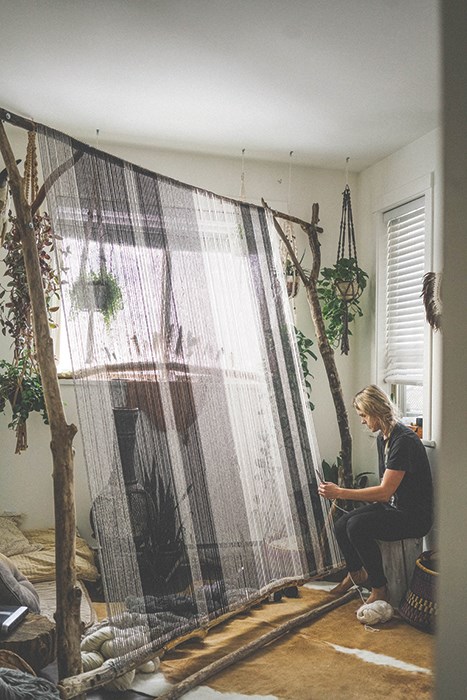 Although Rudge has always been artistic, she has also made her mark in the athletic world. From 2007 to 2012, she was a member of the Canadian National Freestyle Snowboard Team, specializing in slopestyle and halfpipe. She represented Canada in the 2011 World Championships in Spain and has competed in the FIS World Cups and 6 Star Pro TTR events. 
Now that Rudge has retired from the competitive side of snowboarding, she's focusing more on the lifestyle and culture of the sport. 
"I've always been creative as long as I can remember. I'm having a wonderful time focusing on my artwork," said Rudge, who is building a "tiny home" – a small house that can be moved to a plot of land in Squamish – to live in with her boyfriend. 
She recently completed a custom macramé installation for The Juicery Co. on Main Street in Vancouver. In a big pot of water, she used turmeric to dye sections of the rope yellow before creating the piece that hangs from the wall.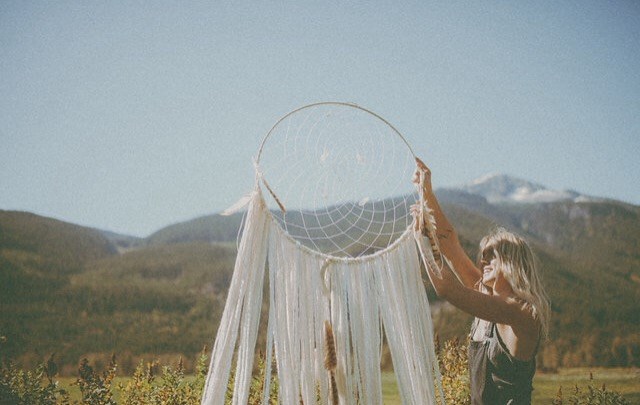 Flowers and tea can also be used to naturally dye the ropes, the artist added. 
"Weaving is making a bit of a comeback. People are becoming more interested and wanting to try it out," says Rudge, who is originally from Ontario. She holds workshops to teach her craft to anyone who's interested. Participants often start out by learning how to make macramé hanging basket holders with un-dyed rope and large wooden beads for decoration. 
A selection of Rudge's work can be found at North Yoga in Squamish and in Whistler at 3 Singing Birds and Whistler Wedding Collective, as well as online at www.diane-rudge.com.