The two windows in Kim Stegeman-Lowe's office undoubtedly offer some of the best views in Squamish. 
The Squamish Terminals president can look up and see the shore of Newport Beach, an unobstructed view of the Stawamus Chief and activity on the waters of Howe Sound. 
The Squamish Chief sat down with Stegeman-Lowe to talk about her job, the terminals and being a female role model. What follows is an edited version of that conversation.
Q: How did you end up as president of Squamish Terminals? 
A: It is funny where life takes us sometimes. I was in the hospitality and tourism business for 20 years, mostly in Toronto. I took my job from Toronto, moved to Squamish and worked from home for about five years and had my first child, our daughter. 
The terminals was restructuring its management team and, through my work with the chamber, they asked if I would consider joining them. I joined them back in 2008 as manager of marketing administration and over the past eight years I have worked my way up to the role of president. 
Q: That must have been a steep learning curve. Did you have a history related to the shipping industry at all? 
A: Not at all. To be perfectly honest, I was not familiar with what the terminals did, aside from the ships coming in and out, which is like many of folks who live in Squamish who weren't involved in the industry. 
They don't really have an appreciation of what we do down here and that is why we are working as hard as we can to communicate to the community about who we are and what we do. 
Q: As president of the terminals, what is your day-to-day job like? What are you responsible for?
A: I am responsible for the entire operation of the terminals, in a nutshell, and to ensure we have the right team in place. A lot of the focus has been on the rebuild of the east dock, but my responsibilities include business development – so speaking with potential customers, budgeting, the strategic direction of the terminals. 
Certainly the rebuild of the dock is taking up half of my time right now. 
Q: Correct me if I am wrong, but the shipping industry still seems a very male dominated industry. What has that been like for you or has it not been an issue? 
A: There's no question that the waterfront industry is male dominated. I kind of chuckle at the question because how often are men asked what is it like working in a female-dominated industry? It is something that has never really been top-of-mind for me. I have had many male mentors in my career; I have been very fortunate. 
I have also worked with some great women, as well. I think that it is not a big deal for me at all. Having said that, I recognize that I have a responsibility as a woman in this industry. Our industry has worked very hard at bringing the level of women up. For the whole waterfront industry – the long shoring and the management teams – women are at about 10 per cent. I am proud to say at Squamish Terminals we are at about 25 per cent female. 
Squamish Terminals is in a good position to support gender equality in the waterfront industry here and around the world. Not only do we have the first female president of a terminal on this coast, but we are owned by Grieg Star based in Bergen, Norway with both Camilla Grieg as CEO and Elisabeth Grieg as chair of the board.
Q: What are some highlights of your eight years here? 
A:  When I first started at the terminals, this kind of flew under the radar a little bit and it is definitely a focus of mine – but not just me, [former president] Ron Anderson and others started this way before I did, but we had other priorities at the time – so when I came on board it was "OK, let's tell our story a little bit more, let's talk to people and really have them understand." Also, we employ a lot of people: 100 full-time equivalents. Those are good family-supporting jobs. 
Q: The dock fire, on April 16, 2015, was likely the worst day in your career here, I imagine? But looking back a year later, was there a silver lining? 
A: The fire last year was certainly one of the worst moments in my job so far, no question about that. 
I am careful with that question because it did affect our community. But there is a silver lining as well for us as a community. Instead of 1,000 timber pilings that were built with creosote from the 1970s, we now have 120 steel pilings supporting a dock structure that has higher capacity. Things have changed over time. 
The fact that Grieg Star wanted to reinvest speaks to the value they see in the terminal and our ability to grow the business and support this community and the employees we have here. The Squamish Terminals team and all those who supported us during the fire – we kind of rose from the ashes following the fire. That is probably one of the best moments. 
Q: Looking forward, what do you think of how much Squamish is growing?
A: It is great to see our community growing and changing. I hope that we have a vision so that we can accommodate this change effectively and properly. I see a lot of good things happening in the district with planning and different developers coming to town, but it is difficult to manage the growth. Even just around the terminals: the truck route issue, and general encroachments. I hope we can be best-in-class in everything we do and that is including tourism and industry and everything else that goes with building a great town here, working together and prospering together. 
Q: With the development of the Oceanfront Lands, is that a concern? 
A: They are our neighbour and we need to make sure we work together. As you know, we have been vocal, along with other industry stakeholders, to ensure there are proper [housing] covenants in place. Things are built; people have short memories. You just look at Vancouver's airport and all the housing around that. What happens is complaints happen; there's noise, there's light, there's dust – complaints come to the entity as well as the district. Then there is bylaw enforcement and how do you deal with that? It will be interesting. We will do our best to plan. 
Q: OK, less seriously now, what do you do for fun around Squamish? 
A: I spend time with family and friends. I have two daughters ages six and 11 who keep my husband, Ian, and I very busy. I love the outdoors. I mountain bike – I did the Test of Metal – I run, I hike, I started stand-up paddleboarding. 
About the Terminals: 
*Cost of dock rebuild, $30 million
*Situated on 24-hecatres 
*60-80 vessels arrive at the terminals each year
*Established in 1972
*One of the largest pulp break-bulk terminals in North America
*Operates seven days a week
*Has 47,400 square metres of warehouse space in three buildings
~According to Squamish Terminals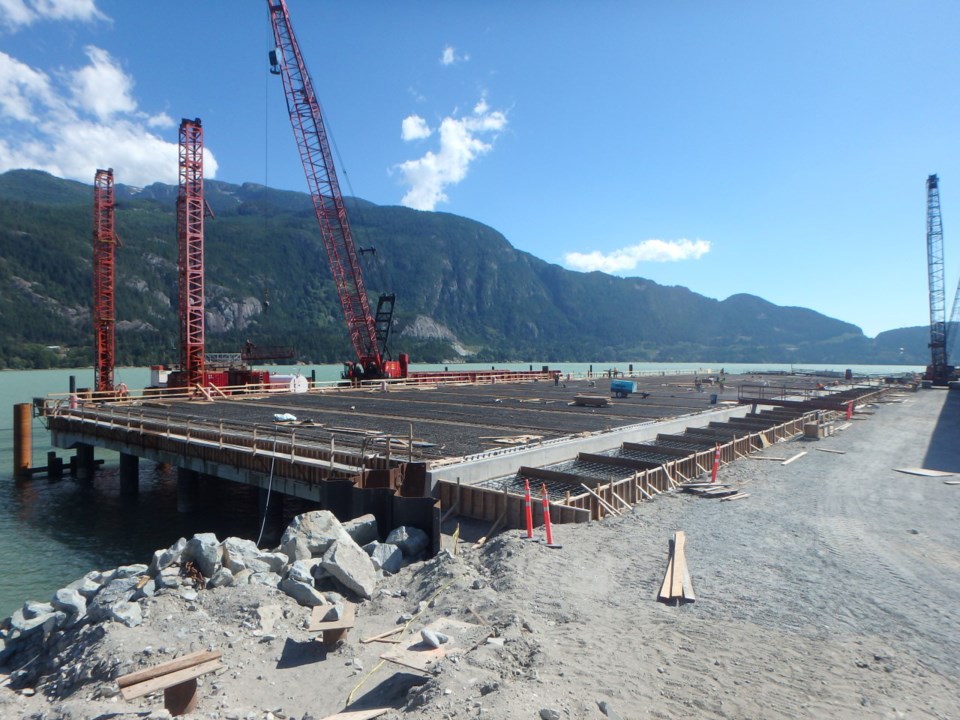 About a local is a new and recurring community feature. To recommend an interesting local who readers should know about, write to jthuncher@squamishchief.com.