Kristen McBride is Squamish through and through. And she's unstoppable.
For those who don't know the accomplished, enthusiastic 36-year-old, after a car accident in 2003 resulted in spinal cord injury, she participated in the opening ceremonies of the Paralympic Games in 2010, carried the Olympic Games torch — lighting the cauldron at Brennan Park — and participated in the 2011 Canadian Wheelchair Rugby Nationals, to name just a few of her endeavours.
The Chief caught up with the busy McBride as she prepares for the June 23 Scotiabank 5K Charity Challenge.
What follows is an edited version of that conversation.
Q: What is your history in Squamish?
A: I was born and raised here. I am OG Squamish.
Q: You have seen all the big changes in town then. What do you make of all the growth?
A: It is different — a lot busier.
With me being in a wheelchair, I think parking is a big issue and it is getting worse, not better.  The best wheelchair spot in all of Squamish is in front of the Locavore, at the Squamish Town Hub. There's a sign there that says, "Laziness is not a handicap. $300 fine." I think if every business had that sign, people wouldn't park in those spots.
Other than that, I love Squamish. I will probably never leave. This is my home.
Do I miss the old Squamish? Absolutely. But you have to embrace change.
Q:  What stands out for you from your childhood that has changed?
A: I grew up on Hospital Hill and where there is a cul-de-sac was once a beautiful treed area with an awesome tree fort. I don't think there is as much like that for kids now, at least not two minutes from home.
I was into sports — soccer and ringette — listening to what people say now, there's issues with ice time and that kind of thing.
There are so many more people, but the same sheet of ice and the same pool.
Q: How is Squamish for accessibility?
A: There are a couple of stores downtown I would like to go in, that I can't. Squamish is pretty good for its wheelchair curbs, though.
In terms of accessible trails, when I was training for the Squamish Days Loggers Sports Festival 10k race, I trained from the Adventure Centre to Canadian Tire and it is all paved.  I have recently found the paved trail from the Adventure Centre to beyond the hostel. I think that is awesome.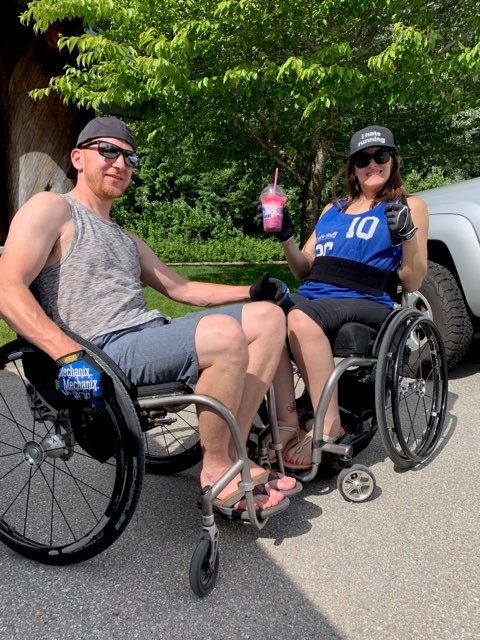 Q: Let's get to the upcoming Scotiabank 5K Charity Challenge for Spinal Cord Injury BC. This is your fifth time in this event and you are co-captain of the Walk 'n' Rollers team. Can you tell me more about it?
A: Basically, I cheerlead the whole crew. This year, I had a goal of having 100 Walk 'n' Rollers — I feel like we are in the 90s right now. I  recruited a ton of people so far.
We have three vehicles full of Squamish people going down to do it in Stanley Park. I have personally raised $12,161 to date. It is so fun, such a beautiful day.
My husband Brandon Loree is rolling in a wheelchair with me as is my friend Danielle Fourchalk.
Squamish friends Alison Gelz, Chelsy Arthurs, Jessica Loxton, Erika Liechti, and Nicole Talosi are each doing 1K in a wheelchair.
It is pretty cool.
And actually, I am pregnant, so my friend Eileen is going to help me through some sections of the race.
Q: How far along are you and how do you feel?
A: I am 17 weeks, today (June 7). I feel much better now. I was a little bit tired and not so amazing that first trimester. But I have no complaints. Pregnancy is a very emotional thing and I think I should be very grateful that I am expecting. Not everyone gets to do it, especially with a spinal cord injury. It is a big deal.
Q: What are the unique challenges of pregnancy with a spinal cord injury?
A: It is not getting pregnant. My body works exactly the same in terms of conceiving. But it is different because you are in a wheelchair and you have this belly. And then you have all the things that already go with having a spinal cord injury — with skin and bladder and bowel issues, and lack of sensation. The longer I am small, the more mobility I can have.
For example, right now I do laundry by putting the basket on my lap, but when my lap is full of belly, I won't be able to do that. Currently, I am totally independent; I don't get help with anything.  The longer I stay tiny, the longer I get to be independent.
Q: Going back to the 5k, what keeps you coming back to this event in particular?
A: Spinal Cord Injury BC is an incredible organization. They have been in my life since my injury, which is for almost 16 years. It is not about curing spinal cord injury or getting money for research. It is about improving the lives of people with spinal cord injury through peer-mentorship and activities.  When I was newly injured and in GF Strong Rehabilitation Centre, the person who really inspired me the most was a peer mentor — Brad Jacobsen, who came to see me when I was first injured. He was just living life and here I was just straight out of the hospital. It is just so powerful to have that.
The doctors are great, the therapists are great, don't get me wrong, but seeing someone else living and doing life sitting down — that is priceless. I just think it is so great there is an organization that has all these things in place to support us where we are at. I have gotten to try kayaking, mountain biking, paddle boarding, I have gotten to go sailing. It also supports parents and families of the injured.
To support McBride in the Scotiabank 5K Charity Challenge go to sci-bc.ca/charity-challenge-kristen-mcbride/.