Scuba diving is like entering another world, according to Howe Sound diver Kevin Breckman.
"It is a world of weightlessness," said Breckman, who owns Sea Dragon Charters with his partner, Jan. "Probably the closest thing to stepping out of the space shuttle and floating around in outer space that you will ever experience."
Breckman, who has operated his business in the sound for 17 years, said it is one of the best places to dive, bar none. 
"We have, as far as the underwater topography goes, just absolutely spectacular walls to dive on – basically the mountain just proceeds straight up and down, most of the walls are 300 to 500 feet deep before they slip off into deeper water," he said, adding most diving takes place within 100 feet or less from the surface.
The best marine life, including fish and colourful corals are seen between 70 feet and the surface, according to Breckman. 
Shore diving in the sound takes place from Poteau Cove Provincial Park, off Britannia Beach and at Whytecliff Park at the western tip of West Vancouver, south of Horseshoe Bay. 
The best diving in the sound from a boat is from Anvil Island south, he said. 
The newest addition to the Howe Sound diving world is the 366-foot reef, the Annapolis, sunk in Halkett Bay in April. 
"It is actually one of the safest ships you can dive," Breckman said. "And it is set at a depth that is not extreme, so a basic sport diver can dive it, an advanced diver can dive it and it is also a great depth for wreck training." 
Many underwater species have already made the wreck home. From just four species observed by Vancouver Aquarium researchers in May, that number was up to 32 this month, according to the aquarium. 
"The Annapolis has exposed a lot more divers to Howe Sound than ever before," said Breckman, who said local shore divers have been heading out on boats to explore the sound's newest attraction and tourist divers have flocked to see it and then checked out the rest of the sound.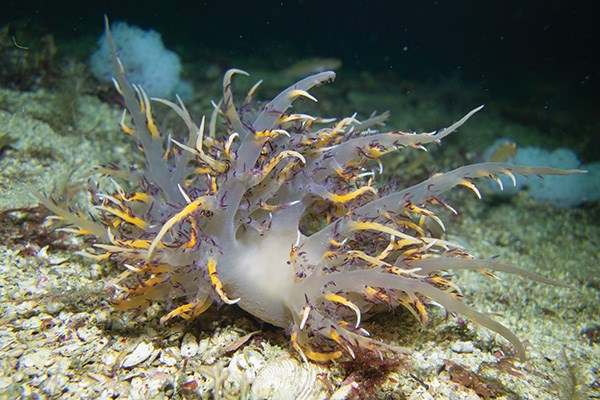 "We are seeing an incredible increase in the amount of diving in Howe Sound," he said. The adventure company takes out about 1,000 to 1,200 divers a year. 
"Of that, I would say 30 per cent are divers from elsewhere and that is increasing," he said. He expects the number of divers in 2016 to increase by 20 per cent. 
"Definitely because of the Annapolis and the exposure it is getting, but also word of mouth that is happening about this fantastic diving that is so close to the hub city of Vancouver." 
As the number of divers in Howe Sound increases, Breckman said the demographic of divers is changing. Traditionally, diving was a lifestyle sport taken up mostly by men, but more and more women are now involved. 
"We are seeing a huge increase in women becoming divers and very proficient divers," he said. 
The marine environment of the sound has changed dramatically too, Breckman said. For one thing, the clarity of the water has improved, he said. 
"Right now in the wintertime, we get exquisite visibility," he said. 
In the summer sometimes there will be algae blooms that inhibit visibility, but overall, clarity has improved.
The range and amount of sea life has also increased, according to Breckman. 
"So we are seeing more fish, more variety of fish. We're seeing more soft corals," he said. "It was really interesting because you could see a slow change taking place over the years and now all of a sudden it seems like it is better every year." 
"We are seeing dolphins, and whales. This was just unheard of a decade ago."
Divers were thrilled to see a sixgill shark off of Boyer Island in the sound. 
"A couple of my divers came up basically screaming with excitement," he said. "It is indeed a rare find." 
He explained the sharks are curious and docile. 
"I have heard it put they are just doing their walkabout," he said with a chuckle. "No diver or human being has been hurt by a sixgill shark." 
Breckman said almost anyone of good cardiovascular health can dive. 
"They may not enjoy swimming and they may not swim well and they may not be comfortable in a swimming situation, but as far as diving goes, they are very comfortable," he said, adding even those with claustrophobia can dive once they have the scuba equipment on and realize it doesn't inhibit them. 
Diving is ideal for people with certain mobility issues, according to Breckman, "because, again, it is weightless so they are allowed to experience an incredible dimension in this world that most people don't, but they can do quite well."