New Squamish resident Dianne Russell moved to town in November, eight months after meeting her dad, Tom James, for the first time.
Long-time local James didn't know he even had another daughter before last summer.
Though dramatic, such a reunion tale really couldn't have worked out better.
Russell was raised in Kamloops, knowing she was adopted.
She was living in Vancouver until last fall.
Bouts with breast cancer led the 48-year-old to seek genetic testing in 2017. Denied this testing through the provincial government, she used the home DNA kit, 23andMe.
"I got my results, but found no genetic risk for breast cancer," she said, adding that at the time, she ignored the relatives section of the site.
But a year ago on Valentine's Day, she got a message in her inbox that would change the course of her life. "Hi, I'm not sure where you fit on my family tree, but it looks like we're cousins or something," read the message.
Long story short, she found cousins who eventually connected her to her Squamish father, James, who up until that point had no idea she existed.
"The next day after he found out, I got a phone call at 9 a.m. and we talked for over an hour and we have talked almost every day since," Russell said.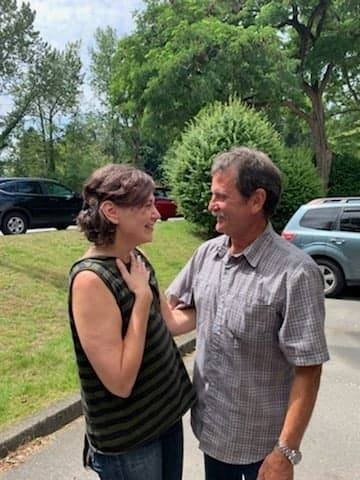 The first time they met
They met in person in June.
"My dad is just the most amazing man," she said. "He is a wonderful, emotional, supportive, empathetic man. I won the family lottery."
After their first meeting, there were trips to Squamish for Russell and her husband to spend time with her dad, his girlfriend and the rest of the family.
"Not only do I have a wonderful, loving father with whom I get along like a house on fire, but I have an amazingly supportive half-sister and half-brother, a nephew, four uncles, two aunts, in-laws, and a slew of great aunts, uncles, cousins, and more cousins many of them are here in Squamish, which is why my husband and I decided to move here from Vancouver."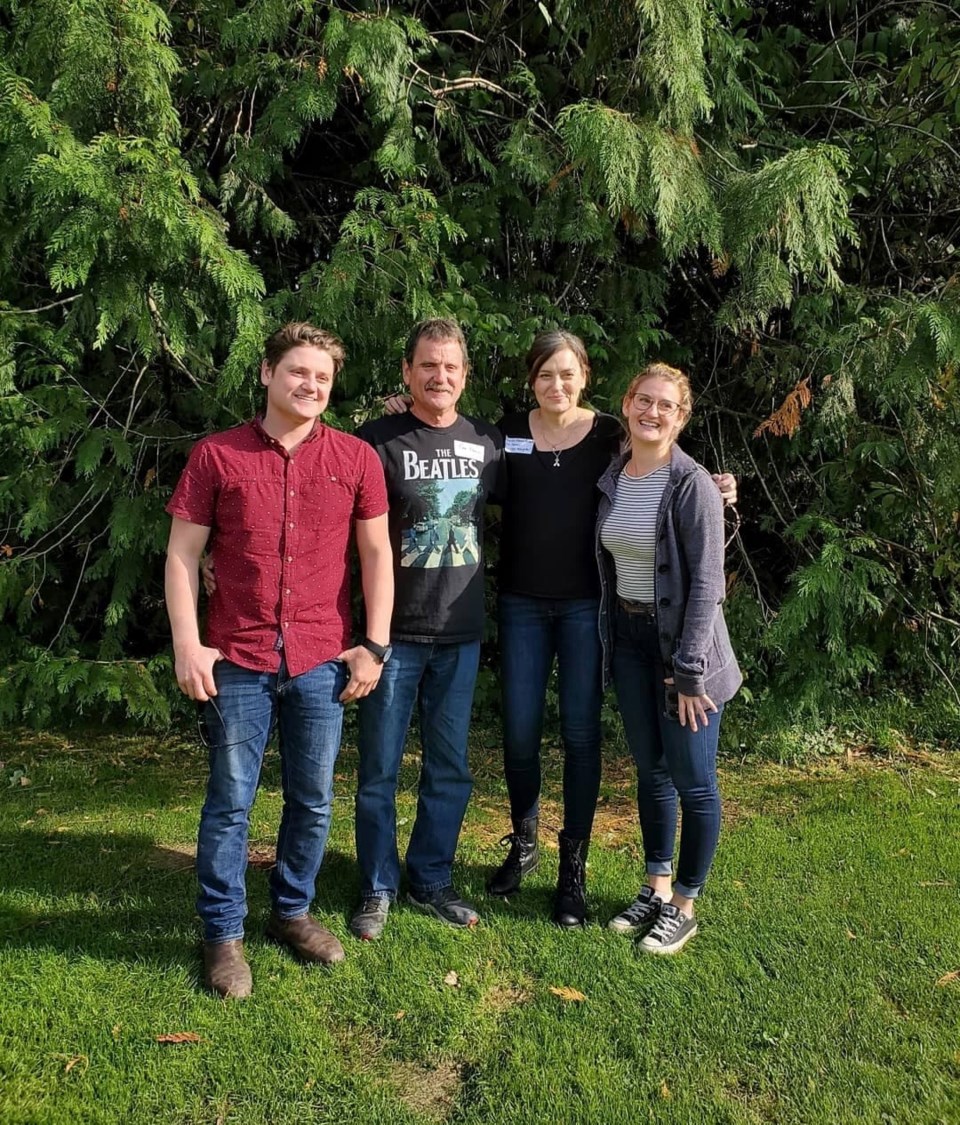 The whole family and community of Squamish have enveloped her with open arms, Russell said.
"This situation has the possibility for a lot of discomfort and judgment and it hasn't felt like that — ever."
There have been two large family reunions since she was introduced, Russell said, and the acceptance has been overwhelming.
"My family is Métis, actually, and my great aunt presented me with a Métis sash," Russell said, adding she had thought she was of British origin growing up.
"I am not English," she said with a hearty laugh.
Russell said she and her husband had been thinking of moving before all of this happened and once she met her long-lost family in Squamish that sealed the deal to move here.
"We missed so much time together that we just wanted to be here," she said.
From getting the first message about her family to today, the journey has been full of a mixed soup of emotions, Russell acknowledges.
Grief is one of the emotions she has dealt with.
"Because I think we both didn't have each other," she said. "We didn't have each other for 48 years. He didn't know I existed. He didn't have the opportunity to know me."
Her father's parents, her grandparents, both died without knowing she existed, she added. "There is grief on both sides, I think."
Her advice for anyone starting out on the journey of DNA testing is to be open to unexpected things and unexpected feelings, and reactions.
"You have to process it as you go."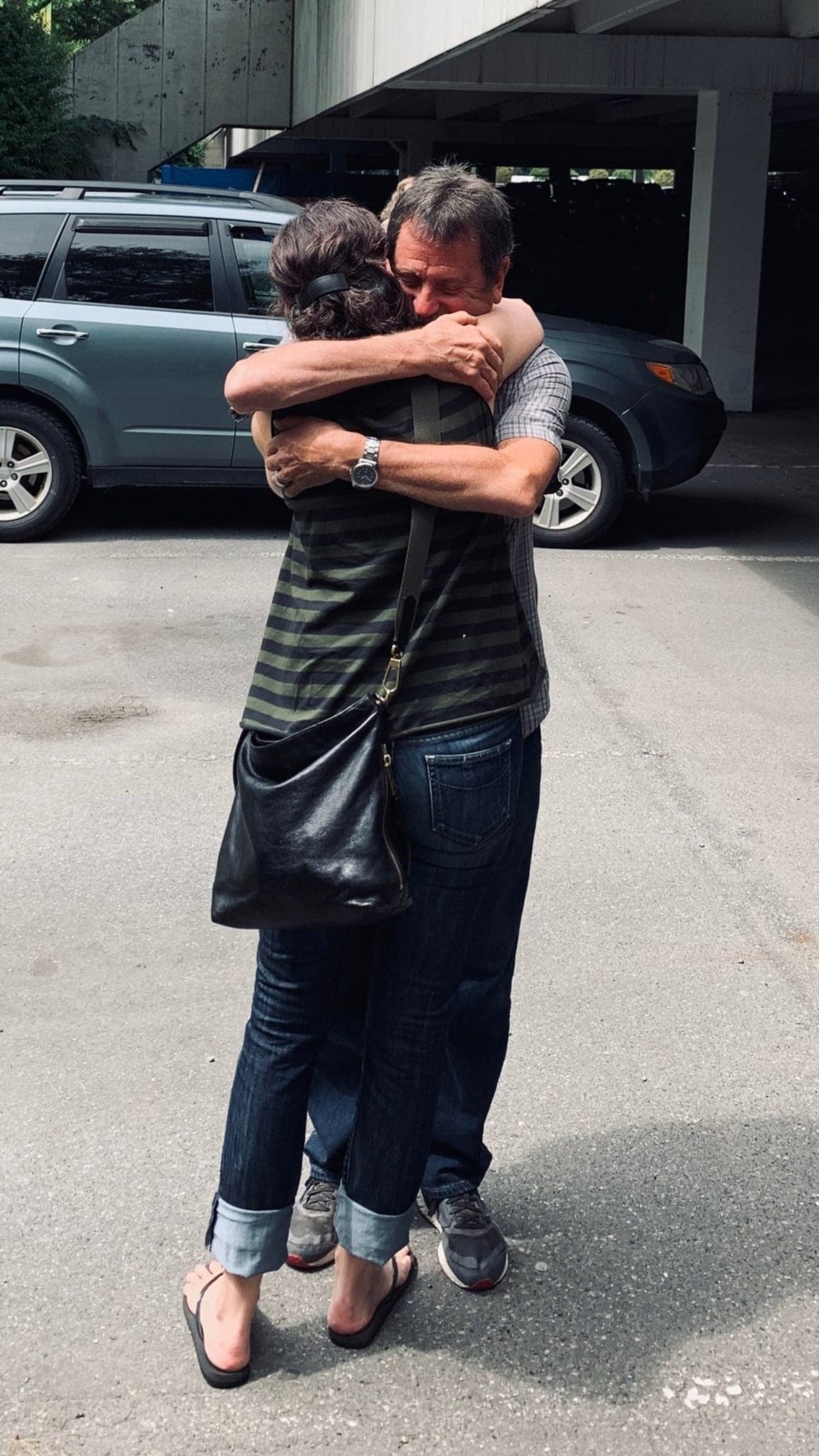 A dad gains a daughter
"It was just like I had known her my whole life," James said of his first phone call with Russell. The pair talked long enough to kill the cellphone battery, he said.
"It was so bizarre and so easy. It was natural — amazing."
When they met in the flesh at Park Royal on June 13,
"It was — oh my God — tears and hugs and happiness. It was absolutely crazy," he said. "There's my baby and she is 48 years old."
In looking at Russell, James said he sees some physical features from his mom's side of the family.
"There is some James in there too, in the ears and around the mouth a bit. She has got the James' ears," he said, with a chuckle.
James has been proud to show off his newly-gained daughter, taking her downtown to introduce her to the many who know him.
He looks forward to making up for lost time, he said.
"Just to be here for her, whenever she needs me. Just to be her dad."
Russell is currently changing her last name to her father's. By spring she will officially be a James.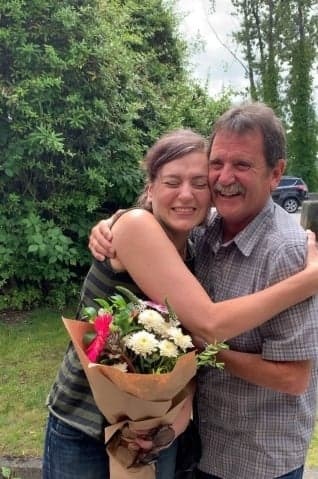 **Please note, this story has been modified since it was first posted due to privacy concerns. Identifying information has been removed.