Members of Squamish's Between Shifts Theatre Society are doing their best to stay positive and creative during COVID-19.
In the spring, the non-profit society was poised to take the stage on March 26 with the play Sexy Laundry, when the pandemic hit.
"We had the set built. The actors had memorized the entire play — this is a two-act play with only two actors, so you can imagine the work that the two actors went into. Not to mention the costumes and props and the guy building the set and the lighting designer — everything had gone into that," said Kathryn Daniels, artistic managing director with Between Shifts.
"It is such a shame because those two actors were really working hard at it. It was going to be fun — so much fun," she said. The play remains on the backburner to be performed as soon as it is possible, Daniels said, likely when there is a vaccine so that people can once again gather in a theatre setting.
Thankfully, the playwright for Sexy Laundry, Michele Riml, isn't charging them until the play actually takes the stage, which is helpful, Daniels said.
The company is "praying" that next Christmas, there will be live in-house plays as in the time before COVID, Daniels said.
There is also hope for some outdoor summer performances, but there are many moving parts and unknowns that would have to be worked out before that was a reality, she said.
"We have always wanted to do something outdoors — like a shortened version of a Shakespeare play, or something like that — a light Shakespeare play," she said.
This past summer, actors got together virtually to bring a series of plays called the "Zoom Chronicles" to the digital stage.
"I was really happy with the results of that," she said. "That really raised our profile and continues to."
The plays are still available on Between Shifts Theatre Society's Facebook page.
They were offered for free, so no revenue came in from them, however.
The society is hoping to put together A Christmas Carol, perhaps as a podcast/radio play for this year.
Audio stories hearken back to Daniels' youth, in the late 1960s and early 70s, she said.
"I remember in my teens, my parents had a sailboat and we would go off — my two sisters, me and my mom and dad — six of us on a sailboat and off we would go for three weeks tootling all around the little islands and just reading books and sailing and swimming. But at night, we had a transistor radio that hung precariously on a hook inside the cabin and the CBC would have radio dramas on back then," she recalled.
"We loved it.... It was very entertaining, and so I was thinking back to that. And also thinking that podcasts are basically that — someone telling you a story or whatever — it is basically a radio drama."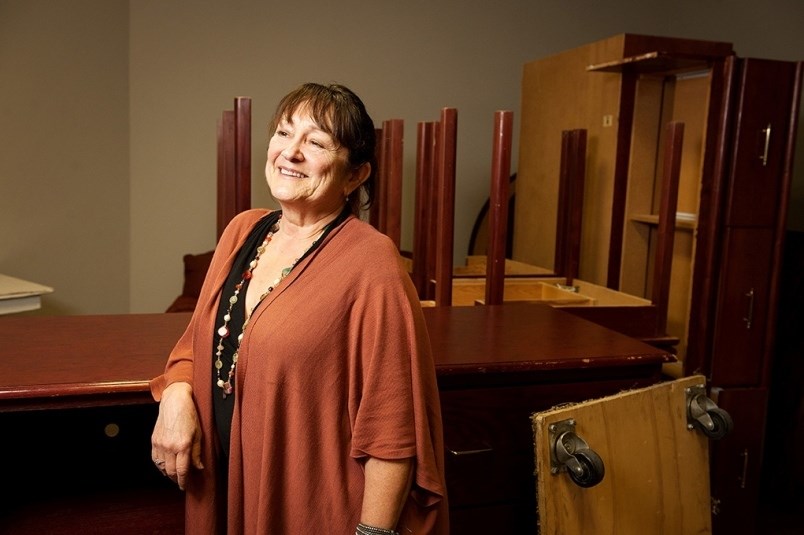 She said that while she appreciates a good binge of streaming visual content on services like Netflix and BritBox, it can start to get tiring at this stage in the pandemic.
"I have gone back to reading and wanting to not be spoon-fed the whole thing — having your mind make the pictures. I think that might be the power of radio drama is that your mind starts to make all these wonderful pictures and it is in some ways totally engaging, in a different way."
While local performers are doing their best to stay creative and active, the pandemic has hit the theatre world hard, Daniels acknowledged.
"It is very, very difficult on theatre and actors," she said, adding some theatre friends have sought work in other industries for the interim.
"What we are missing too is just the camaraderie and putting on a play and hearing the audience breathing or being part of an audience and everyone watching a play together — that whole experience is not available right now. We are missing it dreadfully and some people have been very, very hard hit."
She has also been approached by kids and youth who would like to audition for an upcoming performance, and, of course, there aren't any.
"It is just another thing the kids don't get to do."
Daniels has managed to get some film and TV parts, such as on Sophie's Rules where she played a counsellor in a shelter to the lead actor. She also was in a Hallmark Channel production and is waiting on word about a lead role she auditioned for in a film for the Canada Council for the Arts.
But she looks forward to getting back to live theatre.
"It is not the same thing. It is a completely different medium," she said, of film work.
Daniels asks that if there is a particular radio play or something people would really like to hear, that they reach out to Between Shifts.
"We would love to respond to what people would like to hear — something to lighten a few evenings for them."
Go to betweenshiftstheatre.com/company/ or the Between Shifts Theatre Society Facebook page to reach out and to stay on top of what is next for the group.