It is a labour of love built for children's laughter.
Squamish's Shoshana and Adam Kiidumae of the Northyards Children's Garden Association have spent years creating a children's oasis at the end of their complex.
The Northyards Children's Garden can be found by turning in at 39885 Government Road and following until the end of Abbey Lane.
There are various playground structures, a sandbox, a small covered stage, and a lush sloping garden — consisting of a semi-shade, sun, a wild garden and berries for kids to eat — all tied together with a switchback trail and wooden bridge.
"We really enjoy hearing the children play and watching them play. We find it delightful. Sometimes they come and there's just giggling, giggling. It is such a happy sound," said Shoshana.
What makes the slice of fun more incredible is that at one time, it was a neglected piece of land dotted not with flowers but with junk.
"There were car engines and transmissions," said Shoshana, as she and Adam took a break from maintenance work on the gardens.
"It was six feet high with weeds. We didn't even know there was a stone wall there for two years. I cleaned this place up for two years before I knew."
The original plan wasn't to build the oasis it is now.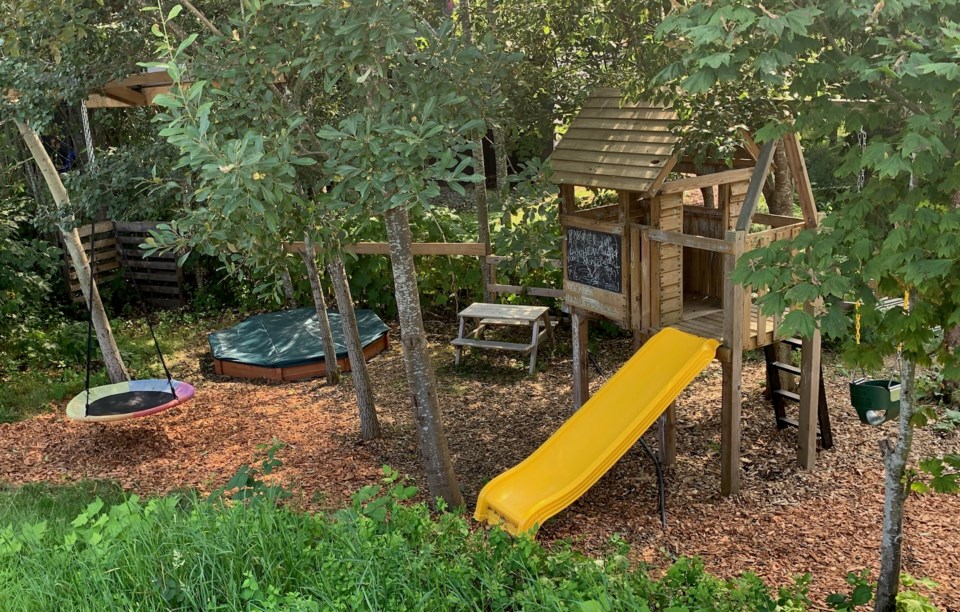 The pandemic helped it sprout, literally.
"We made the switchback so it was easier to get to the top of the dike because that's a very, very steep slope and precarious and it just made it safe. And then I just started planting some flowers. And then what happened was COVID hit," Shoshana said.
As small business owners, the couple was receiving funds from the federal government for a time and it didn't sit well with them to not do something to give back to their community with the extra time, and cash.
The couple also stresses that they are grateful for support from Woodfibre LNG — which went towards the fence — Home Depot, Rona and others.
They also noted that during the beginning of COVID-19, kids couldn't go to school or even to municipal playgrounds, so creating something fun for them seemed like a good plan.
The project has taken five years to get to the state it is in now.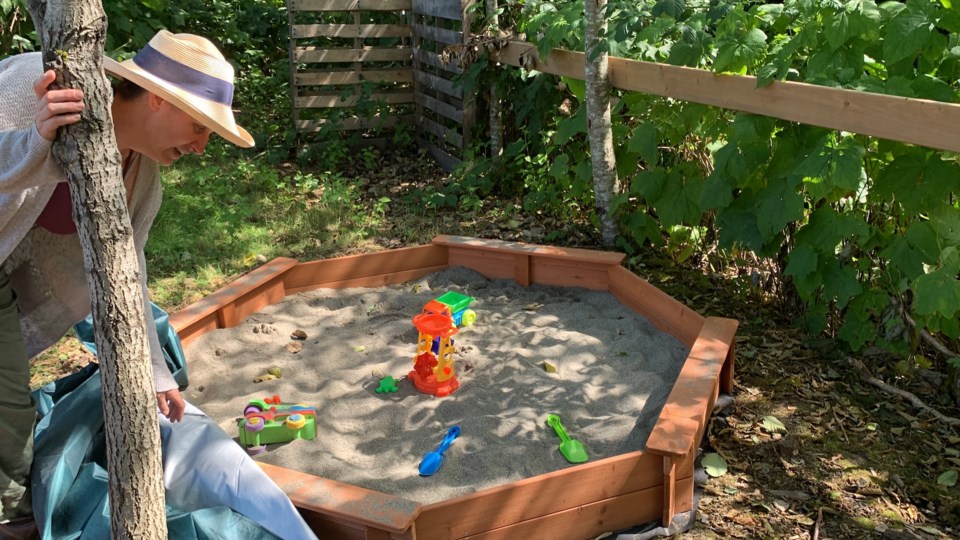 There is a complicated tale of how this piece of land once was CN's and is now the District's, but the important part is that the Kiidumaes' lease it from the District for this park.
It is all official, with the needed insurance and the Kiidumaes welcome littles and their parents from the community to come by and use it (from 8 a.m to 8 p.m.), and for others in the neighbourhood to get involved.
"My goal here has always been that we will have more neighbourhood involvement, that we will have neighbours on the board, that we will have neighbours on committees, so that there will be help with the maintenance, the gardening — looking after the programming because we do have some musical programming that happens sometimes. And some events, picnics, whatever."
The public is invited to a "Play Music on The Porch" event on Aug. 27, from 2 to 6 p.m.
Find out more on the garden's Facebook page, "Northyards Children's Garden."