The wind flies our kites, dries our laundry, powers our sails and, perhaps, even our homes. It's also a force of nature that we have in abundance here in Squamish, and something worth celebrating. As is the natural creativity it inspires.
Now in its fourth year, the family-friendly Squamish Wind Festival takes place in Junction Park by O'Siyam Pavilion from July 27 to 29.
This free annual festival is an opportunity to celebrate and meld local creativity and talent with Squamish's natural environment, said Cydney Lyons, chair of Squamish Arts Council, who explained that the festival's core values are the arts, community and culture.
"Squamish has a thriving arts scene and does an amazing job at coming together as a community and we want to showcase that," said festival director Shannon Lorenz.
"The ultimate goal is to create a local arts and culture celebration that many will look forward to in years to come."
Whether you like late-night movies, local art, up-tempo dance or live music, everyone will find something they love at this year's festival.
Live music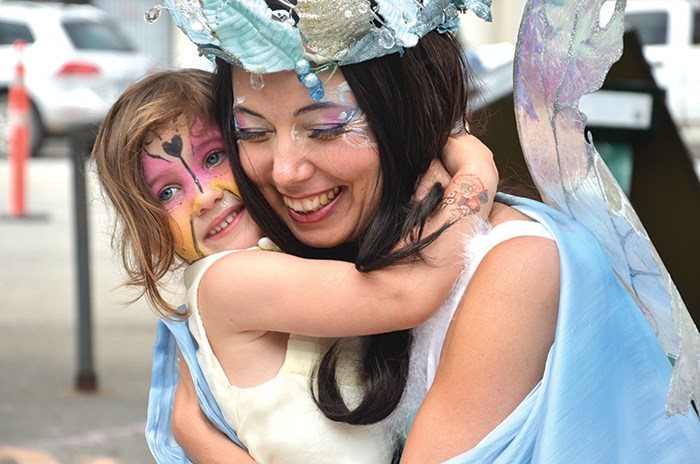 Emerging artists take to the stage on Thursday evening from 7 to 9 p.m. with Amped in the Park. This live-music event is being coordinated by Squamish youth who are encouraging local performers to take part.
"It's meant to be a casual, non-intimidating environment," said Lyons. "It's like an open mic night for emerging artists… We want to celebrate people coming into the arts; to break down those barriers and provide a space for them to perform. It's not just about musicians, but dancers, poets and anyone in the performing arts."
Whether you're interested in performing ventriloquism, tap dancing or rapping your first lyrics, artists can sign up on the night or online through the Amped in the Park Facebook page. 
It will also be the debut of Squamish Arts Council's 2017 Rock Band Camp. This group of young musicians who, through the arts council's summer Youth at Art program supported by the BC Arts Council, come together for just four days over the summer to learn the essentials of jamming together before performing live for the first time at the festival. (Amped in the Park also takes place every Thursday evening throughout July and August.)
Live music returns on Saturday from 11 a.m. to 3 p.m., starting with children's entertainer Ira Pettle, who will be getting little ones up on to their feet to sing, dance and have a great time.
"It'll be a high-energy dance party and show with the children," said Lorenz, who added that Pettle often prefers not to arrive with a pre-planned performance set. "He feels out the crowd and the energy and vibe and creates it there on stage."
Local favourite Cam Salay as part of The Splinters will follow, in addition to upbeat world music by Mazacote. Closing the afternoon will be music by the much-loved Lovecoast.
Local art
This year's featured artist is Diane Rudge. She is known for her macramé creations and will be on site in the park on Saturday from 11 a.m. to 3 p.m., giving the park an artistic vibe and a West Coast feel using raw and natural fibres.
"The idea is to bring a natural beauty to the park in combination with a live art display and a splash of creative energy," said Lorenz.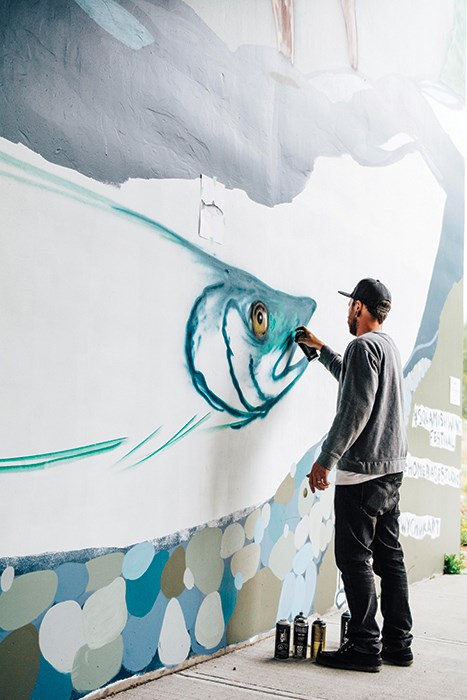 Throughout the festival and for weeks to follow, the Squamish Arts Council Building will also be open to the public to view local artwork.
"Our theme this year, in partnership with Squamish VISUALS, is Blown Away," said Lyons, "It's open to interpretation. We really encourage artists to take that and be creative. It can be anything you imagine." 
Last year featured 36 original works of art by local artists and saw around 700 visitors to the art gallery (around 3,000 came to the actual festival).
This year, Lyons hopes there will be displays of mixed media and photography, in addition to paintings. Visitors can also expect to see a selection of work by newer artists, as well as pieces by those who are already well-known. And everything will be available to buy. 
Admission is free and viewings take place during the festival on Thursday from 2 to 8 p.m., Friday from 3 to 9 p.m. and Saturday from 11 a.m. to 4 p.m. For opening hours outside of these, visit squamishartscouncil.com. 
Movie under the stars
If you enjoy family movie nights, you'll love Friday's free late-night showing of the live-action feature Beauty and the Beast, starring Emma Watson. 
"The show starts when the sun goes down at 9:30 p.m., but come early with a picnic, grab a blanket and stake your spot," said Lorenz.
For those who arrive early, there will be plenty of family-friendly activities from 7 p.m. onward, including face-painting, bouncy castle, arts, crafts and even food trucks.
Artisan Alley
If you love locally-made, hand-crafted décor, jewellery and clothing, Junction Park will be hosting Artisan Alley on Saturday from 11 a.m. to 3 p.m., in conjunction with the Squamish Farmers' Market taking place from 10 a.m. to 3 p.m. 
Vendors include Ocean Folk selling Canadian-made swimwear for women who love water sports; upcycled jewellery, ponchos and scarves by Recreation, and handmade, natural cleaning products by Polished Cleaning Co.
All about the kids
Having danced off some energy with Ira Pettle on Saturday, the family-fun continues with face painting and vibrant balloon creations by Jazz the Balloon Man.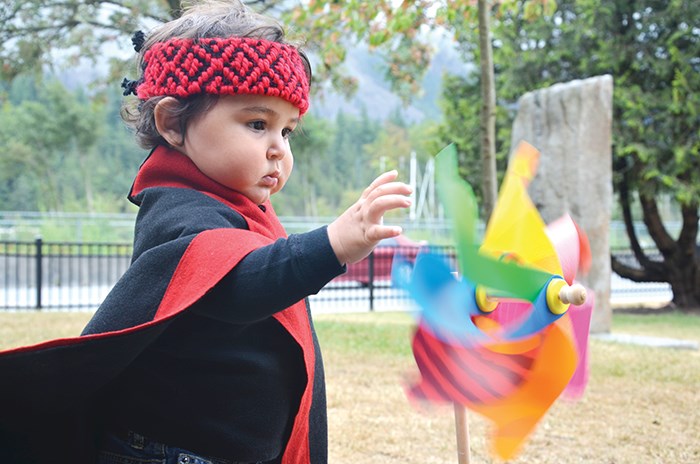 Brennan Park will also be hosting a Kids' Zone from 11 a.m. to 3 p.m., featuring a tonne of fun including a skipping rope station, bubble blowing, hula hoops, tic tac toe, bocce ball, potato sack races, parachute games and a tug-of-war rope.
If you watch carefully, you might even spot the Wind Festival Fairy who will be making her way through the crowds, spreading magic and enchantment through theatre and music.
After all that excitement, local food trucks will be on hand to keep hungry tummies happy, offering everything from delicious handmade tacos, to hearty pulled pork, lighter bites, and sweet treats.
For more details about this year's festival visit www.squamishwindfestival.com.