It is a little-known Squamish resource hidden in plain sight.
Even longtime residents may not be aware a massive open and active gravel quarry exists at the end of Centennial Way, just a few moments' drive from downtown. 
Tucked at the far end of the road, beyond two campgrounds and the Squamish Valley Rod and Gun Club, is Coast Aggregates, which is celebrating its 25th anniversary this year.
Local landscapers and gardeners may know about the company's landscape depot located at the front of the property – where soils and gravel for home gardening is sold – but a spectacular, 30-hectare Mars-like landscape exists just beyond the depot. 
Coast Aggregates supplies various types of screened, crushed and washed aggregate products for construction needs throughout the corridor. The rock from the quarry is washed and crushed on site.
With the washing process, glacial till, which is unsorted glacial sediment, is loaded into trucks, and dumped into a washer-system. What comes out at the end of that process is 10 and 20-millimetre round aggregate, birdseye aggregate, which is pea-sized gravel, and sand.
The crushing process involves the rock being first drilled and blasted. The resulting "muck" is dumped into an aptly named "crusher," which reduces the rock further into different sized materials depending on a customer's needs. On the day The Chief visited the site, the process was creating crushed rock for paving for Squamish company Alpine Paving, which handles residential, commercial and municipal paving projects in the Sea to Sky Corridor.
Whether aware of it or not, every man, woman and child in Canada uses about one dump truck load worth of aggregate – like what is produced from the Coast Aggregates quarry – per year, according to the Ontario Stone, Sand & Gravel Association. "People say they don't use it in their house, but they drive on the roads, they go to a school, they walk down a sidewalk, they go to the hospital, and that is where the aggregate and this material is and people don't really think about it because it is turned into another use or another product," said Amy Fast, who is in charge of business development for Coast Aggregates. 
In B.C., approximately 55 million tonnes of aggregate per year is consumed and up to 50 per cent of that is used within the Lower Mainland, according to a Coast Aggregates fact sheet.
Based on carbon dating, the Squamish gravel deposit is estimated to be up to 11,500 years old, the document states. "As the glaciers receded, this would have been a massive river that ran right through here, explained Andrew Simms, a pit manager at the quarry. "It is very strange, you will find solid rock and then 10 feet over it will just dive right down. So all the original ground we expose up here it is usually pretty lumpy and wavy and gravy and that is from the water and fluvial erosion." 
Simms, who is also the company's trained rock drilling and explosives expert, is a wealth of knowledge about the rocks and history of the pit.  
"The type of rock this is, because it is granite, it is formed from magma bursting inside the earth's surface, it is called an igneous intrusion," he explained.
Everything on the site seems super-sized from the mounds of moved rock to the company's equipment, which includes large-scale bulldozers, giant dump trucks and loaders, all worth close to $1 million each. 
Simms said, while he originally pursued an academic degree, he gravitated away from indoor work early on and is glad he did. 
"Running heavy equipment, getting to hang out outside all day in a beautiful setting and getting to blow stuff up is quite fun," he said. 
As the rock on site is processed, the cut in the land moves further back. The property, owned by Bob Fast, stretches back from Centennial Way to Crumpit Woods, above Valleycliffe. 
It is hard to say how long it will take to use up the rock in the quarry, Simms said, because that is dependent upon the type of rock they find further inland and the demand from customers. 
The gravel quarry has a finite life, but it likely won't be used up in our lifetimes, Amy Fast added. 
"But quarries get turned into all kinds of things," she said, noting that popular tourist attraction Butchart Gardens in Victoria was previously a quarry as was Coquitlam's 
Lafarge Lake.
"Because it is just moving earth and turning it into another natural product, it is still just earth and can really be turned into anything." 
Simms said that employees have spotted various wildlife in the quarry, including bears, elk, deer, coyotes and bobcats.
"You might think because it is a large industrial workplace that animals wouldn't be here, but it is almost like a sanctuary for them," he said. 
Fellow pit manager Geoff Wall, who has been with the company for almost two decades, added that the site's sediment pond is home to different birds such as herons, cranes, Canadian geese and mallards. 
While people assume there is effluent or chemicals in the run-off pond, in a quarry the pond is actually just water on rocks, Wall noted. 
Coast Aggregates is part of the Cardinal Group of Companies, which includes Cardinal Concrete, Diamond Head Land Company, Westland Concrete Pumping, and the quarry supplies the material when needed at those sister companies.
"It secures our concrete aggregate," said Fast of the quarry.
Fast said that while the company isn't concerned the pit will be encroached on by development in the immediate future, with the rapid growth in Squamish it is hoped the District of Squamish values the importance of industry along Centennial Way. 
"In the Brennan Park area we would like to see an eye toward the industrial neighbours that exist down this way and ourselves – Alpine Paving is here and Miller Capilano Maintenance has a yard here, as well and the Rod and Gun Club," she said. "We are hopeful that the District is mindful that, especially in our case, we can't move the gravel quarry. And it is a necessary thing – the aggregate side of our business and the concrete side of our business – is the basis for all the construction in the corridor. That isn't just residential construction, that is roads and schools and hospitals and those type of institutional facilities and institutions and service facilities that we supply to it. It is nice to have this type of material accessible, right in town."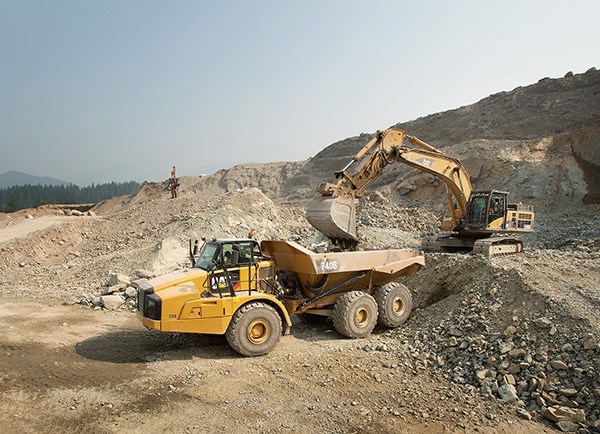 Aggregate fast facts
*Aggregate is coarse particulate material used in construction that can
include sand, gravel and crushed stone. 
*Aggregates are the most mined materials in the world.
~ From UEPG, The European Aggregates Association
Use of aggregates: home and office buildings, bridges, roads and highways, institutions, services, consumer goods and environmental protection. 
*Over 440 tonnes of aggregate (22 truck loads) are used in the construction of every house. 
*Aggregate is used for foundations, concrete blocks, brick, mortar, shingles, steel, glass and asphalt. 
*A small school uses approximately 13,000 tonnes of aggregate or 650 truckloads. 
*An office tower uses 16,000 tonnes of aggregate or 800 truckloads. 
*The construction of one kilometre of a six-lane highway requires 51,800 tonnes of aggregate or 2,590 truckloads.
~Ontario Stone, Sand & Gravel Association