From Jack Johnson to Paw Patrol, we're always being reminded to reduce, reuse and recycle. And with Earth Day just weeks away it's a good opportunity for us all to consider the earth's natural resources and what could be done to minimise our impact. For a little inspiration, look no further than some of the businesses in town.
An eco-conscious heart
Winner of last year's Green Business Award, Gillespie's Fine Spirits is a small distillery with a big, eco-conscious heart. 
"We believe that, as much as we can, we should take as little from the planet as possible and that if you can refurbish and reuse, we have a responsibility to do so," said Kelly Ann Woods, mixologist and co-owner at Gillespie's.
She and her partner, John McLellan, went out of their way to upcycle and re-purpose as much as they could, even before they opened their doors.
"Most of our equipment that we distill with is refurbished from other industries," she explained. 
One still was most recently used in honey production, she explained, while the other was refurbished by McLellan from a double boiler that came from Purdy's. Even their mash tun had a previous life as a dairy cooling tank.
At the front of house, they have a beautiful collection of glassware, all of which is sourced from thrift stores in town.
"Why buy something new that's not nearly as good quality if you can get something that looks better, made of much better material?" Woods explained.
It also adds character to their bar lounge area, she said.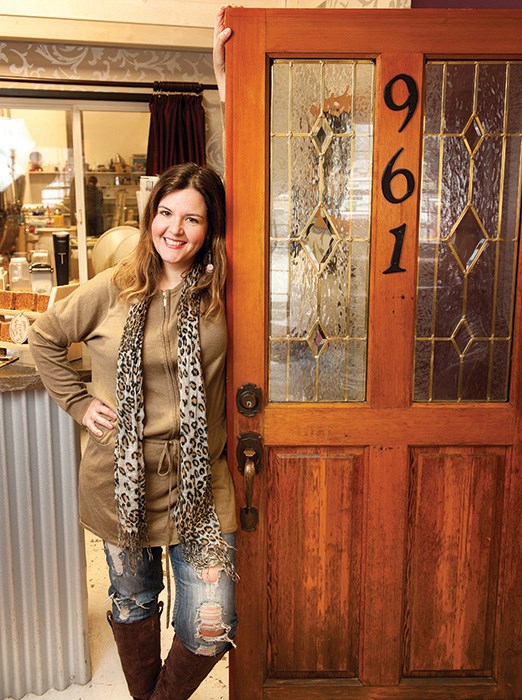 "People come in and they feel like they've stepped back in time." 
Sometimes people will recognise a piece as something their grandma once had.
Wood's favourites are two beautiful pieces of wood that once belonged to an old bridge in Squamish that collapsed. 
"Through these two pieces we feel connected to a bigger thing. We're currently using them as shelves but we're trying to figure out what to do with them next – how we can share them with others because they're part of Squamish's cultural history."
They're always on the lookout for "new" things and sometimes "new" things find them. Like a beautiful hanging that was once outside a sake producer in the 1800s, or the purple lamp gifted to them by the mayor.
"We live in an age of throwing away resources. I believe we need to reconsider that," she said. Which is why you won't find any straws behind the bar. A local farmer turns their grains into compost; their zested lemons go to either Frost Bites to be transformed into delicious syrups or to lemonade stands; and their cacao and gin botanicals go to Be Clean Naturally.
In this way, in addition to leaving a minimal footprint of the earth, they're doing what they can to support other local businesses trying to do the same.
Locally sourced material 
Though the doors aren't yet open, behind the brown-papered windows Joe DeFranco, co-founder of Joe Pesto's Pizza, has been working hard to make his wood-fired pizza restaurant dream a reality.
In addition to taking on all the usual tasks of opening a restaurant, DeFranco has spent the past seven months handcrafting everything inside, from tables to counter tops. All of which have been created using local timber that's been either upcycled or repurposed.
Aside from a few small items, everything has been pre-owned, even some of the paint. 
"I don't think I've bought anything new," he said.
"It's just a great way to save money and keep stuff out of landfill. There's so much stuff these days," he explained. 
"I can come to Squamish ReBuild and buy something for $3 that at Home Depot would have cost $30. And the quality is so much better."
The bar top has been crafted from hardwood floors and some of the tables from giant burls. Even the wood used to fire the pizza oven comes from local trees that have been cleared to make way for new developments. The log sort downtown is also a great place to find additional timber, he said.
Other items, he explained, such as his booths and crockery, have been sourced from restaurants that are closing in Vancouver.
"When you walk in and see these giant pieces of wood, it really adds character. There's no place like it. It has a real, Squamish feel."
Joe Pesto's is due to open downtown in the early summer.
"Its own story and energy"
Before they could open, the entire building needed a makeover, explained Les McDonald, owner of the Copper Coil Still and Grill.
"I'm a fairly environmentally conscious guy. I love Howe Sound and care about it deeply," he said, which is a big reason why they used as many re-purposed pieces as possible during their renovations.
"One thing I've noticed about renovations is how much waste is created. We were able to do the reverse and reuse a lot of things."
This includes the sinks, toilets and antique mirrors in the bathrooms that came from Squamish ReBuild.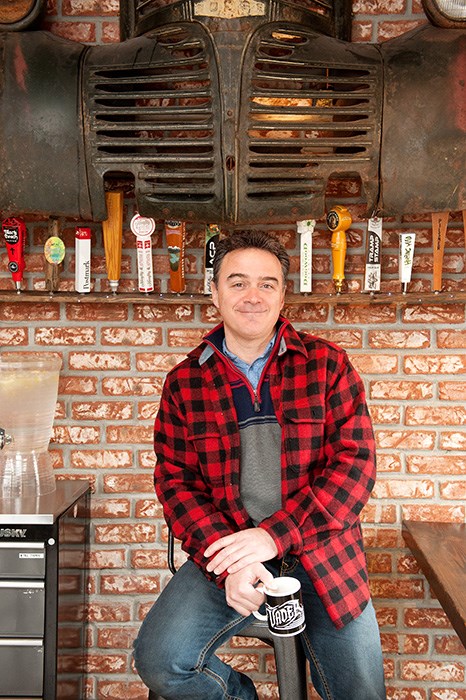 The additional beauty is that each re-purposed piece comes with its own story and energy, he explained, including the front end of a 1939 Dodge truck featured on their wall, which he found out in the woods. "I just got lucky and came across it."
Yard sales have also been a great source. 
"Not only are you recycling and reusing, I like the fact there's a positive community impact – people are able to reuse things while helping others make a little money for their family."
There's also an entire wall built out of pallets which would otherwise have been destroyed, he explained. "All that wood comes with a previous life, and it adds so much character."
Other environmental touches include LED lightbulbs, coffee cups, local thrift store finds and deep-fry oil that is recycled into biodiesel.
Rescued from the landfill 
Helping make these and many other repurposed dreams come true is Squamish ReBuild, a local, not-for-profit building supplies centre where people can purchase and repurpose used building materials.
From doors to sinks, toilets and tools, since 2011, they've helped divert 22 metric tonnes of construction waste from ending up in landfill, explained operations manager Paige McIver. 
Everything is between 50 and 90 per cent off retail prices, she said, with the most common shoppers being homeowners looking for materials for repairs, renovations or craft projects.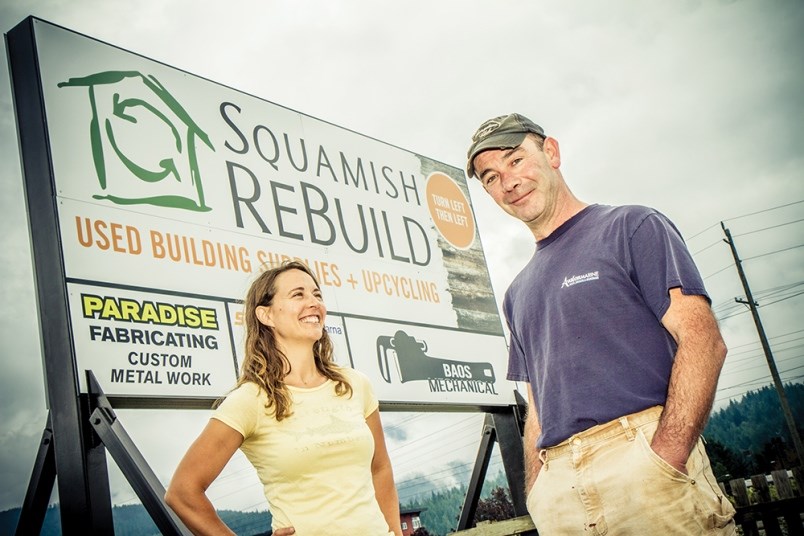 "We like to say, check at Squamish ReBuild first, then go to Rona!"
ReBuild also gives back to the community, and the team has just been involved in helping create Squamish's new Men's Shed – a creative workspace where men can work on projects and connect with one another to help combat isolation.
"It's a pleasure to be part of something that feels good," McIver said.
"People donating things feel good that they can bring them here rather than the landfill… and the people who shop here feel good too. There's a real sense of karma."
It's also a great way to get locals to think about other ways to dispose of waste, she explained, and an opportunity for people to be part of the solution.
For details visit squamishrebuild.ca.