It was the sight of "The Laundry Room" sign that finally made Maureen Mackell tear up, she says.
The Squamish Helping Hands executive director gestures toward the row of shiny new washers and dryers — including two industrial-sized ones — as she relates the emotional impact of having Under One Roof become a reality.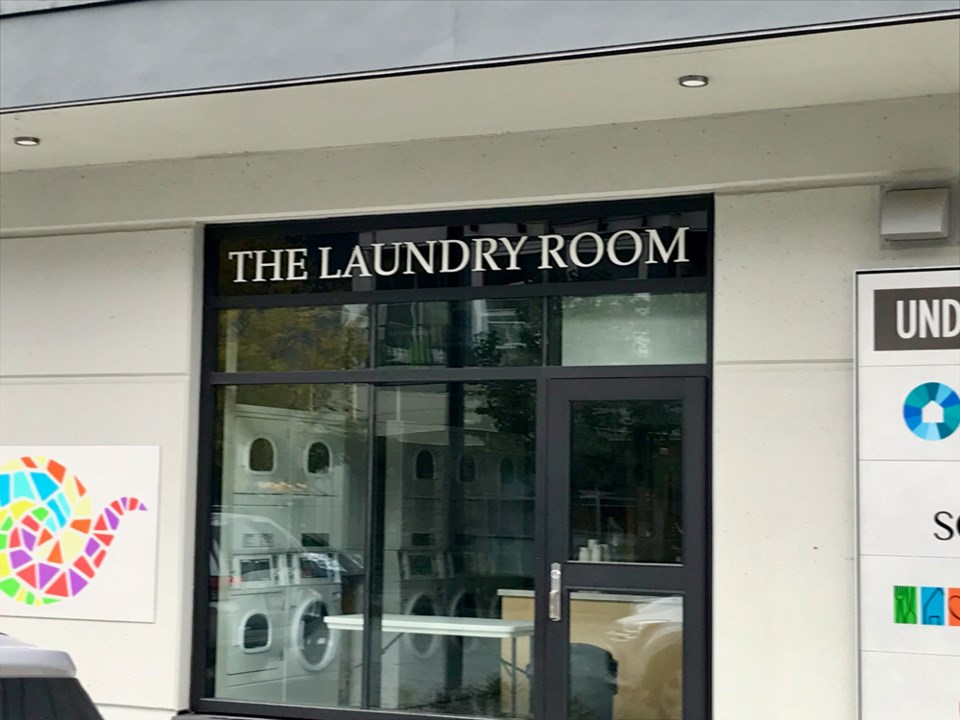 The project has been several years in the making and is a District of Squamish and Squamish Helping Hands Society project, with partners BC Housing, the Squamish Food Bank and Vancouver Coastal Health.
The four-story multi-purpose building at 37871 Third Ave. is currently a hive of activity as workers prepare for the opening.
A small group of people will start moving into some of the 44 living units this week, starting on the fourth floor.
There are enough people who need homes that the facility, which has the capacity for about 60 people total, is full before it even opens, Mackell said.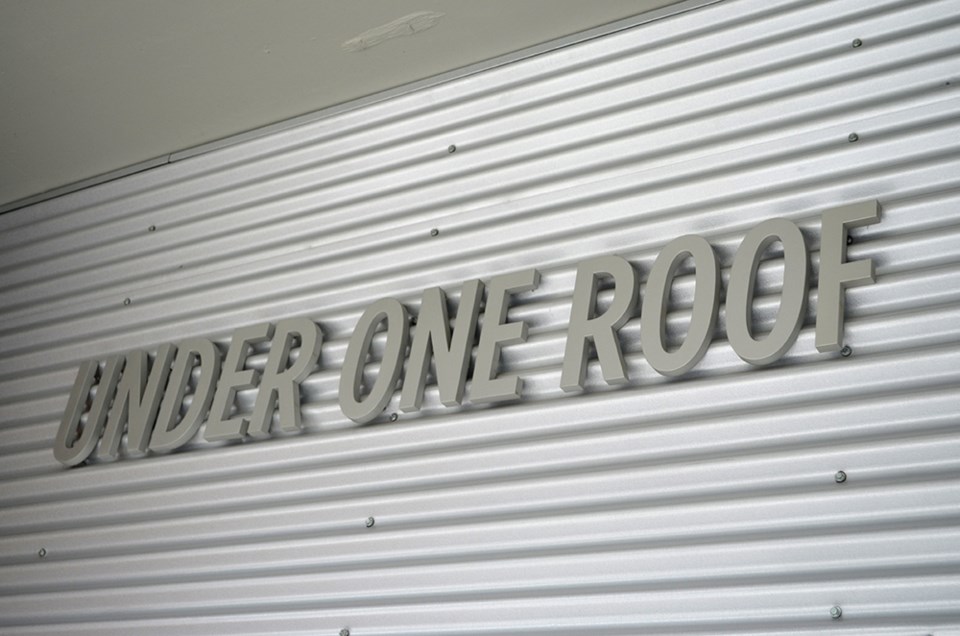 The need
It's Monday morning. Four men sit socially distanced, chatting, under the cover of O'Siyam Pavilion in downtown Squamish.
They are either currently staying at The Bridge temporary housing on the Mamquam Blind Channel, or slept outside last night.
It is threatening to rain and 10 degrees Celsius.
All of the men said they just want a roof over their heads, at the end of the day.
When they stay at The Bridge, they say it is nice, with a TV and a warm bed.
They spend their days outside, trying to find places inside to hang out, but with COVID-19, even spots at local fast food joints are limited, they say.
Dwayne Jameson, originally from Mount Currie, has lived in Squamish off and on most of his life.
He hopes to get a room at Under One Roof.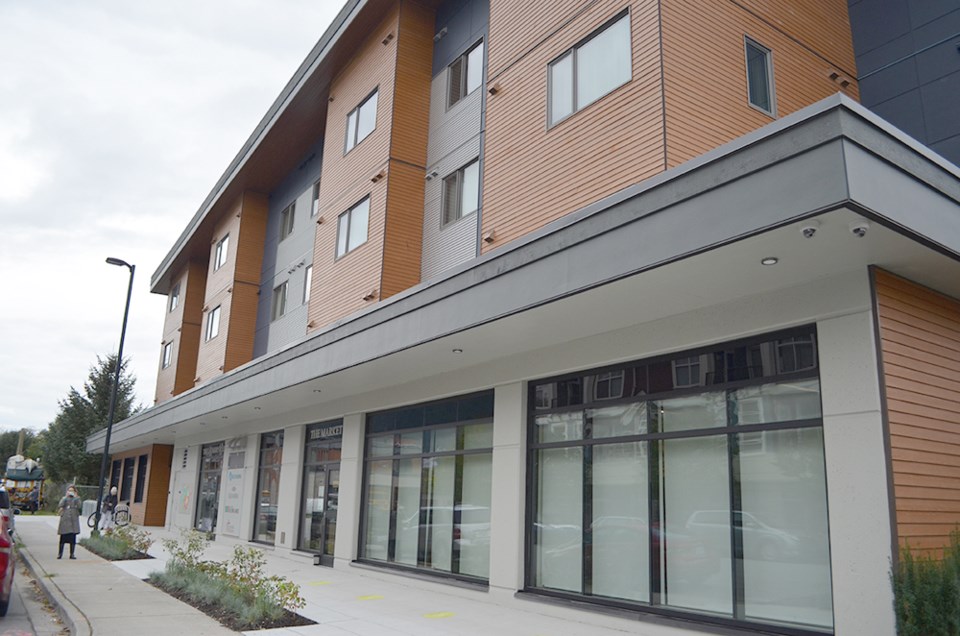 The facility
There is likely no other facility exactly like Under One Roof, at least in the province, Mackell said, as she took The Chief on a tour of the clean, bright, cheery, and modern facility that could easily be taken for a university campus, with multi-coloured couches, floor-to-ceiling windows in some places and utilitarian furniture, ready to be assembled.
Some in the community still don't really understand what the facility is about, which could be because it is about so much, Mackell said.
 'I really want people to know this is a community asset," Mackell said. "Yes, we are talking about housing our hardest to house, but really, we are just housing our community and it is one part of the continuum. Also, everyone can access it. There's no 'Us and Them' thing. There is room for everybody here. There are jobs, there are volunteer opportunities, there are training opportunities, there is food, there's housing, there are supports."
She said she envisions people in the community coming to have lunch or dinner and mixing with residents.
"There are ways to participate in this building and in this concept — all in one, under one roof in so many ways.
"At the end of the day, it is sitting and getting to know people, and then when you see them in the street, you can say hi and then everybody becomes part of our community — where everybody matters and everybody counts."
On the first floor, there are drop-in areas, emergency shelter areas, a health zone, a laundromat, and a food hub.
The finer details are what seems to excite Mackell, such as the intake washroom facility with a large shower.
"So, if people need to have home support or are in a wheelchair or need hygiene support, it can all be done right here," she said.
There are self-contained, drop-in washrooms, each with a sink, mirror, and toilet.
The "Bunkhouse" is the emergency shelter dorm. It will have three sets of bunk beds, with space for six people to sleep.
Each of the areas has its own unique name, given to it by Mackell and others on staff, such as "Hive," "Joinery" and "Bunkhouse."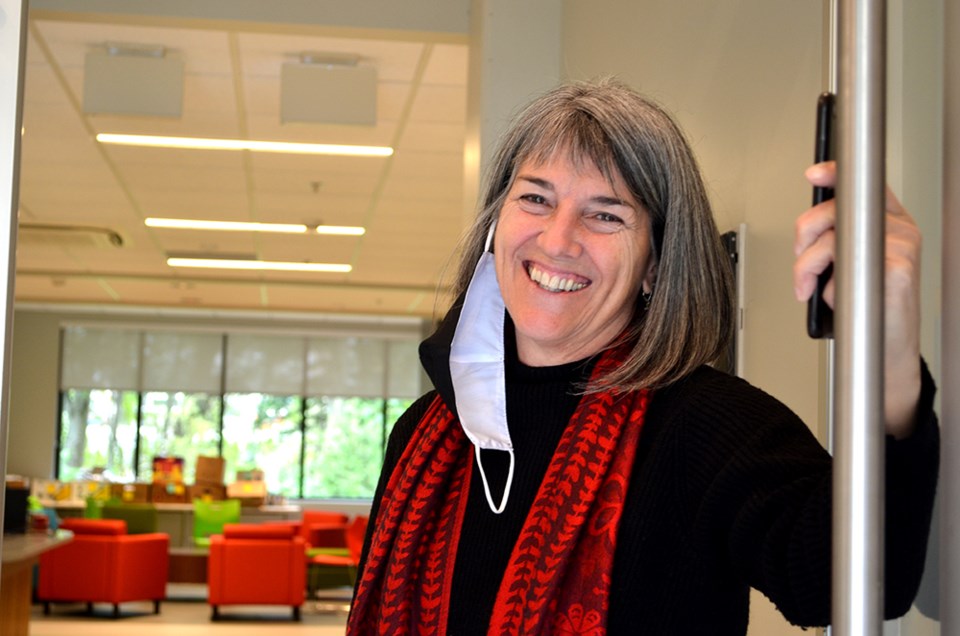 The day The Chief toured the facility an "angel" had dropped off supplies for a whole floor of units: dishes, pots and pans, sheets, towels, and more.
On the first floor, there are also typical board rooms and medical-looking rooms for visiting clinicians and counsellors to meet with clients if need be.
"When I cried is when I saw 'The Laundry Room' sign up on there," Mackell said, "I love The Laundry Room. I have this vision of building this into a bit of an enterprise for our organization. It is really a great place for participants to work and learn working skills."
The new digs send the message to those who enter that "you matter," Mackell said. "Whatever happens from there is another story, but the fact that we have all taken action — the District of Squamish, BC Housing, Helping Hands, Vancouver Coastal Health, the Food Bank — all seeing the same thing and buying into the same vision, which is to say, 'People need to be treated like people,' that is the bottom line," she said. "For the most part, we will find that people rise to the occasion and find some joy in it and relax enough to get whatever help they need or relax enough to move along their path. When you are homeless, you are kind of not moving, you are stuck — a spinning wheel."
"From all of our perspectives, it just lifts your spirits. In order to get going — it is sort of like that old thing that you can't start baking until you clean the kitchen — it is feeling like it is a clean slate," she said.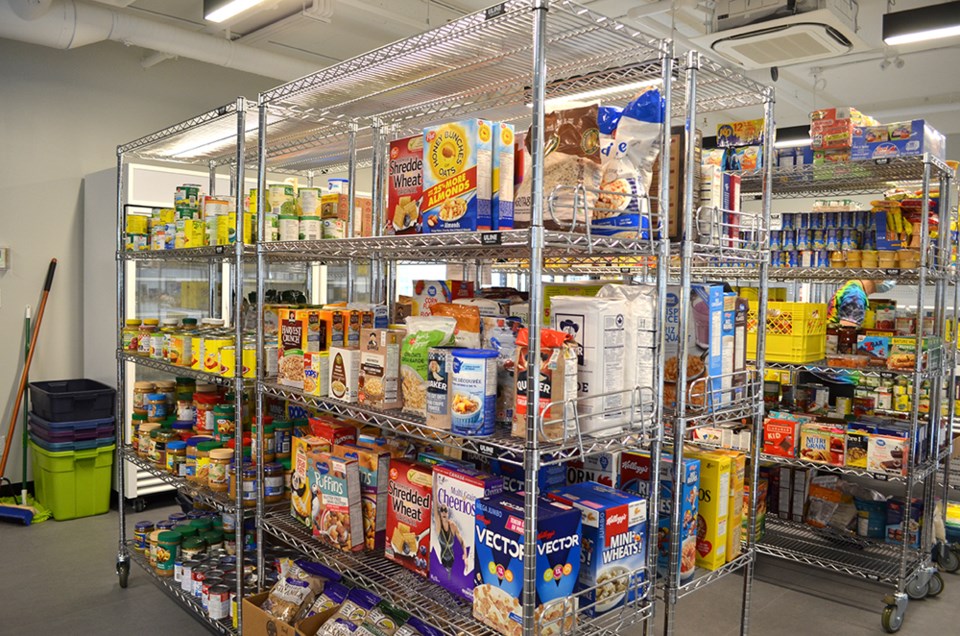 Food
With Under One Roof, the Squamish Food Bank has become The Market, a new way for those in Squamish to think about food distribution and rescue.
The Market, as it sounds, looks like a small grocery store. Anyone in the community can go and shop there and donate to the facility, if able.
"So, you could come and shop. I could come and shop — fill up a basket and say here's $20 for that, or $10 or whatever you can afford," Mackell said.
"The other reason you come is [to] destigmatize... it," she added.
Food is still available for free for those who need it.
"[Another] reason to come here is we are going down to zero waste. A lot of food gets wasted if it doesn't go out the door."
Food comes in from various donors to the food hub area and is sorted for its best and highest purpose.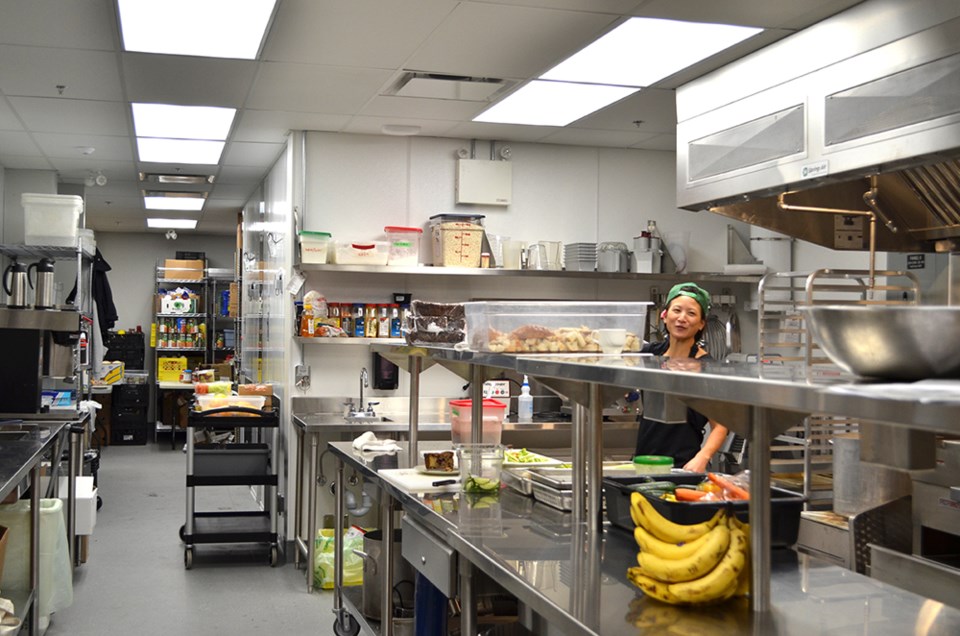 "I am so excited about this," Mackell said. The kitchen is as large, modern, and organized as at any hotel, with gas stoves, combi oven, industrial mixers, large walk-in cold storage, and freezers.
"We've never had this much space," said Mackell. The cooking area is about the same size as the entire shelter, which is located kitty-corner to Under One Roof, where Squamish Helping Hands has operated out of until now.
Eventually, the food hub area of the building will include a cafe, Mackell said.
"We are in Heaven. This is how you can food rescue and this is how you can have zero waste," she said.
A dish pit, with the restaurant-grade dishwasher, will be a place participants can work as well.
Everyone who lives at the facility can sign up for a job in the building.
"That helps us run the building and it also helps them feel like they are of value. By contributing, you start to feel of value," she said.
There's an eating area, with floor-to-ceiling windows and patio areas. 
Again, Mackell stresses that the general public will be welcome to come and eat with residents, creating a stronger community for all.
Second floor
The second floor is the harm-reduction floor with living units. Each floor is about 7,000 square feet, Mackell said.
"This is for people with the most needs — very street entrenched, entrenched in their addictions or with mental health issues, lots of barriers — so it is our zero-barrier floor," she said.
Residents on this floor will go down to the first floor for meals, which is by design so that they aren't isolated — in the sense of being alone.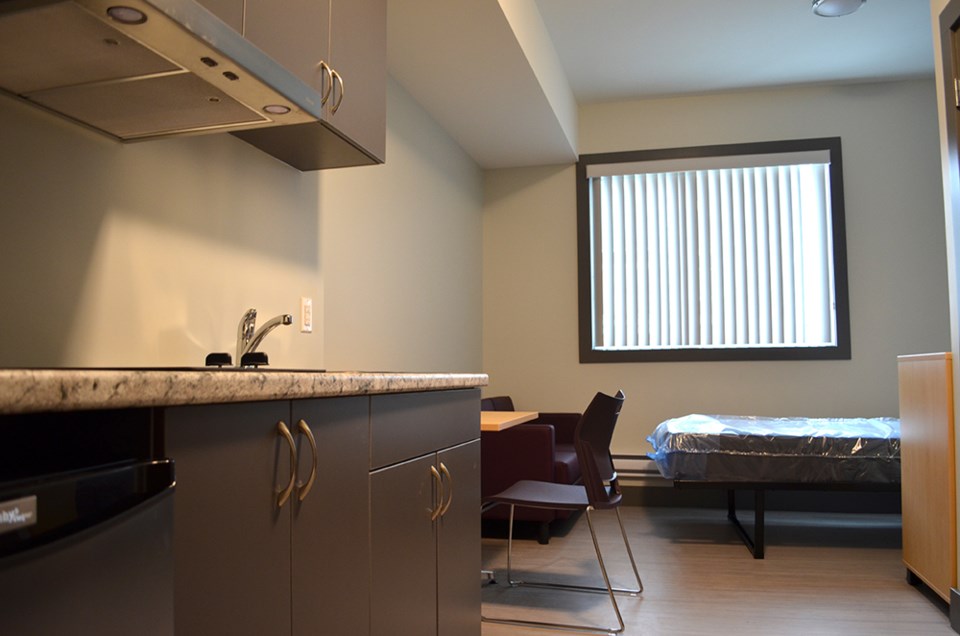 The third & fourth floors
Rooms on the third and fourth floors are self-contained, with kitchen and living areas and more transitional and supported housing.
"So people who are working on next steps," Mackell said.
There are shared balconies, and high ceilings on these floors and most rooms have beautiful views of the Stawamus Chief or Mount Garibaldi, or both.
"Hopefully, in the near future, we have another project that people can move to for the next level. I think we really have to make sure we hit all levels of the continuum," she said, adding that other housing could be located outside of the downtown core, perhaps.
The Bridge temporary housing on the Mamquam Blind Channel, which has housed people without homes during the pandemic, will be dismantled as soon as everyone is moved into Under One Roof, Mackell said.
Reflecting after the tour, Mackell said maybe because so much is happening under the one roof, that is why some in the community don't yet get what it is: "There are so many aspects to it. But it is an all in one. It is definitely, at the end of the day, health and housing; food, and purpose and community."
Find out more about Under One Roof here https://underoneroofsquamish.ca/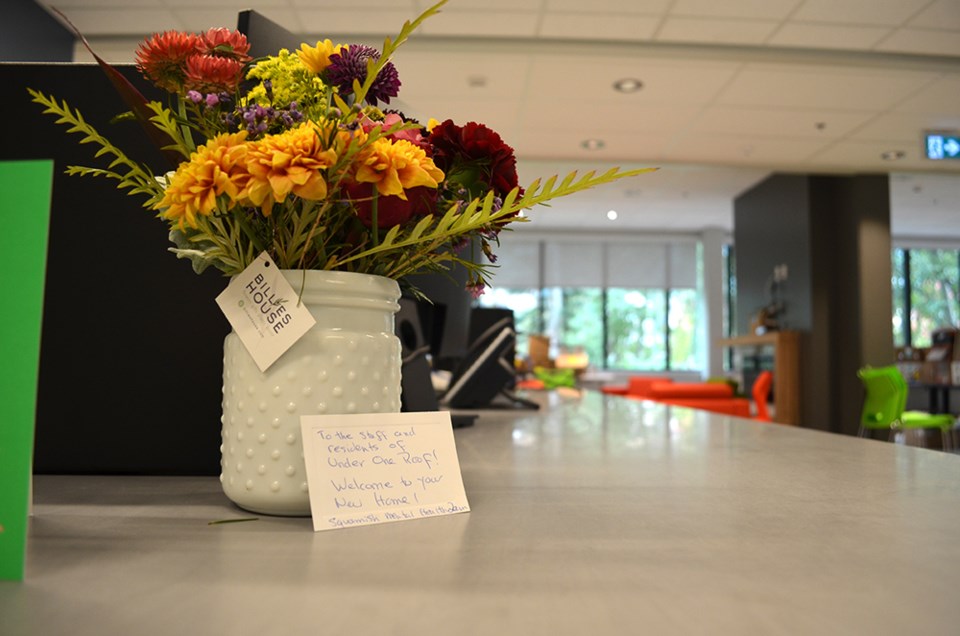 Questions and Answers about Under One Roof: