Squamish barber Sorav Bhanot looks like something out of a science fiction film, decked out head to toe in personal protective gear, including a gas-mask looking respirator under his plastic visor.
That keeps his glasses from fogging up, he says.
The Downtown Barber, like most local businesses, shut mid-March due to the pandemic.
At the time, the family-business had three locations, one in Squamish, one in Lynn Valley Village and one in Park Royal.
The Park Royal location has closed permanently due to the financial repercussions of the pandemic.
The family has owned the shop since 1984, but the shutdown meant the business could not survive, Bhanot said.
 "It is a burden on many small businesses," he added. "Everyone sacrificed something out of this, for us, it is our shop in the city."
The Squamish shop, like others in town, got the all-clear to re-open at the end of May.
"Safety of the people is the main thing on our mind," said Bhanot, who has been a barber since 2005, but started cutting his buddies' hair in Grade 7 or 8.
The pandemic hits closer to home for his family than perhaps others in Squamish because his uncle in India died from COVID-19 recently.
"It is not easy when you lose somebody to it," he said. "That really shocks you."
His cousin, who is in his 20s, got sick and brought it home to his father.
The cousin didn't get very ill from it, but his 50-something father died.
"There are people in Squamish who understand, but there are those who don't because they don't see that side, the effects," he said.
And that is the message he passes on to his young clients.
"In Squamish, we don't see it — it is not in our face — until something happens.... We are very lucky and blessed."
The Squamish shop runs with three or four employees, including himself.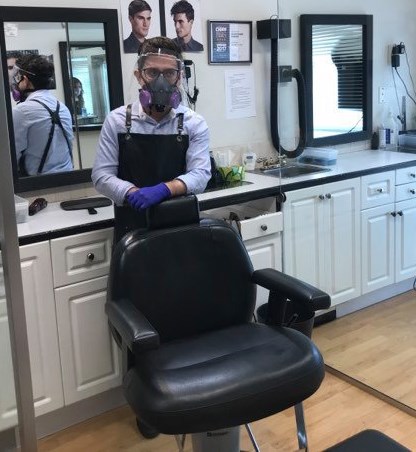 He said he worries about himself, his staff and his clients, many of whom are seniors.
The shop's newly-implemented protocols to reduce the risk of COVID-19 include protective gear, floor-to-ceiling barriers between chairs, masks, and cuts by appointment only — no walk-ins.
Clients wait outside before their scheduled time.
In addition to following WorkSafeBC protocols,  Bhanot talked with a nurse and dentist, both friends, to find out what they were doing to protect themselves and others.
"They are the other people who are that close to the clients," he said. "You are in the person's face and you are bending down in their face for an extended time — that is the nature of the business."
All the steps required have led to a reduction in the number of people hairdressers can see per day.
Bhanot used to see 25 to 30 clients per day, pre-COVID, but now sees about 12 clients a day.
Getting back up and running is financially difficult.
After two months closed, they now are making less, due to fewer clients and more expenses.
Costs have increased on necessary sanitizing solutions, in some cases up by $20 per purchase, he said.
"Everything has gone up... in the supply chain," he said.
He said the family is going to assess what the costs and revenues are a few weeks into reopening to see what the next steps should be, he said, adding for some hairdressers, the costs are going to be more than the revenue stream.
He said when haircuts cost clients more, it is a reflection of the increased costs business owners are dealing with to keep people safe, he said.
"It isn't going in my pocket," he said.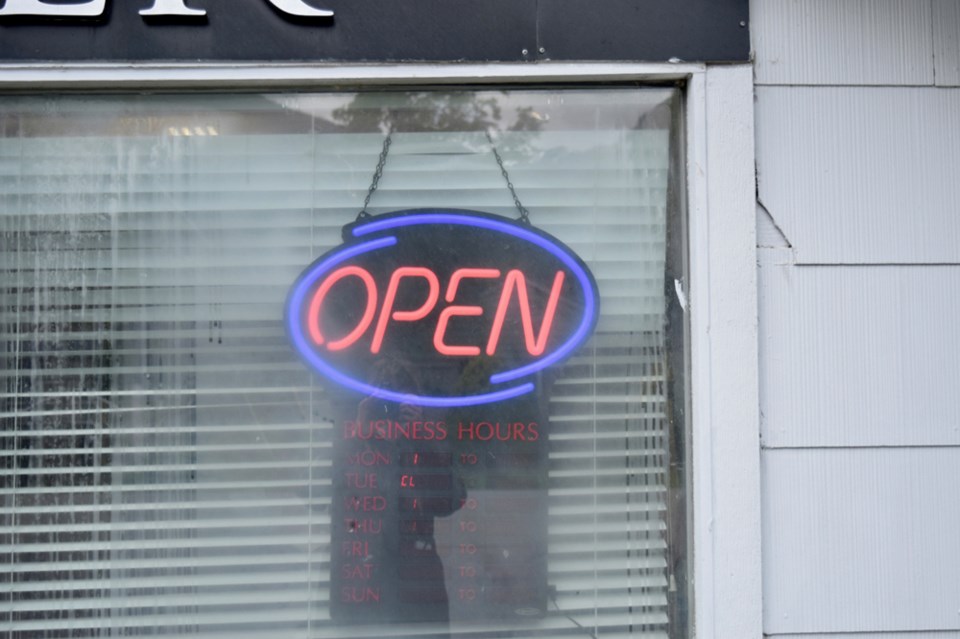 Industry view
Greg Robins, executive director of the Beauty Council of Western Canada, which represents the personal service industry, said it is too early to tell what the pandemic will ultimately mean for many salons.
"There are so many operations that are floating along on money in the bank, credit cards, terms from their suppliers — some of them obviously have benefited from some of the federal programs," he said. "And many salons are concerned about the next 60 to 90 days when bills start coming due and payables start catching up to the reality of the income."
In the face of reduced revenue, increased debt and higher expenses, Robins said many business owners are afraid to raise the fees for their services, but that is just what he is advising them to do.
"Many are very concerned to do this... [But] it is going to be more expensive for these services to be provided and that expense has to be passed on to the customer. There is really no other sustainable way to do it," he said.
For too long, many salons weren't charging what their craft was worth, he said.
"This might be a good wake-up call for many of these businesses to realize that they cannot survive on slim margins and they should take a more business-like approach to their craft and their art. And look at it as a means to retirement, not just a way to pay the rent at the end of the month."
Also a positive for the industry that has come out of COVID, he said, is his council has seen a huge focus and heightened awareness on hygiene and controlling for disease.
"It is a big bonus for customers and people in the industry," he said, "It has been lacking in the past and now everybody is getting on board."