Hints to Jordan Tulk's passion can be spotted when his eyes wander to the fluttering leaves outside his classroom's window at Don Ross Secondary School. Then there's his cell phone, with one page permanently open to the Squamish Windsports Society's wind chart.
"I once got my phone taken away in school when I was checking the wind," the 14-year-old sheepishly admits.
Just as wind is guaranteed in Squamish when there's sunshine, Jordan and his brother Griffin, 11, can be seen setting up their kites at the Spit if there's wind. Jordan first took to the water two years ago. Griffin followed shortly after.
"We would come down and watch our dad," Jordan says. "I really wanted to try it."The brothers stand out among the hundreds of kiters visiting the world-class location.
They're usually the only youth on the water. It's something they'd like to see change.
"It's kind of a hard sport to learn," Jordan says. "You have to be patient. Don't give up right away; it is going to take a while. Once you get it, it is super addictive."
On Friday, July 6, to Sunday, July 8, Jordan will be competing in KiteClash. Held at the Squamish Spit, it's Canada's largest kiting event.
It includes the national championships in freestyle riding — a competition Jordan plans to enter. He acknowledges his opponents will likely be at least four years older, but he's still excited. Jordan's been practising his raley to blind trick, a move that many kiters 10 years his senior haven't mastered. Griffin's practising jumping.
"I like jumping," Griffin pipes in.
"I want to take my freestyle further," Jordan adds.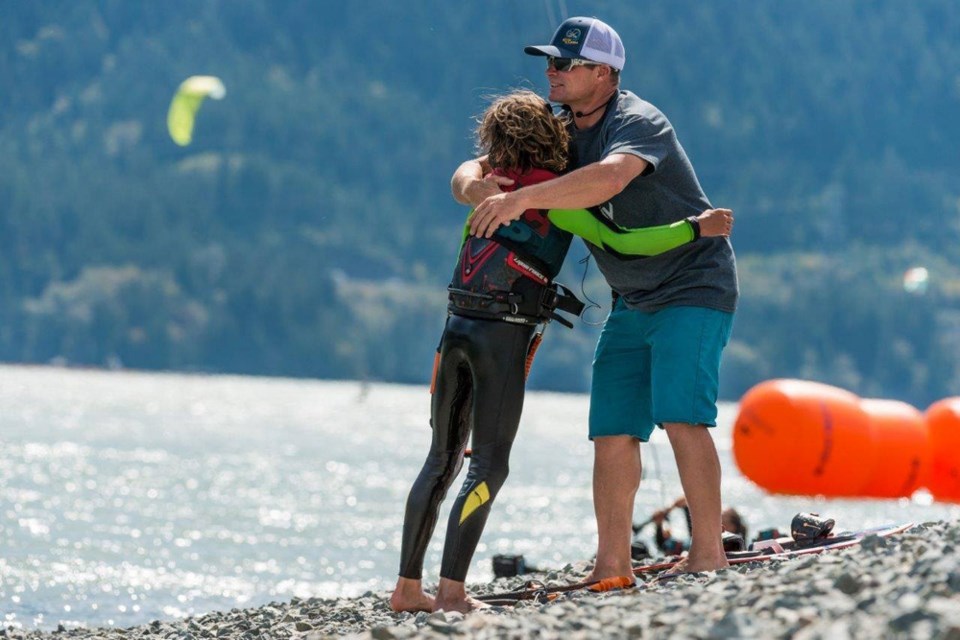 Approximately 70 athletes from around the world will be competing for top spot.
Luis Alberto Cruz is making his first trip to Canada from the Dominican Republic. He'd never heard of Squamish before looking up the international kiteboarding event.
"I am nervous of the cold weather," his friend and coach, Richard Diaz, translates for him over the phone from their Gokite Cabarete school at Kite Beach in the Dominican Republic. "He also hasn't worn a wet suit before."
Like the Tulk brothers, Cruz started kiteboarding at a young age. He was 16. Kiteboarding has opened the door to new possibilities for Dominican youth, Diaz notes.
"For many of the youth this is their chance to explore the world," he says, noting kiteboarding competitions have taken the now 27-year-old Cruz all over Europe. "We have some really amazing young kiteboarders here."
Cruz is excited to visit Squamish. He loves competing and seeks strong wind — an element Squamish usually delivers. When asked what he is most eager for regarding this adventure, Cruz answers like a true athlete.
"Winning KiteClash," he replies without skipping a beat.
On Friday, July 6, the action kicks off with the annual Canadian Freestyle Championships followed by the TwinTip Slalom Cross — a kiteboarding version of snowboarding's boarder cross.
It continues on Saturday with the international Open Freestyle Competition. Sunday wraps up events with the popular Air Style Competition and TwinTip Slalom Cross finals. A free shuttle provided by AmeriCan Adventures, will run throughout the event on the hour from Backcountry Brewery to the Squamish Spit.
Squamish resident and reigning Canadian champion, Sam Medysky, is ready to defend his title. He's competed in every Canadian Freestyle Kiteboarding Competition since its inception. The 28-year-old has seen a huge transformation in the sport, particularly in Canada.
"The level of riding has improved so much. It used to be that I'd always win, except for the year I knocked myself out attempting a trick. For a long time there wasn't much competition," Medysky says. "Now there are some really good riders, Jack Reider, Lucas Arsenault. They are super young and accelerating their talent so quickly to the next level."
Medysky anticipates the jump in young talent and public interest will increase when kiteboarding makes its debut at the Summer Olympics in Paris in 2024. Featuring kiteboard racing at the Games will help push the sport into the mainstream arena, he notes. It's also a big win for Squamish, Medysky adds, as the community is Canada's premiere location for kiteboarding. He expects to see the best in the country practising in Squamish's water leading up to the Olympics.
"Squamish is one of the best kiteboarding destinations in North America," he says. "It is the reason I moved to Squamish and live in Squamish."
Squamish is already turning the heads of some of the biggest names in the sport. This year one of kiteboarding's most renowned athletes, Aaron Harlow, is anticipated to pay a visit. Three-time female world champion, Polish rider Karolina Winkowska and British champion and recent third place winner in the coveted King of the Air in South Africa, British champion Lewis Crathern, will join Harlow.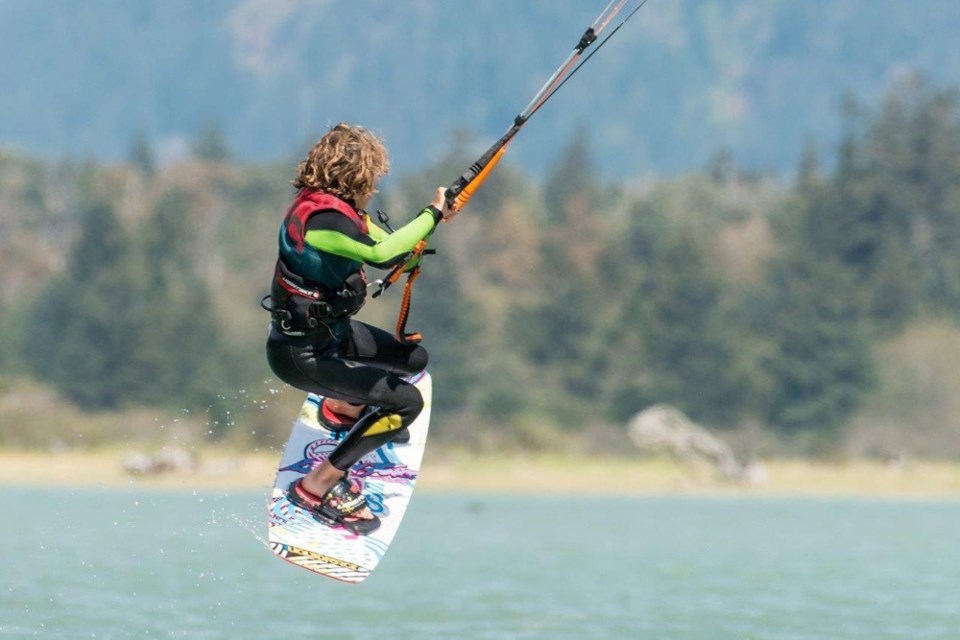 "I was in South Africa at King of the Air and kiters were talking about Squamish. It is now on the radar of the international kiting scene," Medysky says.
Jordan and Griffin's father, Steve, founded KiteClash six years ago. He hoped the event would help bring the best in the sport to Squamish. It's amazing to see that dream come to fruition, Tulk notes, however the biggest change he's seen over its lifetime is on the spectator side.
"We see so many non-kiters coming daily to the spit daily to watch the spectacle," he says. "It's such a unique location to watch kiteboarding because you are so close to the action."
This year's event is shaping up to become one of the most exciting competitions to date, Tulk adds.
"With the backing of community developer Solterra, we've been able to up our game," he notes. "We have athletes flying in from England, South Africa and Spain. It's going to be huge."
Tulk's looking forward to cheering on his sons. It's amazing to see new, young kiters push the sport further, he says, noting his experience and his sons' experience kiting will greatly differ because of the advances in kiting technology.
"The terrain doesn't really change, but the newer gear is allowing for an incredible range of riding styles in all kinds of conditions. Plus they started at 10 [years of age] and I started at 40,"Tulk says with a laugh.
For more information on KiteClash or to register, visit www.facebook.com/KiteClashSquamish
**Please note, this story has been corrected since it was first posted to give proper credit to the photographers.