It is just before the start of rehearsal at the Eagle Eye Theatre on Wednesday afternoon and the excitement is palpable.
The Howe Sound Secondary musical theatre cast will soon hit the stage in the high school production of Mamma Mia! The first performance is on April 27.
The reasons for the young thespians' excitement are all around us.
Spring is often a time of optimism and at the same time this year, the world is finally opening up. After two years without a public production — the last being Grease in the spring of 2020, just before everything shut down— this is the first time the students will invite an audience to fill the theatre to see them perform.
Mamma Mia! takes place on a small Greek island where bride-to-be Sophie Sheridan wants her wedding to include her father giving her away, only she doesn't know who he is.
Her mom, hotelier Donna Sheridan, won't talk about it so Sophie reads her mom's old diaries and finds three possible men who could be her father. She secretly invites them all to her island wedding. Hilarity and much singing ensue.
The story, which is told through the upbeat 1970s Disco music of ABBA, involves 60 students, and is produced by teachers Fran Booth and Janice Carroll.
The dance choreographer is Zoe Carter.
Booth and her music students will perform some of the music.
At the beginning of the school year, the group decided this was the production for them.
"ABBA music is so upbeat and such a crowd-pleaser. And as we're reentering this whole world that we're in [we just thought] that it would be a wonderful rah-rah number," said Booth.
Although the popular Meryl Streep movie Mamma Mia! came out in 2008, when the Squamish stars were still very young, it was well known and loved by at least among some of the cast.
"Since it came out, it's been one of my favourite movies. This is like the perfect opportunity, honestly," said Lou Gosling, who plays Tanya Chesham-Leigh, Donna's sassy best friend.
This is the Grade 11 student's first time in a production.
She's playing a character in her 40s and nailing it, Booth said.
"Everything about it is just so bright and playful and fun. There's nothing depressing about it, which is nice. And there are also just some really sweet moments that make you feel really connected to it like `Slipping through my fingers.' That song is a great balance between everything," said Gosling, adding that her character gets to say things you aren't supposed to say in public, which is always fun.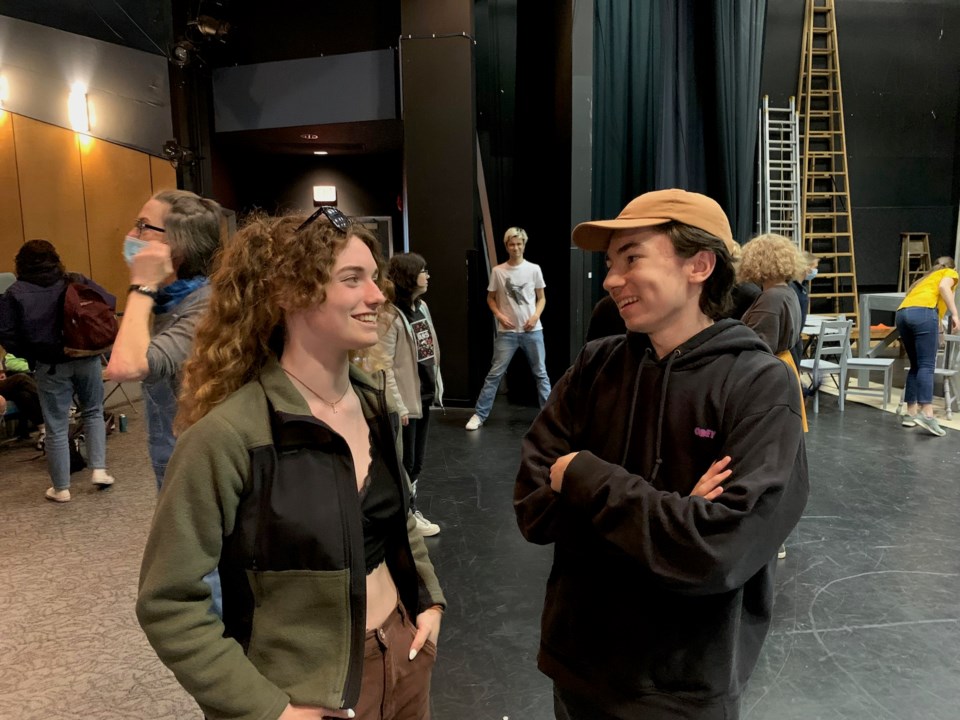 From Grease to Greece
For Nick Pereira, who is one of the actors playing Harry Bright, one of Sophie's possible dads, the production is the perfect way to end his Grade 12 year.
"This is honestly the way I want to end my whole high school experience," he said, adding that he first got involved in theatre at Howe Sound by performing in Grease two years ago.
"With Grease, I had a much smaller role. So being able to have a bigger role and interpreting this character the way that I wanted to, for more people to see is something that I'm really excited about, and something that I can't wait to show," he said, adding that the cast has bonded.
"With musical theatre as a whole, there's no such thing as fitting in because we're all a group. When you talk about cliques and people trying to fit in high school — when it comes to musical theatre, there's no box. There are no boundaries. Everyone is kind of super close and accepting and so lively and kind."
Grade 10 student Ella Guerin is part of the technical crew and echoed Pereira.
"I still get to have a role in getting the musical out there without having to put myself in the spotlight. I still feel included and loved by the team," she said.
On the technical side, teacher Keenan Way and Karen Yaremkewich from Endure Upcycled Designs are working with students to craft the costumes.
"The talent pool, whether you're talking singing, acting, dancing, or just generally their knowledge of set building or textiles, or...makeup... The talent runs deep here in the school," said Booth.
After two years, the hope is lots of locals outside of the school community will go see this latest high school production. Much has been lost by not having live theatre, according to Carroll.
"They talk about theatre being a reflection of, society in general. So if you're not reflecting and not looking at things, I guess you get lost in here, you know? But it's suddenly opened up — the country, North America and the world," she said.
"And suddenly the shows are coming and people can't get enough of it. They are starved for it. And we're hoping, of course, to sell out and provide as many opportunities for people to see it."
Dates: April 27 to 30, May 4 to 7
Time: 7 .p.m
Place: Eagle Eye Theatre at Howe Sound Secondary
Cost: $20 (plus handling)
Find tickets on Eventbrite under "HSS Musical Theatre presents Mamma Mia."