Because the Brackendale Winter Eagle Festival and Count has been a staple of this community for more than three decades, it may be easy to assume it will be the same ol' event this January. 
But for 2019, in addition to the usual eagle count, talks and performances, the BAG is hosting the biggest eagle photography show it has ever had. 
"Who has ever put 50 photos of eagles together like this? Nobody," said the Brackendale Art Gallery's Thor Froslev. 
The show includes seven local photographers: Garry Broeckling, Breanna Wilson, Thor Halvorson, Ed Dubois, Tim Cyr, Israel Cruces and The Chief's own, David Buzzard. 
Froslev, who founded the festival, said he wouldn't have guessed when it began that it would still be going strong decades later. 
"Who would know? We just wanted to get it started and work it from there — like everything," he said.
In 2017, the Squamish Environment Society took over organizing and conducting the Squamish area count, with the Brackendale Art Gallery continuing as home base.
That transfer ensures the festival, "will travel on forever," Froslev said.  
"It feels good. Like it should be." 
Events included in the 33rd Annual Brackendale Winter Eagle Festival and Count: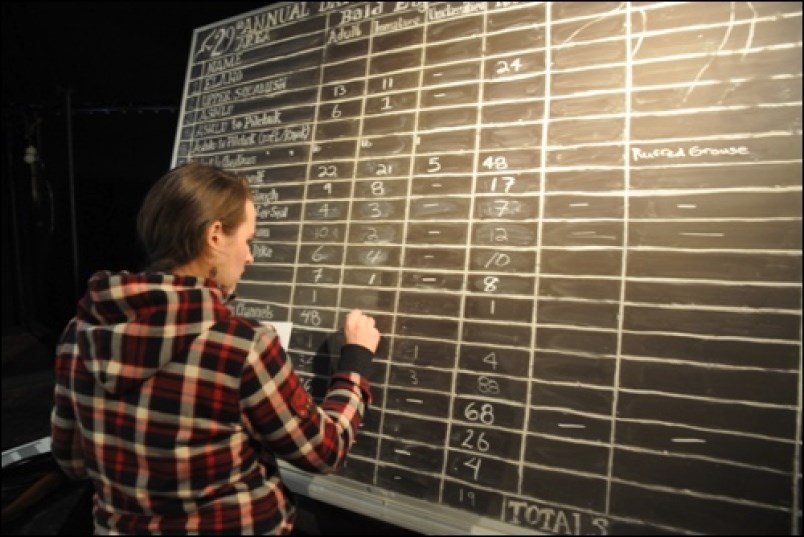 *Eagle count — Jan. 6
The annual eagle count kicks off on Jan. 6. Activities include eagle walking tours at 10 a.m. displays and more. If you want to help out, contact volunteer@squamishenvironment.ca.
*Brackendale: An Art Gallery In the Woods"— Jan. 12 at 8 p.m. 
The premier launch party for the documentary about Thor Froslev and the Brackendale Art Gallery. The film is by Michael Hansen and Laura Garcia Palka. Also featuring a short film by Tim Cyr, Eddie the Eagle. 
*Michael Allen: Bear Stories — Jan. 13 at 7 p.m. 
Part of the festival lecture series, independent bear researcher Michael Allen will discuss a comparison of Squamish and Whistler black bear behaviour. 
*Valdy and the Valdy Eagle Band — Jan. 19 (7 p.m. dinner; 8 p.m. performance)
*Music art and nature — Jan. 20 at 1 p.m. 
1 p.m.: Opening ceremonies. 
1:15 p.m.: Rita Kyle performs. 
2 p.m.: Wildlife slide presentation by Bob Brant with Breanna Wilson and Brian Aikens. 
3 p.m.: Ted Hesketh talks about the relationship between art and music. 
3:30 p.m.: Ted Hesketh musical jam. 
7 p.m.: Ted Hesketh gives keynote address, "In the company of eagles."  
*The Scott Verbeek Quintet — Jan. 26 at 8 p.m. 
*Judith Knapp and Wolfgang Pauli lecture —  Jan. 27 at 7 p.m. 
Presentation, "All about eagles," by Eagle Watch educators. Includes a short film by Ed Dubois. 
For more information go to brackendaleartgallery.com. 
Tickets at XOXO and the BAG.