Squamish's increasingly younger demographics and fast-growing population is prompting new microbreweries to capture a ripe market. 
A-Frame Brewing Company opened this past December and Backcountry Brewing is expected to open in March.
Alongside the veteran beer makers from Howe Sound Brewing, this will raise the number of microbreweries in town to three.
One Duck Brewing was scheduled to open its doors last year, but financial issues appear to have put those plans on hold indefinitely. 
Microbrewing has become a trend that has swept much of British Columbia, which has around 100 microbreweries.
Squamish's newest beer makers believe it's a trend that's due to expand in town.
"There is that thirst," said Marc Roberts, co-owner of Backcountry Brewing. 
"People are moving out of Vancouver and they are bringing their preferences with them."
Beer drinkers are looking for more variety and brewers are rushing to fill that need.
"People don't want to just drink their parents' beer," said Roberts. "They want to explore a little bit more. They want to kind of make it their own.
"And with all these new flavours coming out, there's no such thing as people who don't like beer – there's a beer out there for you."
Indeed, Backcountry Brewing intends to provide just that when they open up shop.
Among what is expected to be their three core brews – which haven't been named yet – are a pilsner, a pale ale and an India pale ale (IPA).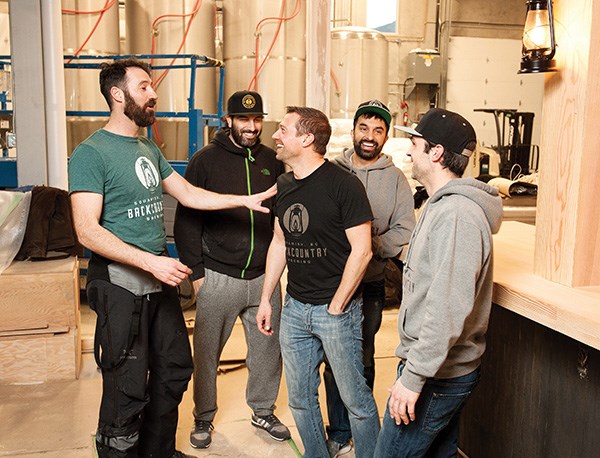 The German-style pilsner is made with hallertau blanc hops that are known to have floral, fruity overtones.
 Roberts describes the pale ale as a hybrid, which blends influences from the East and West Coast. It has slight citrus notes, complete with a creamy feel on the palette and a dry finish.
The IPA is made with English yeast and citra and mosaic hops, which have been described as having floral, citrusy and earthy aromas. The brew has passionfruit notes and a dry finish with low bitterness.
And while brewers are excited at the chance of cornering a new market, some beer makers chose to plant their flags in Squamish because they believed the town would be a good place to raise a family and foster a sense of community.
"It wasn't just where the brewery was going to be successful, but it was where we were going to be successful raising our girls," said Jeff Oldenborger, who, along with his wife, owns A-Frame Brewing Company.
The couple opened their microbrewery in December, in part, because they believed Squamish encouraged a balanced lifestyle that emphasized a connection with nature.
"We wanted to move to a community that – and this one obviously does – endorses and really promotes healthy living and outdoor activities," he said.
Furthermore, he and his wife believed that people in Squamish felt connected to local businesses.
"Squamish has a particular appetite to support local," said Oldenborger. "That was a really big piece for us."
So far, locals have been helping themselves to four of A-Frame's flagship beers, each named after a B.C. lake because Oldenborger and his wife grew up near the water.
Okanagan Lake Cream Ale has a golden straw colour, a grainy aroma and a taste that doesn't overpower.
Elfin Lakes Belgian Ale is more hazy and has a sweet honey taste, with a bit of grain and a touch of hop bitterness.
Spot Lake Dry Hopped Pale Ale is a light amber colour, with a fruity taste and citrus and pine aromas.
Magic Lake Porter is a more rich beer with chocolate, coffee, caramel and a malty background.
But while new brewers have just put their name in the game, one beer maker has been succeeding in the community for quite some time.
"In terms of our business, Squamish has been very supportive in the last 20 years," said Leslie Fenn, co-owner of Howe Sound Brewing.
The company has been in town since 1996, when only a handful of microbreweries were in B.C., and got its start working with Canada's original microbrewer, John Mitchell.
Mitchell began his journey to become a brewing legend when workers from Carling O'Keefe – one of the "big three" breweries in the country – went on strike.
As a result, Mitchell, who ran the Troller Pub in Horseshoe Bay, couldn't serve any of his patrons for several weeks in 1979.
The event inspired him to take matters into his own hands and make his own beer, alongside ex-Carling O'Keefe brewer Frank Appleton.
Years later, Mitchell would start selling his own brew in 1982, calculating he would need to sell one keg of beer a day to break even. He sold seven on his first day.
He would go on to start Spinnaker's brewery, but on the way he also helped Howe Sound Brewing with all its original recipes, two of which still survive to this day.
Rail Ale is a brown nut ale with hints of chocolate, caramel and coffee.
Baldwin & Cooper Best Bitter is an English bitter with a malty background and a healthy dose of hops.
Other flagship beers from the brewery include the Garibaldi Honey Pale Ale and Devil's Elbow IPA, which has snagged silver in the Canadian Brewing Awards.
Fenn has seen many things change over the course of Howe Sound Brewing's long tenure. 
Squamish has grown up and trends in microbrewing have changed, prompting her company to adapt, expanding their inventory to almost 40 different types of beers.
But for Fenn, perhaps one of the most interesting new trends is the shifting demographics of people who are drinking and making beer.
"It's certainly growing in terms of women," said Fenn.
More and more women are getting involved in microbrewing, either as business owners, brewers or consumers, she said.
At any given time, Fenn said she can see that women make up at least 50 per cent of the clientele at the brew pub, which is a big increase from before. 
"They're more women that are taking brewing courses," said Fenn. "I see women in breweries much more so now than 20 years ago."
As for One Duck Brewing, it's fate is uncertain. 
The owner launched a Kickstarter campaign and raised just over $16,000 from 198 backers but, according to a post on Facebook by One Duck Brewing, the man who sold them the equipment did not actually own it because he was in debt to a mortgage company. 
Although the owner didn't respond to The Chief's request for comment, another post in December indicates the brewery is on hold indefinitely and that the family has moved to eastern Canada to be closer to relatives who will help look after their three children.