A pack of scuba divers immerses into the chilly waters of Howe Sound to explore the Dragon's Den, a series of small caverns that contain some of the most spectacular sea life in North America. 
As they swim deeper into the ocean, the divers plan to see warbonnets, rock fish and sculpin and, if they're lucky, a giant Pacific octopus, one of the most formidable creatures in the West Coast ocean. 
Next, they explore Route 66, a popular wall dive that is teeming with remarkable marine life at the 66-foot mark, including wolf eels, which are notorious for their curious and friendly nature, as well as the capability of inflicting painful bites. 
The scuba divers are among a growing number of people who are attracted to Anvil Island, the third largest island in Howe Sound that jets out of the water between Porteau Cove and Lions Bay. 
With thousands of years of history, the imposing island is considered the "centrepiece of Howe Sound" and is now a hotbed for outdoor recreation tourism. 
Although around 85 per cent of his clients are local, Kevin Breckman, owner of Sea Dragon Charters, said he sees more tourists each summer asking about Anvil Island and the surrounding Christie Islet and Pam Rocks. 
They come from Washington and Oregon, and as far away as Holland, France, England and Germany, to explore the unique West Coast waters.
"They're catching on that we have spectacular diving in this area," said Breckman as he prepares to take another group out. To keep up with demand, the Horseshoe Bay-based company is expanding to offer diving classes in Squamish beginning at the end of this month. 
"As the environment of Howe Sound rejuvenates, we're seeing more and more species coming back."
Named by Captain George Vancouver in 1792 for it anvil-like shape, the island was home to Columbia Clay Company and Anvil Island Brick Company from 1867 to 1912 and 1910 to 1917, respectively. The bricks were burned in a kiln only a few feet from the water and then loaded onto scows and towed to market. 
By 1905, the company was the largest brick supplier in British Columbia and had a capacity of 30,000 bricks a day. 
The secluded rocky island, which is still only accessible by boat, is now the location of Daybreak Point Bible Camp, several vacation cabins and a number of challenging hiking trails up the steep mountain to the White Spot or Leading Peak. 
But its history goes back far before Europeans made contact.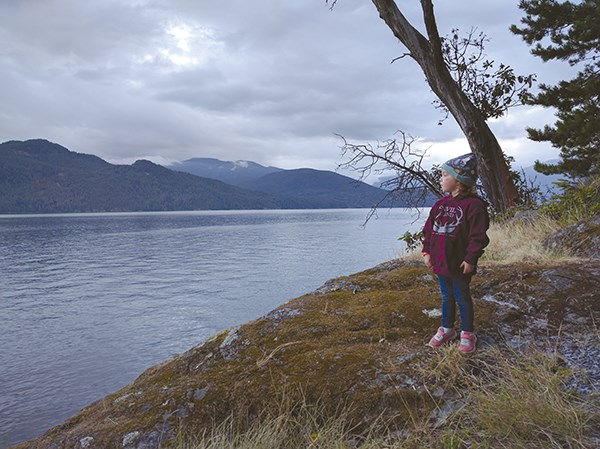 To the Squamish Nation, the island is called lhaxm, which means "place of snake," one of the many mythical creatures that roam and reside on the island. 
Once a spiritual training ground, the island sits in the middle of the nation's 67,000-square-kilometre watershed traditional territory. 
"The power of the island would lure people there. They would come back different or stronger," said Chris Syeta'xtn Lewis, a Squamish Nation council member. 
The southeast side of Anvil Island – Selsala7elch – was a village that was used as a place of rest as people canoed up and down Elhkatsem (Howe Sound) and prepared for the notoriously strong winds close to Squamish. 
Today, members of the Squamish Nation hunt deer on the island by spotting them from the water and then hurrying onto shore. 
"It can be difficult because of the mountainous terrain," said Lewis. 
Various species were once harvested from the area, including salmon, herring, seals and sea lions, and elders would gather seagull eggs – a staple in their diet that was also considered a bit of a delicacy – on small islands to the south. 
Although much of this practice has stopped due to pollution in the water, Lewis said the Squamish Nation has placed priority on trying to revive this part of their history that was lost. 
The nation is currently working on phases two and three of its land-use plan that includes a marine-use plan study for the area from Squamish to Horseshoe Bay.
The tumultuous history of Anvil Island is highlighted in a new book, First Dollar: Pipelines, Ports, Prisons and Private Property, that describes how, after sailing through Howe Sound in search of a place to settle in 1847, Englishman Thomas Keeling landed on the island. 
He bought the land from the government or, as the author writes, stole it from aboriginal people, and became rich after finding nearly 90 acres of clay that was ideal for making bricks.
"This shocking Anvil Island history gives insight into why First Nations today are so determined to protect their land and marine resources today," said Alex Rose, the book's author. 
Re-industrialization of Howe Sound is being closely watched by those who believe the area's ecosystem must be protected for future generations, said Ruth Simons with The Future of Howe Sound Society. 
One concern of the society's, the controversial Woodfibre LNG liquefied natural gas project, was granted federal environmental approval in March. If the project goes ahead, tankers would travel from the $1.6 billion plant, which would be located near Squamish, through Howe Sound to markets in Asia. 
Concern is centred on the project furthering the precedent of Howe Sound being an industrial zone, but proponents say it will bring jobs to Squamish and surrounding communities. 
Although there is still immense environmental work to be completed, the ongoing effort to clean up Howe Sound has led to an increase in wildlife. 
"We're seeing a lot more bird life," said Norm Hann, with Norm Hann Expeditions, who takes group of stand-up paddleboarders out to explore the area around Anvil Island. 
"Once you get to the other side, you're cut off from the Sea to Sky Highway and it's like you're in a different world. 
"People are becoming more aware of what Howe Sound has to offer and once they're out there they are often in disbelief of how pretty it is."
Hann has spotted seals, sea lions and the occasional whale near Anvil Island, one of his favourite locations that he refers to as the "centrepiece of Howe Sound."
"The thing with Howe Sound is that it's still challenging to go out on your own, and I teach safety," said Hann, referring to the deaths in 2007 of two experienced adventure racers after their kayaks flipped in the stormy waters off Anvil Island. 
"You're crossing against winds and tides, and it can be challenging sometimes."
For Tamara Goyette, the island is a peaceful retreat for her young family every summer when they attend Daybreak Point Bible Camp. 
Goyette has been going to the summer camp since she was nine years old, first as a camper and then as a volunteer, and eventually chose the island as the venue for her wedding. 
She now takes her daughter, Everly, to explore the rocky shores. 
"The camp is a great place for kids and young people. Experiences like it are becoming very rare," Goyette said. 
"It is a great place to disconnect, there is no Internet and no cell reception. You are in one of the most beautiful places in B.C. surrounded by the ocean."