Nadine Manson is not only changing the way we wear and think about clothes, she's changing the way we buy them.
Manson is the owner of and designer for Bewildher, an eco-friendly, Canadian-made line of gorgeously designed and ethically produced leggings for women.
The leggings aim "to inspire feelings of bravery and happiness while pursuing health and wellness through wilderness exploration and outdoor adventure," according to the company's website.
After three years of running Bewildher offering a full line of apparel, and struggling to make ends meet, Manson was ready to call it quits.
Her fans, however, had a different idea.
"When I decided to stop making my product I got a ton of emails from people saying 'Hey, could you please just keep making your leggings? Like, I'll give you money upfront, please just continue making your leggings.'"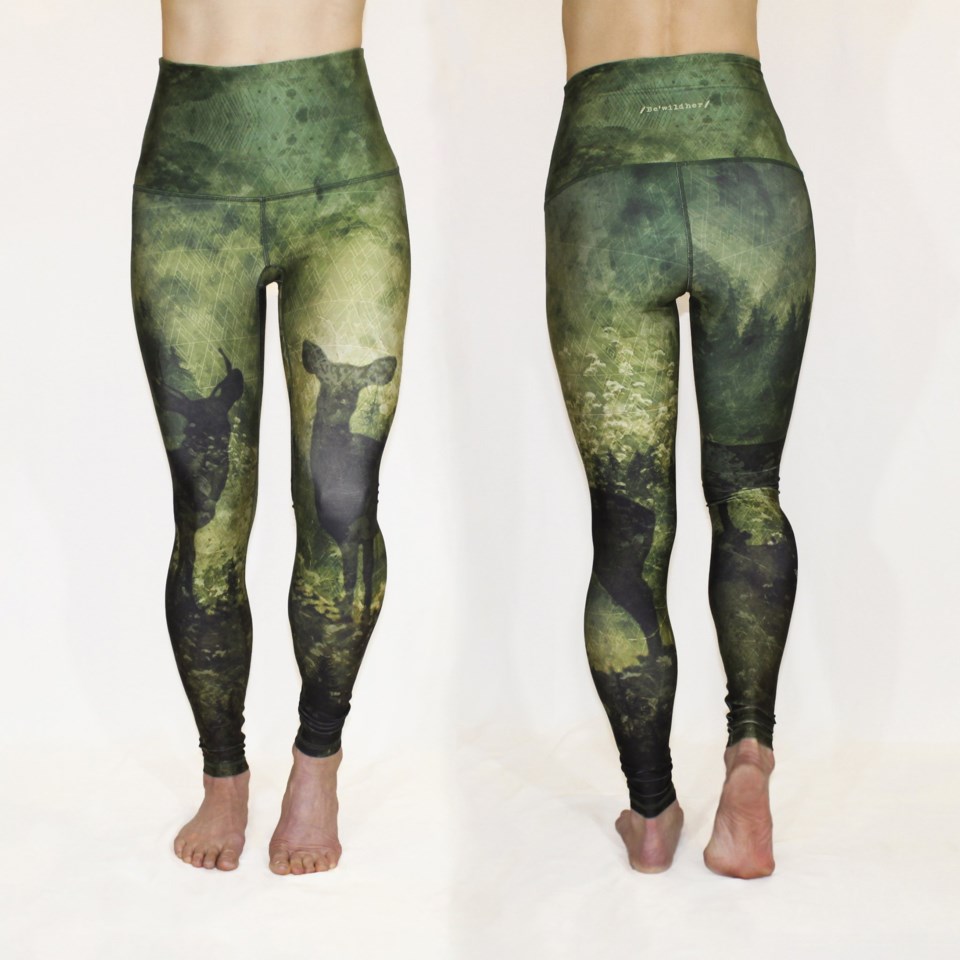 It didn't take her long to consider the idea a good one, and Manson launched an online Kickstarter campaign in an attempt to raise $5,000 to produce her very first limited-edition presale print. She came $46 shy of $6K.
"If I could just ask for the money up front and release a new print every once in a while, sell it until there are enough orders and then make it, I thought it might work," she said.
The leggings feature Sea to Sky staples such bears, wolves, trees, mist, as well as texture prints, sell for $97 pre-order, or $127 in store (delivery for online sales typically takes five to seven weeks). They are thoughtfully designed for active women — with a pocket for your phone; a comfortable inner grip elastic that prevents your tights from slipping; and a super high waist that can also be flipped down — but also comfortable enough to wear around the house.
With this new business model, Manson would effectively eliminate materials waste and thereby require less overhead and financing.
"Suddenly there is all this room in my cash flow that allows me to pay more for the product. So I flipped everything on its head. I went back to my customers and retailers and asked them 'Are you willing to pre-pay?' And they were. I went from doing things the traditional way — a harder way — to something much easier just through the process of aligning with my values."
With this, Manson hit the pavement and found a Vancouver factory that was willing to pay fair wages, something critical to her core values.
"Minimum wage in Vancouver is below the poverty line. I thought I was getting into this game to do things better to make a positive impact: I was using sustainable material, but I was still supporting an industry that wasn't that ethical, and it felt really wrong. I want people to at least make a living wage."
Initially, the suggestion of paying the factory sewers well was met with resistance, she said.
"I said to the production manager 'I want to pay you more, and I want you to slow down and do a better job.' At first, she didn't know what to do with that. I could see on her face. She's like: "This is different, I'm not used to this!"
As the process evolved, Manson discovered there's already a name for what she is doing: Slow fashion. Coined by Kate Fletcher, it plays off the slow food movement and has the same principles of being sustainable, eco-friendly, and accessible for both the consumers and the producers.
Now Manson releases a new, custom-designed, limited-edition print on materials made from 50 per cent recycled plastic bottles, every month. She only makes as many leggings as ordered. Once they are gone, so is the print.
"I deliver it the following month, so for retailers, it actually took that delivery window from six months to two months. They can be more on top of the trends, they can place smaller orders, and then they always have something fresh coming in the store, which keeps the customers coming back," she said.  Sizing runs the gamut from 2 to 16 (or "extra sweet to extra lovely") but seeing as she drafts all her own patterns she's happy to customize a pair at no extra charge if your size isn't available.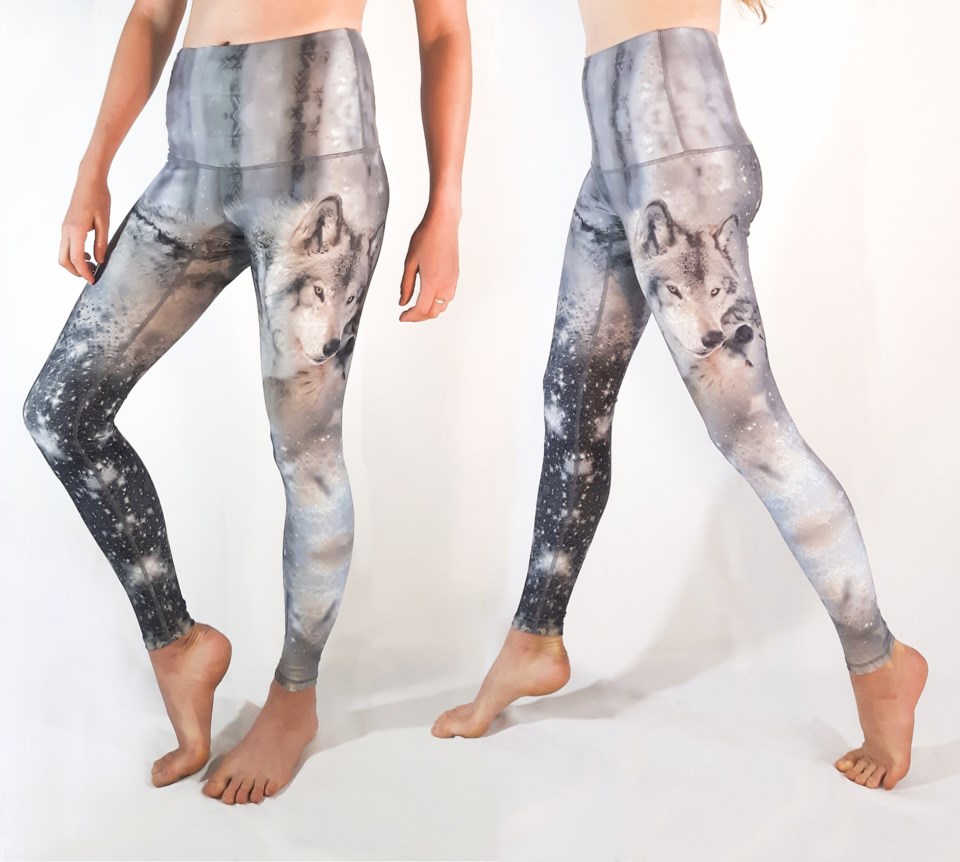 Manson is currently producing around 50 pairs of leggings a month, and within four months — once her maternity leave is over for her and eight-month-old son Bleiddwn — she hopes to be up to at least 100 and entirely self-employed. The factory, however, can handle producing 1,500 pairs, so there's lots of room to grow, that is, of course until she turns yet another model on its head and brings a factory to Squamish to produce her clothes. Because, believe it or not, that's on her list too.
Bewildher is available online at www.bewildher.com; at Wild and Heart on Cleveland Avenue; and on Fri. April 6 from 5 to 9 p.m. and Sat. April 7 from 10 a.m. to 4 p.m. at a pop-up shop hosted by Bungalow 968 (1-39012 Discovery Way).
Manson's Kickstarted campaign.