The documentary begins with a stinging acknowledgement of the residential school system's attempt to exterminate First Nations culture.
As a singer's chants float over the steady drone of a drumbeat, a narrator's voice is brought to the forefront. 
She begins to recite a poem, speaking in a steady cadence. 
"Hang your culture at the door, never to see it any more," says Saw't – also known as Martina Pierre – of the Lil'wat Nation. "Learn the ways that I have in store to make you white forevermore."
"Scrub your tongue of all the gibberish, speak the language of the English," continues Pierre, who is an elder.
This dramatic entry serves as the introduction to a film, Seeking Wisdom, produced in part by First Nations students in the Sea to Sky School District.
The documentary follows local aboriginal youth as they approach elders in their communities for advice on how to live life and reconnect with their roots.
And it's just one example of how local First Nations youth are doing everything they can to reclaim their identities as they face challenges at school, some of which are highlighted in a new report by the school district.
After gathering survey information during the winter from 846 students in Grades 4 to 6 – about 110 of whom were aboriginal – the report suggests that local indigenous students are more susceptible to being bullied and to experiencing anxiety.
About 47 per cent of aboriginal boys and 36 per cent of indigenous girls in the school district reported having experienced bullying in the month before they were surveyed, numbers which outstrip the Canadian average of 26 per cent that is reported by the ourSCHOOL database, a survey tool used by schools throughout the country. Bullying in this case could be physical, social or verbal, and also included cyberbullying.
Challenges also exist in other areas.
According to the school report, aboriginal students were more likely to experience anxiety, at about 22 per cent, as opposed to the national average of 16 per cent.
Foundation Skills Assessments from the province show about 50 per cent of indigenous students in Grades 4 and 7 are not meeting expectations when it comes to numeracy.
The results are similar when it comes to literacy, as report card compilations show up to 50 per cent of aboriginal elementary students are not meeting expectations.
However, there is a bright side in some of the statistics laid out in the report. 
Up to 84 per cent of aboriginal students reported a positive relationship with their teacher, which exceeds the Canadian norm of 79 per cent, according to ourSCHOOL surveys.
The district's indigenous graduation rate is 82 per cent, which is roughly on par with the provincial graduation rate of about 83 per cent, according to the Ministry of Education. 
Furthermore, 72 per cent of the aboriginal students in this district reported a positive learning climate, closely tailing the Canadian national norm of 74 per cent, which is outlined in the ourSCHOOL data.
To address some of the concerns in the report, the Sea to Sky School District says one thing that may help remedy these problems is helping aboriginal youth reconnect with their culture.
To this end, authorities have been encouraging staff members and indigenous students to engage with First Nations traditions. Some examples would include participating in cultural events and outreach initiatives such as the 24-Hour Drum Circle and the indigenous leadership program, among other things.
This solution appears to have some traction with others outside the school district.
In an email exchange with The Chief, the national indigenous advisor for the Canadian Red Cross said the school district was on the right track.
"The officials that are saying that the solution [for addressing bullying and anxiety] lies in reconnecting to culture – I would agree with them," wrote Shelley Cardinal.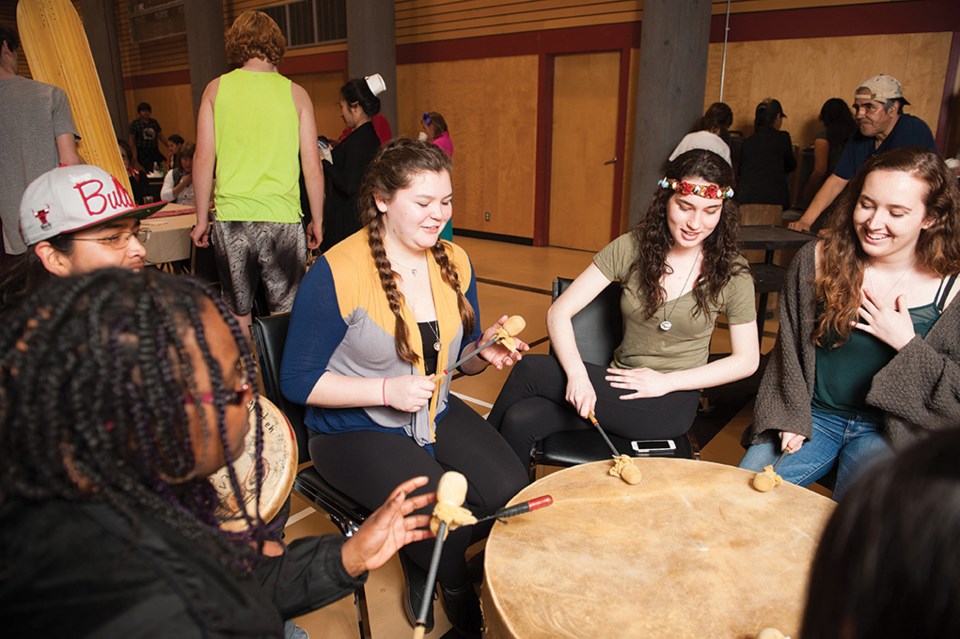 Preserving heritage
A Mohawk student who graduated from Howe Sound Secondary has seen the benefits of cultural reconnection firsthand.
Kaiahtenhtas Thompson described watching one of her friends, a boy who was picked on in school, transform every time he hit the waters in his canoe.
"The boy wasn't great at school, so people would belittle him because of that," Thompson said. 
"I know canoeing really helped him because he was in charge when he was in his canoe," she continued. "Whatever happened, it was all about his movement and his balance. Everything that he did – he was in charge of it."
It boils down to the fact, Thompson said, that participating in First Nations culture can take problems off your mind and give a sense of empowerment.
"When you're involved in cultural stuff, you feel like there's nothing else in world at that time," she said.
But getting students and educators to engage in First Nations culture can be more than just a feel-good pastime– Thompson believes it can have academic implications.
She thinks that having teachers who are interested in learning and engaging with First Nations culture can also make a huge difference in the classroom and help propel students to make the grade.
Watching her sister struggle in math class, Thompson came to believe the teacher wasn't explaining the lesson in a manner that would suit her sibling.
"Aboriginal kids are often overlooked – not to bash teachers, but they kind of just look at their class as a whole, yet there's so many different individuals and individuals learn differently," she said.
After an extended period of frustration with the lesson, Thompson decided to introduce her sister to another math teacher who she believed could explain things better.
And it worked – Thompson said the lightbulb lit up in her sister's head almost immediately.
It probably wasn't a coincidence, Thompson noted, that her sister performed better with a teacher who had taken efforts to learn and immerse himself in First Nations culture and history.
"He made an effort to ask us about initially who we are as aboriginal people," she said. "He made an effort to go to events that were at Totem Hall."
"It kind of gives them an idea of who that kid is and what they had to grow up with," said Thompson. "I feel like it would help a lot."
While it can be difficult to find studies or statistics pinpointing a causal relationship that can definitively say cultural reconnection is a cure for the concerns highlighted in the school district report, the benefits of keeping indigenous people in touch with their culture have been documented, along with the difficulties faced by First Nations who have been alienated from their roots.
For instance, one University of B.C. study showed that youth suicides were almost nonexistent in First Nations bands that managed to self-govern, fight for their land rights and preserve their culture, among other things.
Suicides, however, increased sharply to about 130 per 100,000 people when all those factors were absent from a community.
"First Nations communities that succeed in taking steps to preserve their heritage culture, and that work to control their own destinies, are dramatically more successful in insulating their youth against the risks of suicide," reads the study titled Cultural Continuity as a Protective Factor Against Suicide in First Nations Youth, which was headed by Michael Chandler.
For Susan Leslie, who heads aboriginal education in the Sea to Sky School District, keeping students in contact with their culture is essential to helping them overcome obstacles at school – whether it be making the grade or overcoming anxiety.
"When you feel safe and... heard and valued, are you more likely to do a really good job on any task of learning that you have to do that day?" said Leslie, who is Mi'gmaw. "You are."
One example of how indigenous culture can be used to tackle a problem like bullying, she said, was the practice of forming a circle.
In this activity, classmates literally form a circle and are given permission to express themselves one at a time without judgment or fear of retribution, sometimes with implements like a talking stick.
It's an indigenous practice that has been encouraged in schools all over the district since September. And while it hasn't been mandated as a blanket requirement everywhere, its popularity has made it a regular fixture in many classrooms.
This practice has been effective at helping discourage bullying, she said.
"They share from a very vulnerable place, and when others listen and are respectful back, it's very supportive and healing," said Leslie. "When you know their story, you're less likely to say things that would hurt them – to do things that would hurt anybody in your circle."
However, Leslie does recognize that while schools need to take care of students' mental and physical health, academic performance needs to be strengthened as well.
"It doesn't mean that we don't do skills," she said. "We have to support our students with language acquisition in their early years and we have to support them with numbers and numeracy."
"Those are areas I want to really focus on for the next few years," she added.
There does appear to be a relationship between academics and cultural grounding. 
South of the border, a study published in 1995 by the Harvard Educational Review tracked Navajo students for almost a decade.
The researcher, Donna Deyhle, found students in the most traditional parts of the reservation where Navajo was the main language spoken at home appeared to be more successful.
The high school in that area had a slightly lower dropout rate than the American average at the time, Deyhle wrote.
To help boost students' performance, Leslie says the district will be refining its dataset so that officials will be able to better study language and numeracy performance among indigenous students.
The school district is also hopeful new assessment tools that are expected to be rolled out in the future will help teachers provide greater assistance to their students.
And it appears as if the students are just as willing – if not more – to help push indigenous education forward.
Since graduating from Howe Sound, Thompson has been studying at the University of B.C. in hopes of becoming a teacher.
Walking down the halls of her old school as students chat and mill around, the roles have almost been reversed, as Thompson now views the place with the eye of an aspiring educator.
But she hasn't forgotten what it's like to be a student.
As part of her practicum, she returned to observe teachers interact with students in the indigenous leadership program.
As she gathered with some of her former schoolmates before the 24-hour drum, many of them seemed nervous about going to university.
She could relate.
"I basically hit every struggle you possibly could at university," Thompson said. "I got clinically diagnosed with panic disorder, so I basically hit rock bottom at university at one point."
Knowing that the road ahead could be challenging and realizing they could use a reassuring word, she told the students at her former school they weren't alone.
"There's so many people you can reach out to," she said.