They are the movers and shakers of Squamish.
The local business community gathered on April 27 to celebrate entrepreneurs, service and community leaders at the annual Squamish Chamber of Commerce Business Excellence Awards.
The Squamish Chief publisher Darren Roberts and Chamber of Commerce executive director Louise Walker announced the winners, including both small and large companies and non-profits, at Norman Rudy's. More than 54 people and companies were nominated this year.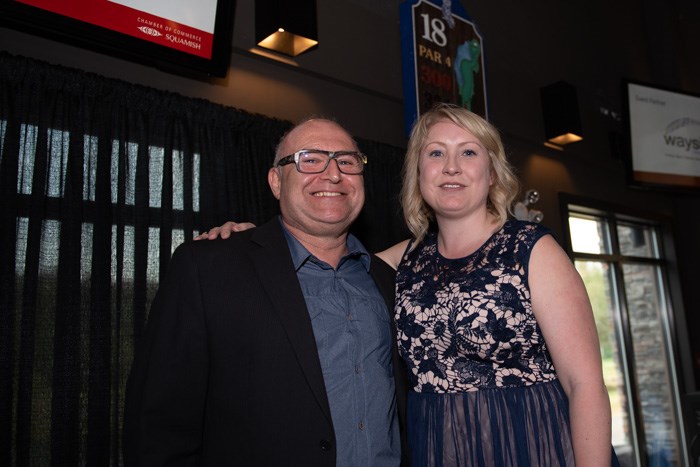 Service Excellence Large Business Award presented by TELUS
Sea to Sky Gondola
The Sea to Sky Gondola was recognized this year for service excellence. Accepting the award on behalf of the company, finance manager Karen Redshaw said the gondola is looking forward to another busy summer.
The company employs over 200 people and hosts events, weddings, entertainment and all-season activities in addition to natural sightseeing.
"We're really proud to put Squamish on the map and to welcome people from all around the world," said Redshaw.
Service Excellence Small Business presented by BlueShore Financial
Tall Tree Bakery
In the small business category, Tall Tree Bakery was recognized for their customer service and beloved baked goods. The artisan bakery was opened in 2016 by husband and wife team Sean Tremblay and Erin Copeland.
"We just wanted to say thank you for being so supportive. Just being part of this business community and the community on Squamish, we're just so excited to share what we are good at, so thank you," said Copeland after accepting the award.
Bill Manson Citizen of Year presented by Sea to Sky Gondola
Maureen Mackell, Squamish Helping Hands
[Mackell also accepted awards for Squamish Helping Hands society in the category of Non-profit of the Year, presented by Race & Company LLP as well as the Project of the Year Award presented by Mountain FM for Crave - Dining for Dignity]
Squamish Helping Hands director Maureen Mackell took to the stage three times on Friday night, recognizing the work her non-profit does to support the less fortunate around town.
"It is such a privilege to be part of this community," she told the audience while accepting her third award of the evening.
"I come from a big city, and I would never have imagined that I would like to be in a small town," she admitted to the audience. "I love this town, and I love being in a small town. It is the most amazing place I've ever lived in my whole life, and it is a pleasure to continue to serve and do the work I do."
The charity was started in 2006 and provides food and shelter programs to the corridor. The non-profit serves 35,000 meals annually and provides a safe emergency shelter with access to phone, internet, washrooms and shower facilities.
Helping Hands was recognized as non-profit of the year, and Mackell herself was recognized as Citizen of the Year for her role as executive director. One of the major fundraiser events for the Society is the annual Crave Dining for Dignity masquerade party, which was recognized as Project of the Year.
"Social justice, serving people who have less than we do, serving people that are disadvantaged, is that we need to do. It's the right thing to do as a community, and you are a community that does that," said Mackell.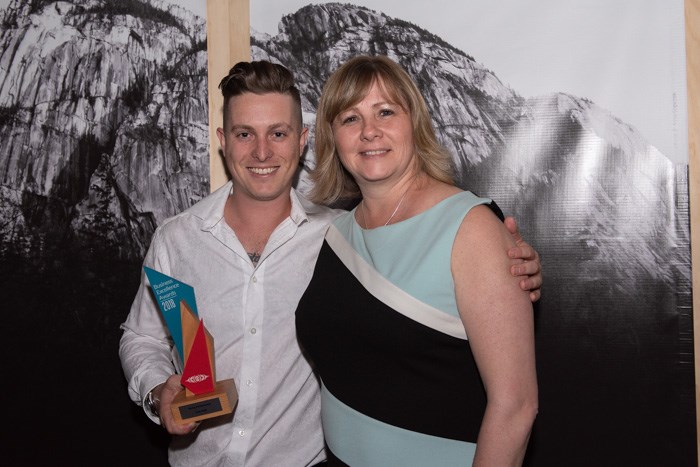 Young Entrepreneur of the Year Award presented by S2S Promo
Nate Kelly - Nate Solutions
Representing the next generation of Squamish's business community, entrepreneur Nate Kelly was honoured for his successful home detailing business Nate Solutions.
Kelly started Nate Solutions when he was just 21 years old, with one employee and a single truck. He now leads a team of technicians and five branded vehicles. The company provides window cleaning, house washing, roof cleaning, gutter cleaning and pressure washing services in the Sea to Sky and the North Shore.
Arts & Culture Award presented by Britannia Mine Museum
Squamish Academy of Music
This year's Arts and Culture Award went to the Squamish Academy of Music.
"Since we opened, we're felt extremely encouraged and supported by the community," said owner Melissa Braun after accepting her award.
The academy opened in 2001 and offers private music instruction, group classes, and workshops, performances, and arts programming. She said the space now welcomes 400 students and is proud to be both a community space and an education space.
"My original goal was to create a space not just for music education, but a place where artists could connect and feel supported," she said. "I've made a lot of connections with people and I see a lot of others who are connecting through music and arts in that space, and that makes me proud. So thank you so much for the acknowledgment."
Innovation Award presented by British Columbia Timberframe Company
Gillespie's Fine Spirits
Accepting the Innovation Award for her craft spirits and cocktails, Kelly Ann Woods — AKA The Boozewitch — admitted at first she wasn't sure how the innovation award applied to Gillespie's.
"In hindsight, we kind of brought the craft cocktail culture to Squamish, which I'm proud of," she told the audience. "We helped to change the zoning twice to help encourage businesses in the business park to do with we do, which is pretty cool."
The distillery in the business park offers a selection of artisan products, including vodka, limoncello, gin and cocktail accompaniments including sipping vinegars and elixirs.
"It's amazing to be nominated among such incredible people and to do business in such an amazing town, so thank you very much," she said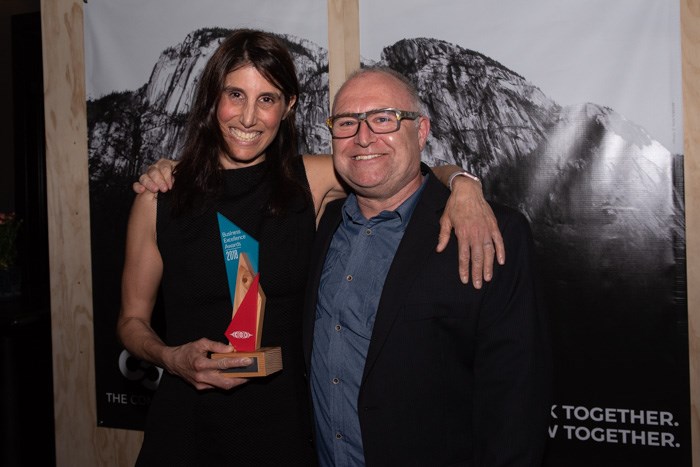 Business Person of the Year presented by The Squamish Chief
Susan Chapelle -Aligned Collective
The businessperson of the year award "recognizes a local business person who has had a major impact on the business community." Susan Chapelle was honoured this year for her work as founder of Aligned Collective and her broader impact on the community.
"I was not expecting that," she admitted on stage, thanking the Squamish community, business partner Zanny Venner and the members who work out of the Aligned Collective space.
"As all of you know, you don't build anything in Squamish by yourself. Everything takes a community. The help and support I've received in this community to actually achieve and have Squamish Integrated Health and Aligned Collective right now, the general support in this community has been absolutely amazing. So thank you all so much," she said.
Green Business of the Year
Cheakamus Centre
The Cheakamus Centre won Green Business of the Year, a special award organized through a collaboration with the Squamish Climate Action Network and the chamber. The non-profit was recognized for its green-friendly programs on-site at their ecological reserve.
The organization delivers environmental and Indigenous cultural programming. In 2012 they opened the doors of the Environmental Learning Centre – a certified LEED Platinum building and hosts education groups, conferences, workshops, meetings, weddings and special events.