The first organized climbing competition was held in 1985 in Bardonecchia, Italy. To test the climbers' abilities, the route setters chipped routes into the limestone walls of the surrounding cliffs. And poof, thus was born the invented tool for measuring who is the best climber of the day by creating a route, right then and there, to be climbed. Things have come a long way since the cold chisels and the soft, limestone walls of Bardonecchia. 
As the sun came up in Squamish on Saturday morning, the final organizing was well underway for Ground Up Climbing Centre's first bouldering competition, SPF 2016. Routesetters, judges, coaches, junior competitors, parents and adult competitors all swarmed in. The event tagline was: "Stay safe from the sun. Come to an indoor bouldering comp," and they weren't wrong. 
While the day was crystal clear and dry enough for the dedicated to climb dry stone outdoors, many chose instead to travel to Squamish, sample the new gym's terrain and pit themselves against the fluid birch-sheeted overhangs and creative problems created by the setters. For those who have never watched a climbing competition or, for that matter, never climbed, I thought I'd explain how the day worked and why an indoor climbing competition can be such a powerful tool for motivating the masses. 
SPF 2016 was a Sport Climbing BC-sanctioned bouldering event in which the various youth divisions as well as recreational, experienced, open and masters could all compete. Age and ability level divided the categories, with the youth divisions further divided down by age. All competitors started in a scramble format qualifier and had about two hours to climb as many boulder problems as possible, with each problem gaining them a certain amount of points depending on difficulty. The judges then took each climber's top five highest scoring problems, tallied them and then ranked the contestants. 
In youth, recreational, experienced and masters, that was the comp in its entirety, but for open men and women, there were still the finals with which to contend. The top eight men and women were brought out one at a time to four new boulder problems they had never seen. Each competitor had five minutes to climb each problem, separated by five-minute breaks. This is where spectators were allowed in and the atmosphere was really raised a notch.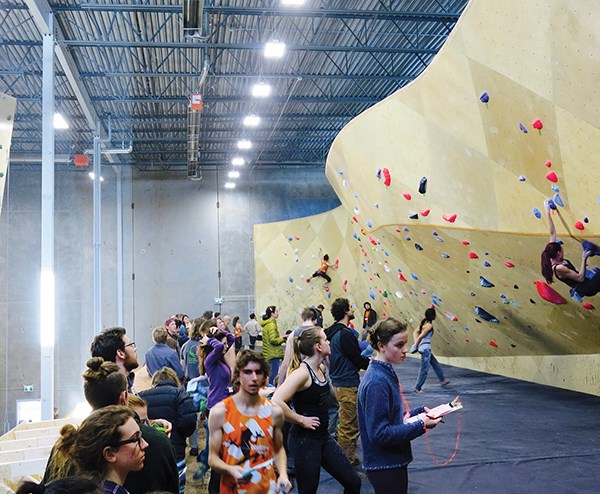 Regardless of your age, ability and category, the mood in Saturday's comp was enthusiastic, supportive and performance-oriented. Lauren Watson, owner of Ground Up, said she wanted to put Squamish on the map not just with its granite rock climbing but also on the indoor competition circuit. She wanted an event that showed Squamish residents and visiting climbers alike how great the climbing culture is here. She talked of Squamish kids and youth who came in to check out the comp and were blown away by how good the "kid" categories were compared with the adult fields. Regardless of category, when you walked in and watched, you immediately saw that all the competitors were competing together, side by side. They talked, shared information about moves and encouraged each other like one huge division of competitors. I have entered, route-set, coached or watched many events, and I leave with an overflowing cup of motivation after observing so many climbers of differing abilities giving 120 per cent. I have used this cup to fuel smarter, more creative training, to help choose loftier goals which I felt just might be possible, and most of all, to remember that the most important goals are personal and take time to find, let alone set in motion. 
Well done, Lauren Watson and Ground Up Climbing Centre, for hosting your first of many excellent events.  
Competition results can be found at www.sportclimbingbc.ca.