A dozen or so students line up in twos and begin to walk a slow lap around a classroom inside Quest University.
At one point, they interlock pinkies, with the aim of becoming aware of how their bodies are moving around the space. At first glance, it might not seem what one would expect inside an art class, but there is a method.
"Different movements require different support systems," said current artist in residence Amara Hark-Weber. "A shoe is basically a tool."
In this case, the students are taking a class in making shoes from Hark-Weber, a cobbler whose own creations are sometimes conceptual or unusual and sometimes more familiar.
Over the three and a half weeks of the block at Quest, the students, who represent a range of academic pursuits, are looking at shoes from all angles, with the aim of making a pair of their own as the project for the class.
"It's interesting. You never really think about how to make shoes," said student Bayle James, who is focusing her regular course of studies on the social sciences. "It's a different way of thinking."
In just a few weeks, Hark-Weber's cobbling course has managed to cover a lot of ground. Early on, the students were making patterns in paper as models for shoes. One assignment required them to research different types of shoes from different eras, such as moccasins, turn shoes, prehistoric shoes and medieval era shoes. From there, they had to put together a short visual presentation.
They also had to research other aspects of making shoes. For example, in one class, Renée Hall delivered a presentation on an overhead projector about different types of stitching, or at least those she had been able to pick up so far – running, back, whip and saddle stitching. "This is the extent of my sewing knowledge," she said. "I don't know anything fancier."
Unlike full-semester programs during which students take several courses simultaneously spread over a fall or spring, Quest offers block programs. The students take one class full-time for three and a half weeks, which allows them to study something more deeply and with fewer distractions.
Quest tutor of music and humanities Jeff Warren, who oversees the artist in residence program, says this approach is especially suited for arts studies because artists tend to take this approach with their own work.
"Artists are quite often project-based," he said.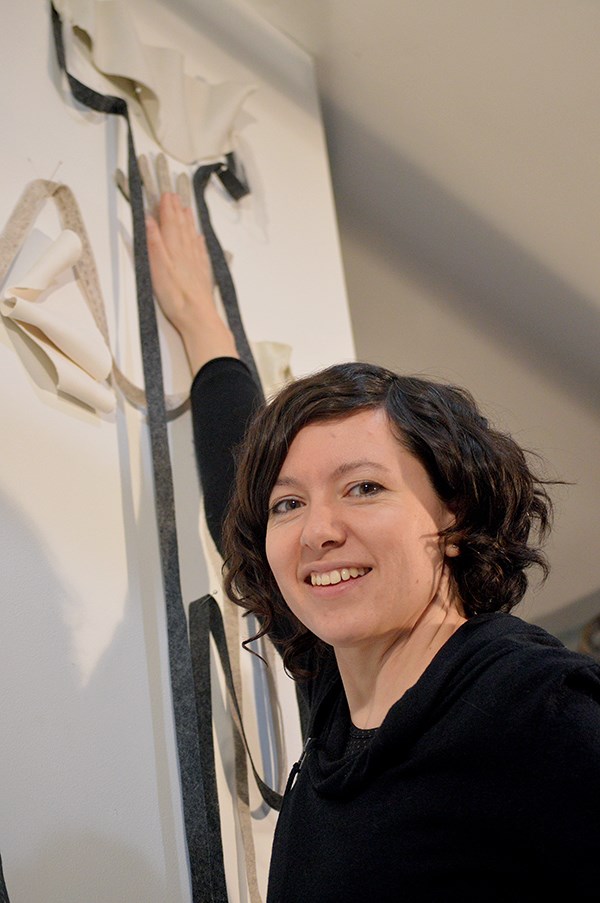 Laurel Terlesky, a Squamish artist who served as artist in residence last year, finds the approach allows classes to explore many new ideas. "The students come from a lot of different angles," she said. 
Her course focused on art, technology and the body, examining how technology extends the body. 
"We're able to connect and communicate in ways we haven't before," she said.
The class involved photography, collage pieces and electronics, as students worked on projects such as soft sculptures that included interactive sensors attuned to touch, light and sound.
She had one student, with a focus in neuroscience, working on a project that looked at the "aha!" moment in the brain by taking art theory and mixing it with the technical side to literally show the moment when the thought occurs.
Regardless of what endeavours the students choose, Terlesky thinks the course can only help in their chosen field.
"It makes for creative thinkers," she said. "That's the reason I like to teach…. I like to work with people and tease out their personal skill or aptitude."
Over the first two years, the program has offered a wide variety of opportunities and artists with whom the students can study, such as Whistler-based James Stewart, who was the first artist in residence.
A sculptor who also has worked in the film industry with a background in computer graphics, Stewart's body of work includes films such as Chronicles of Narnia, Harry Potter and District 9. Over the timeframe of the class, he wanted to get students into the workspace quickly for work ranging from painting nudes to using a scientific approach to abstraction and colour theory, all of
which ultimately led them to a better understanding of art quality.
"You can take something like Picasso or Matisse and really appreciate it," he said
Stewart agrees the intense period of study allows the class to deeply delve into the work.
"You actually have, in my mind, three chunks of time per day, seven days a week you can use, and that's kind of the way art works."
For Stewart, the Quest method offered him a different way to teach in another sense.
"It's not just the block system at Quest. It's also the way that the school runs itself," he said. 
Stewart says the university is structured differently from other institutions, which are more hierarchical or centralized. Although he ran his course syllabus by Warren, he basically had the freedom to set up the class how he wanted.
He had the class tackle the question of asking where the line between subjectivity and objectivity in art is."Instead of me telling the students where that line is, the point was to try and find it as a class," he said.
Another element of the residency is that it allots the artists time for their own work. Terlesky was able to continue working on her installation piece with the help of Canada Council funding and is adapting her piece for exhibition in Bangkok, Thailand.
Current artist in residence Hark-Weber has taken on a new challenge, working with corsets and printing plates, to explore connections between the body, language and narratives.  "I did something that is totally new and outside my comfort zone," she said.
Her current students have had to quickly pick up new practical skills, as many had not sewn before. For students like James, this meant having to make patterns on paper three times, adding adjustments along the way, before starting to cut into the shoe leather.
As the class approached its completion, the conceptual side of the class took a back seat, as the students busily worked away on their projects, cutting leather, punching eyelets, sewing or hand-dyeing exteriors, with the aim of finishing in time for a show of their work on Tuesday night.
It also offered a chance for the students to discuss with Hark-Weber the obstacles they discovered along their path, whether this was breaking a needle or learning how to punch holes in leather or having to re-measure soles. "There are challenges every step of the way," Hark-Weber said. "It really has been like a survey course. There's a lot of different elements."
As a teacher, she is not expecting to be turning out a dozen new cobblers, but that is not what the course is about for her or the students. Rather, it is about the process.
Hark-Weber likes to minimize the differences that academia can sometimes place on disciplines like the arts and sciences. Instead, for her, the challenge comes down to problem-solving, and as to the work the students have produced, she has been more than impressed with the fresh perspectives she has witnessed and the growth she has seen in just a few short weeks. "In terms of the designs that people have come up, they're so awesome," she said.