It's 9 a.m. and there's a hush in Stawamus Elementary. 
At the end of the hall, in the T'Kaya class (the Skwxwu7mesh word for wolf), nine-year-old Talise Chapelle has rung the chime to get the Grade 4 to 6s' attention. Today she's stepping into the role of class instructor. With the help of her teacher, Naomi Radawiec, Chapelle created an itinerary and lessons for her big day. 
"I am nervous and excited," she openly admits as the class gathers round.
Before the activities get underway, as with every day, the students sit down on the round red, green and blue mat in the centre of the room for morning circle. It's a time of sharing to check in on the students' wellbeing. The routine also hints to the school's bigger picture and its ties to the Squamish Nation culture.
"Today's sharing question is 'what do you want to be when you get older,'" Chapelle says. 
"Younger," someone cheekily blurts out. 
"A genetic engineer or a game designer… or a teacher," Eliott Smallwood says, as the question reaches him. "One of those, I still have a lot of time to choose."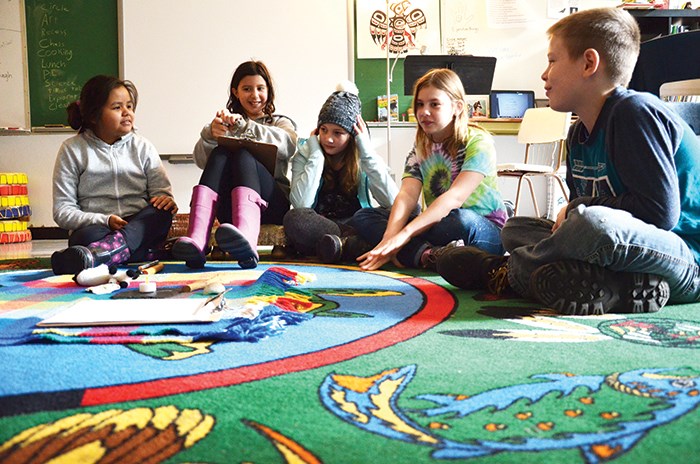 The small gaggle reveals there may be future chefs, an actress, graphic designer and more game designers in their midst. They're the kind of answers one would expect to hear in a classroom. 
But the visionary behind the unique program in which they are enrolled has greater aspirations for them. These students are a part of a new Canada, Joy Joseph-McCullough says, one in which citizens have a true understanding and appreciation for the history and culture of the country's original inhabitants. 
"We are creating citizens of Canada to be like no other before them," says Joseph-McCullough, the education coordinator for the Squamish Nation. "I like to say we are re-filling the cup, pouring back into it a history and culture that was wiped away with years of residential schools."
Two years ago, when the school's declining enrollment threatened to close its doors, Joseph-McCullough and Susan Leslie, the Sea to Sky district's principal of Aboriginal Education, were instrumental in hatching a plan. A collaborative process between the Stawamus Elementary PAC, Squamish Nation and school district helped shape a proposal – Cultural Journeys. It not only saved the school, but also started a cutting-edge education system in which Squamish Nation ways of knowing and appreciation for the land are weaved throughout the curriculum. 
"I believe in this program," Joseph-McCullough says, noting in the beginning parents questioned whether students would fall behind with the break from traditional, teacher-oriented, lecture-style education. "It gives me hope. I have watched the students become leaders."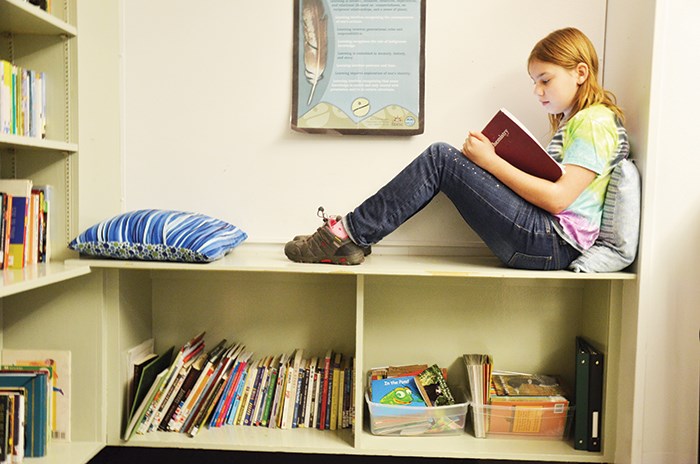 In Cultural Journeys, the kindergarten to Grade 6 classes are guided by the principle that all learning is grounded in understanding the connected relationship of language, land and culture. The program uses a combination of outdoor activities, field studies, trips and instructional strategies to support students in developing competencies. Grade 7 to 12 students can continue their education in the school through Learning Expeditions – a connected project-based program that emphasizes inquiry and the use of technology. 
While Cultural Journeys has caught the attention of education professionals across the country, it's the buzz it has created in town that caught McCullough off-guard. 
Squamish Nation members have shared their time, expertise and experiences with students. School district staff have shown a keen sense of acceptance and openness to learn and work with the Nation to deliver aboriginals ways of knowing in the curriculum, Joseph-McCullough adds. 
"It was really scary for them (the instructors) in the beginning because they were teaching something they didn't know about," Joseph-McCullough says, noting the teachers had to learn about a "way of being."
A large chunk of the pupils enrolled in Cultural Journeys are non-aboriginal. Heidi Schimpl's son and daughter are among that group. 
The program checks all the boxes on her list – small class-sizes, one-on-one support, lots of outdoor time, project-based learning and encouragement of individual inquiry. 
The cultural aspect applies a further level of understanding, Schimpl says. The school has a deep sense of community, with parents and relatives invited to quarterly potlaches.
"It has exposed my son and daughter to something they weren't maybe exposed to before," she says, noting on family hikes they will point out plants and their uses. "They seem more grounded."
A sense of place
Grounding students in learning that centers on the place they live in has proven beneficial, no matter the student's background, Grade4/6 teacher Naomi Radawiec says. As a society, people are becoming increasingly separate from the natural world, disconnected from place and from each other, she adds. 
Last summer Radawiec completed a thesis for a Masters of Educational Leadership at Vancouver Island University that focused on place-based learning. The teaching method can help reconnect children with the world and communities around them, she says. 
"Not only may this benefit each individual learner as they connect with these places, but also help society as we encourage a culture of contributing citizens."
Cultural Journeys wraps B.C.'s basic curriculum in a nurturing package, School District 48 superintendent Lisa McCullough says. 
For example, students take their math class outside, learning about angles by spotting them in nature – obtuse angles of two branches, the acute angle in a river. 
It's all there, intertwined in Skwxwu7mesh land sites. One of the most exciting outcomes of the program has been the connections and support between students from different age groups, she notes.
"It is common to see much older children supporting younger students in their learning or working on things together," McCullough says. "Younger students are very often teaching much older students about cool ideas and thinking."
Currently 49 students are enrolled in Cultural Journeys. As enrolment increases, the program continues to evolve into a model for placed-based and inquiry-based learning, where students develop relationships, honour connections to each other, the community, language and land, McCullough says.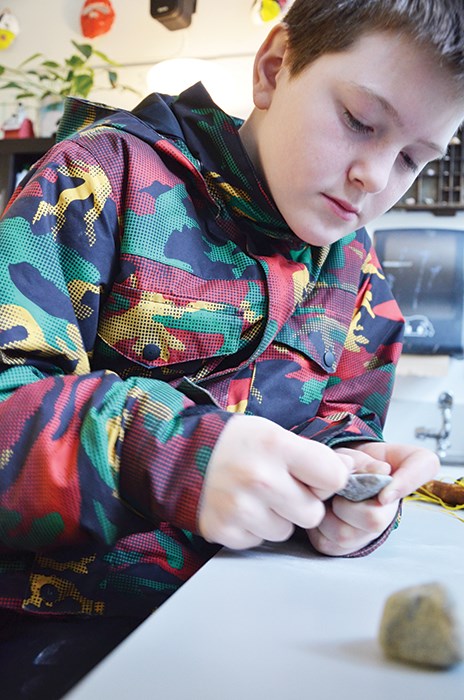 "Cultural Journeys is a program of choice, which are becoming increasingly popular province-wide because of the 'voice-and-choice' they afford students."
Back in the classroom, Chapelle is directing art class. Students hunch over their desks, busy designing wolves using traditional Squamish Nation symbols. 
Charlene Joseph, the class's culture and language teacher, encourages William Isbister as he finishes his second drawing. 
For the past 11 years Joseph has taught Squamish Nation culture and language in the school district. 
Before the creation of Cultural Journeys, the district's three cultural and language workers divided their time between the schools, giving students no more than a few weeks of Squamish Nation learning in the school year.  
Cultural Journeys is a dream come true, Joseph says. 
"For myself, this is a giant step in the right direction for reconciliation," she adds. "As Justice Murray Sinclair says, 'it was education that got us into this mess and it is education that is going to get us out.'"
With the art section over, Chapelle moves onto teaching her classmates how to play chess. They pair up and file away into different corners of the classroom. 
Ten-year-old Aidan Willmot scans the board with a friend. He started the school a few weeks ago, but already fits right in. 
"I think it's good for me," he says in a grownup, matter-of-fact tone. "I think you have more privileges here."
Besides the dedicated reading time, Willmot says he enjoys the Thursday hikes and Wednesdays' "make something" workshops. The class recently made butter in a jar. It was tough, Willmot says, noting it required a lot of shaking. 
"The days feel shorter here."