Squamish's highly-anticipated vintage shopping event is about to open its doors once more, and this year, there's even more to get excited about, says Rachel Boguski, organizing partner.
Inside the West Coast Railway Heritage Park on Nov. 21 will be more than 100 vendors offering wares ranging from pottery to jars of preserves, handmade chocolates, knitwear, skincare and leather goods. It will be the largest Refresh Market to date.
"We're one of the largest markets, not only in the corridor but in the entire lower mainland and Metro Vancouver and probably in B.C.," says Boguski, who says the event attracts around 1,500 visitors.
The swag bags are highly coveted. Given to the first 50 shoppers, they include gifts from vendors ranging from jewelry to small soaps. But arriving promptly at opening time isn't enough to guarantee you the goodies.
"This year our swag bags are probably going to be the best we've had yet," says Boguski, who explains people typically start lining up outside the building two hours before the event starts. Which isn't all that much later than when Boguski and organizing partner and original Refresh founder, Shannon Lorenz, will arrive.
The pair met at a community meeting after Lorenz had organized the first market alone. She reached out to Boguski for help with the next and, although they didn't really know each other at the time, their experience in organizing events led to a valuable partnership and friendship.
This will be the fifth Refresh Christmas Market and it's grown considerably during that time.
"Refresh market began in 2011 as the Fresh Christmas Market, at the Squamish Adventure Centre," said Boguski. The first year, there were approximately 20 vendors. By 2012 there were almost 30 vendors and by 2013 they'd outgrown their space, moved to the Railway Heritage Park and kicked off their first Spring Refresh, now also held annually.
Although they've grown, what has remained the same is the market's essence: vintage and handmade. "There were other similar vintage markets popping up but there was nothing in the corridor... and nothing like this in Squamish," she says. "We've had a lot of people ask if we're going to be doing an event in the city… but we feel very strongly that it remain here."
One of the vendors who will be attending her first Refresh this year is Helena Lane of Helena Lane Skincare, whose locally made, unprocessed, organic skincare products have been winning awards. After suffering from eczema during her teens and twenties, Lane's journey of healing her skin naturally inspired her to share it with others.
"My principal is one of complete simplicity," she says, explaining that her products contain very few ingredients – essential oils, distilled plant water, mineral-rich clay and dried botanicals. Her focus is on getting people's skin back to functioning as it should, which, she says, is when it looks and performs its best.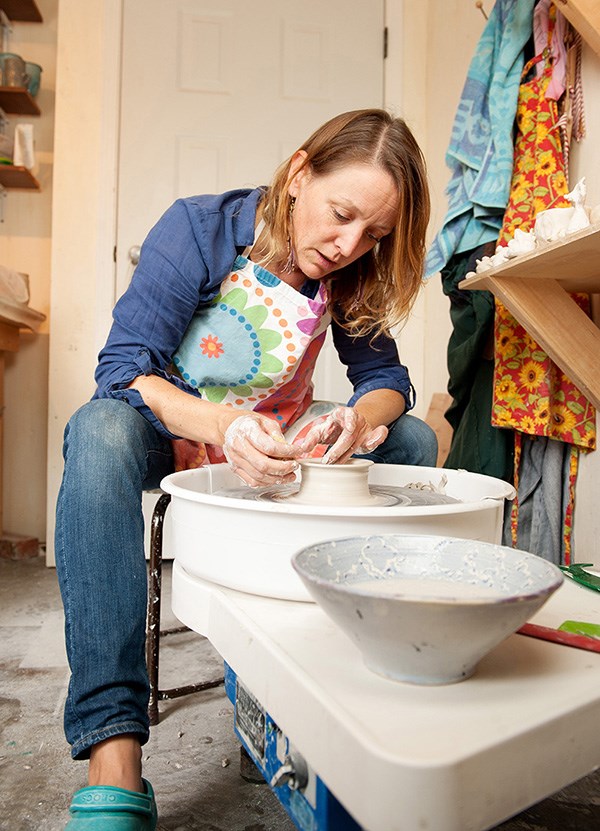 Emily Tolmie from Mudflat Ceramics says she's returning to Refresh because it's a fun event that's well organized. She has been working with clay for 15 years and finds honing her skills satisfying.
Her functional pieces include bowls, mugs, French butter dishes, teapots, platters and plates, all layered with texture and accents of colour. "The wonderful thing about pottery is that it's totally different… it's my hands that have made it. And it's my aesthetic. You don't get that feel from commercial stuff. People who buy it appreciate that – they can feel that it's made and considered by somebody," she says.
Caroline Miller, another seasoned vendor, offers award-winning contemporary jewellery inspired by architecture, nature and her environment. Working primarily in gold, silver, copper and bronze, she describes her work as "wearable art" and creates unique pieces ranging from earrings, bracelets and necklaces to custom-made wedding rings.
Chubby Love's creator, Amanda Bagliore, was one of Refresh's original vendors and has been sewing since she could hold scissors and a needle. Her background is in couture, and her resume includes working for Vera Wang, although for the past five years, she has focussed on making things for children. 
"I have a very modern, whimsical twist to my clothes," she says, "with a lot of functionality and durability. You can expect to see some bright colours, modern prints, and witty screen prints too." Shoppers will find everything from leggings, skirts and dresses to t-shirts, sweatshirts, hair accessories, bedding and blankets for their little ones.
Vendors travel considerable distances to be at Refresh, but local artisans are well represented. Items include goats' milk soap from Lone Goat Soap Co., homemade syrups from Frost Bites, wholesome goodies from Wildhearts, handcrafted kombucha from Goodfizz, and flowers and plants from Billies Flower House which, says Boguski, has been a huge supporter from the beginning. "They always have one of the most beautiful booths and always help us beautify our entrance with florals."
In the past, guests have been entertained with events such as fashion shows and though they're well received, explains Boguski, she and Lorenz are always looking to do something new. This year, shoppers can look forward to a greater choice of food offerings, in addition to live music from Vancouver's Sons of Granville and Stephanie Chatman.
In addition to offering a unique experience for shoppers, Refresh also provides opportunities for vendors to explore new product lines and reach new customers and potentially new retailers.
"We have a number of vendors who, because of Refresh, have been able to establish and grow their businesses, vendors who wouldn't have otherwise had an opportunity to test out, relatively inexpensively, a product they're making," says Boguski.
"It's been really exciting to watch someone doing just a couple of things as a hobby on the side, maybe gifts for friends, and see them becoming a business," says Boguski. "It's something we've noticed with a handful of locals, especially. They see Refresh and become inspired… and end up actually becoming successful…. It makes us feel really proud."
Refresh has probably reached its maximum size, says Boguski, who explains they'll likely focus on producing a new experience each time while hosting pre-market events in the build-up.
What they don't want to happen, she says, is for it to grow so big that it becomes an impersonal tradeshow-type event. "That's against everything we're trying to create."
In addition to two Refresh Markets, Lorenz and Boguski also organize Refresh Kids (a market focussed on items for mothers, mothers-to-be and kids under age 10), which currently takes place once a year, although there's potential for this to run twice yearly, she adds.
For something that started as a hobby for both of them, Refresh has evolved into something they truly love to do, says Boguski. She says it's one of her favourite days of the year. "We just wanted to have a day where people could go shopping and hang out… so it's nice that it's grown into something that's important for other people too, and that supports designers and artists and makers. For us, that's huge."
Refresh takes place at the Railway Heritage Park on Saturday, Nov. 21 from 10 a.m. to  5 p.m. For more information, visit www.refreshmarket.ca.