When Herieth Heriel Ringo first came to Squamish to attend Quest University from her home in Tanzania, one of the first things that struck her was the long days.
Back home, daylight is roughly the same all year, so she was thrilled that the sun was out for so long, at least when she first arrived.
"I thought, 'Whoa, this is just the best thing,'" she said.
This time of year, there is much less daylight, of course, and the second-year student has had to get used to the seasonal effect. 
Heriel Ringo is part of an increasing trend in the community. In Squamish, some students in high school and post-secondary, coming to school represented a much longer journey than a simple daily commute; they have ventured from all corners of the globe.
The community is home to a number of international students, both at Quest University and at Howe Sound Secondary School, as part of the Sea to Sky School District's international education program. A poster on Quest's campus points out that the student body is approximately 14 per cent international. 
Meanwhile, the school district program has students from more than 30 countries. 
The students' reasons are varied, but one motivation – especially for the high school students – is the chance to work on English skills. Their stays are relatively short, generally a semester or a year, depending on their graduation requirements back home.
The move can also be an adventure for students. As Spanish student Sergio Olmedo, a 15-year-old now at Howe Sound Secondary, puts it, "I hope this experience makes me open to new experiences."
The international students at Quest come for several reasons, sometimes due to a preference for a smaller university, the personalized support that Quest offers during the application process or the fact that the institution has a good reputation for its support of international students.
At the high school level, the education here offers students not only the chance to polish English skills but also to take a broader range of classes than they might have back home. Many countries emphasize a strictly academic curriculum, so when the students come to Canada, they can mix in other elective classes such as woodworking, metal working, cooking or drama.
One thing that everyone seems captivated by in Squamish is the setting. While the rain might require an adjustment for students from sunnier climates, there is no doubt that they are impressed by the scenery when the sun comes out. They're also impressed by the outdoor recreation opportunities that come with it.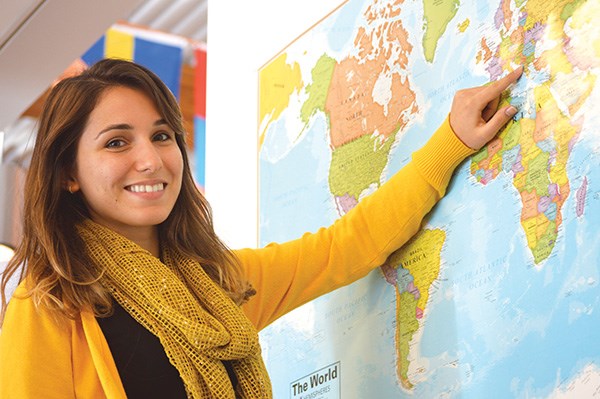 "I love outdoor sports. Squamish 100 per cent fulfills that," said third-year Quest student Poema Kazazi of Kosovo.
Beyond an education, life here provides some new experiences. Kazazi had the chance to go up in a plane – and even take over the controls briefly – for an event to promote professions to women in conjunction with International Women's Day in March.
"I was able to not only see Squamish, but I was able to see the campus from up there," she said. "It was really, really amazing."
One of the first issues for the students when they arrive is fitting into the wider community. 
"I think one of the hardest things is coming to a place where you have no connections," said Barbara Batista Fernandes, a third-year Quest student from Brazil.
Quest makes it a priority to welcome the students and offer them opportunities to get to know each other and meet other students. For example, there is an international student discussion group on campus that provides a chance for students from around the globe to touch base with other international students.
"You feel connected," Heriel Ringo said. "It's easy to talk with someone who is experiencing the same thing."
Recently, the university even put on an "Anything But English" night in which students shared their foods, music and dances, with the one stipulation being that any words had to be in a language other than English.
"Even if I didn't know the song, just hearing another language was nice," said Kazazi.
For some, at first, there is a temptation to confine oneself to campus life, and summer can be a tough time, especially when it comes to finding work. Heriel Ringo was able, through her church, to find some work at a daycare, but she admits it was not easy when she first arrived.
She had been to the U.S. and taken some pre-university courses in Rochester, N.Y., but she finds people here more open.
"People seem to be more welcoming," she said.
Kazazi had an easier time as she was able to find work for the summer months on campus as well as at the Sunflower Bakery downtown, and even was able to fit in some time to visit family.
Cultural differences can present a challenge – especially food. Heriel Ringo, for one, smiles as she admits to having a bit of a hard time grasping Canadians' fascination with Tim Hortons and the Timbit.
At Quest, they have taken steps to give students input into food preparation for special meals that celebrate a particular culture. Batista Fernandes had the chance to make a stew dish from back home in Brazil called feijoada, and she finds there is a lot of enthusiasm for these special evenings.
"When a student is cooking, people are motivated to come," she said.
High school students in the international program generally eat with their host families, but even that calls for some adjustment. 
"My breakfast here is totally different," said Lennart Notemann, a 15-year-old student from Germany. 
That is not necessarily a bad thing. For Notemann, French toast with maple syrup has become a particular favourite. 
Sometimes the change is in the timing. Olmedo had to make an adjustment, as at home in Spain, he typically ate his dinner much later in the evening.
One of the biggest differences is the absence of family and friends. Going home can cost a great deal of money and time, so students often choose to stay here for summer or seasonal holidays. This is when having host families becomes more important. Olmedo opted for the program in Squamish over one in England largely because he wanted to stay with a family and not at a boarding school.
"They've been very close to me," he said of his host family.
Students stay in touch with families back home via electronic devices. Some, like Kazazi, have been lucky enough to get back to visit, and Notemann said his mother is coming from Germany early next year for a visit. 
"My mother's a big Canada fan," he said.
Host families, though, are key for both the high school program and Quest for the rest of the time students are away from home. For high school students, they provide billeting, while the university host families have an important role as a connection or surrogate family that can give support, something that is especially important as university is a longer-term commitment. 
For all the adjustments that the young people have to make though, no one seems to regret the choice, as it provides a cross-cultural exchange that few ever get the chance to experience, and it represents a big decision for a young person. As Heriel Ringo puts it, "It gives me pride, being an international student."