"Can I get you to sign a waiver?" says the friendly, but firm organizer Jacqulin McNicol to each of the 10 participants as they arrive at the Al McIntosh Loggers Sports Grounds.
This was the initial night of Squamish's first organized Timber Training, and it was the first hint the four-week course wasn't for the faint of heart. 
The initial Wednesday night was devoted to axe throwing. Nervous energy filled the warm May evening as the five women and five men trainees, after signing their waivers, lined wooden benches across from blocks with red, 36-inch painted targets. 
The popular summer Squamish Days Loggers Sports Festival is in its 59th year, and the goal of the timber training sessions was to introduce newcomers to some of the many aspects of timber sports and hopefully sign up some new competitors for this year's events, according to McNicol.
In addition to axe throwing, the four-week Timber Training course included double-buck sawing and birling, also known as logrolling. The final night, on Wednesday this week, was to be a friendly competition between trainees in all three events.
At 6:30 p.m. the first session got under way with a quick axe-throwing lesson. 
Soon axes were tinking against the chain-link fence, nowhere near the target, hurled by trainees who perhaps had never held an axe before. 
But quickly, with some encouragement and coaching from instructors who are B.C.'s top timber sport competitors, targets and then bull's-eyes were being hit.
Caitlyn Jacobs, who had never thrown an axe before the session, was the lone woman in her group of five when the trainees divided up to attempt to hit the target 20 feet away.
"It was easier than I thought," she said, in-between bull's-eye throws. "It's weird because you think that you have to throw it really hard, but you don't."
The key to hitting a bull's-eye is not thinking too hard about what you're doing, she said. 
Jacobs said initially she just thought it would be fun to take the course to learn something new, but she quickly decided she would compete at the festival this summer. 
"I am excited because I think it would be a cool experience, and then my kids get to watch me too. They are really excited," she said.
Fellow trainee Tyler Pollock gave a victorious yell after hitting a bull's-eye. 
"I want to compete in Loggers Sports one day," he said. "I grew up here and was always watching it." 
As each trainee had a try at the axe throw, those watching cheered or offered words of support. 
Pollock, a carpenter by trade who is also new to timber sports, said it was fun to learn. "It is a good group of people," he said.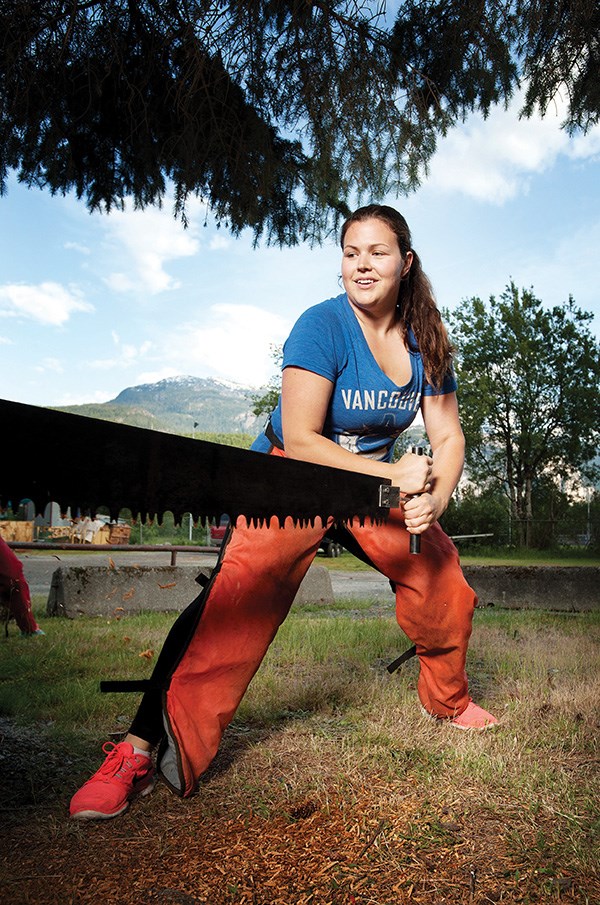 Each trainee had his or her own reason for signing up. Amy Fenton's motivation was to keep tradition alive. 
Fenton's family has deep roots in Squamish. Lily's Garden in downtown Squamish is named for Fenton's great-grandmother Lily Carson. 
"We have been here for a long time," she said. The family has a newspaper clipping of Fenton's grandmother and her sister participating in the double buck at the 1960 Squamish Loggers Sports Festival, she said.
Fenton has long wanted to recreate that photo, and the Timber Training course was the perfect way to make that desire a reality.
"I kind of only went in it to learn how to do the double buck, but after doing the other events, it was really fun," Fenton said.
She hopes to compete at the festival this summer. "It is just too much fun not to," she said.
McNicol, who is not only one of the training organizers but also a veteran competitor, is quick to echo Fenton's enthusiasm for timber sports. She eagerly chats up anyone interested in the different sports involved or to lend a hand to one of the trainees. McNicol got involved with the sports in 2003, when she worked in the forest industry. 
"For me, the enthusiasm comes from others as they watch the show, cheer me and all the other competitors on and then ask the same question that I did when I first got involved, which at the time was: 'How do I get involved?'" she said. 
For McNicol, it's essential to keep alive the logging traditions that built Squamish as the community grows.
"Having the ability to keep logger sports going allows us to educate people on what the industry is really about and how it supports education, the environment, public interests and recreation, along with many key issues for the community that make living in Squamish so amazing," she said.
Former competitor and veteran Loggers Sports volunteer John Hurford taught the trainees how to double buck with dual handsaws the second week of training. Hurford said timber sports were originally made up of people who worked in forestry, but that focus has shifted. 
"It is more about sport," Hurford said.
Stirling Hart, who is an international icon in the timber sport world according to Timber Trainee organizers, showed the trainees birling techniques on June 1. A professional athlete who makes a living at timber sports, Hart just hours before had been on a flight from Europe, where he ran training camps for Stihl Timbersports. 
"It is a very unnatural thing to do," he said of log rolling. "You aren't actually walking on it. It is kind of like riding a unicycle. You are just trying to keep your balance on top. It takes a lot of time to get used to the way the log moves when you are standing on it.
 "It is like surfing or snow boarding, you got to stay nice and low and keep all your body weight nice and low," he explained.
Hart, 27, also competes in the professional timber sports circuit nationally and internationally. 
He is a three-time world champion speed climber and the 2014 Stihl Timbersports Canadian Champion.
He said at least half of the trainees showed real potential as future competitors. 
Most of the trainees in Squamish, he said, were athletes, which made training easier. 
"It is easier for them to pick it up because they have a sports background," he said. "They have that natural balance they have built up from doing sports from a young age…. They are coachable, they get how to receive criticism."
Loggers sports aren't just about the competitors, instructors or the spectators. A hive of people move the events along and some make a tradition of doing so.
One of the Timber Training volunteers, Serena Karwatski, has long felt at home on the loggers sports grounds. 
"I started as a runner," she said, adding her mother, a former timer, eventually passed her the torch of timing the timber sports events.
"It takes over my life as of April until the day of the show," she said with a laugh. "I grew up here; this is my home. I have seen it evolve and I know the history of it for the last 59 years, every aspect of it. I just love it so much." 
Karwatski said she was excited by the interest many people have shown in the training sessions. 
"Seeing new faces, new competitors... it is fantastic." 
This year's Squamish Days Loggers Sports Festival will take place Thursday, July 28 to Monday, Aug. 1. For more information, go to squamishdays.ca.