Could you live in 230 square feet?
For Yanick Belanger and his young daughter, who own a tiny house in Brackendale, it's no problem. 
Belanger built the house to have many features of a larger home – including a washroom, kitchen and gas fireplace – but without an inch of wasted space. 
At only 22 feet long and 11 feet wide, the living area is inspired by boat designs, so every area has multiple uses. A bed, for instance, pulls in to make more room during the day and, to save space, the stove and fridge are smaller than usual. 
While there is absolutely no tolerance for clutter, Belanger says living in a tiny house isn't a sacrifice so far, although he admittedly moved in only a week ago.  
"I only have things that I use on a regular basis. Everything else is gone," he says. 
"We don't own much kids' toys. I'd rather go swimming, biking or to the park with my daughter."
He built the house by himself after customizing the design drawings to suit his needs. The tiny home sits on top of a trailer that is parked on a piece of rented land in an acquaintance's backyard. 
Like many tiny houses in Squamish, the stained wood siding and large windows that allow for abundant natural light are quintessentially West Coast, and the modern interior is painted off-white to open up the quaint space. 
"Because I own this house, I can design it in a way that it make sense to me," says Belanger proudly. "No more wasted space. Super energy-efficient."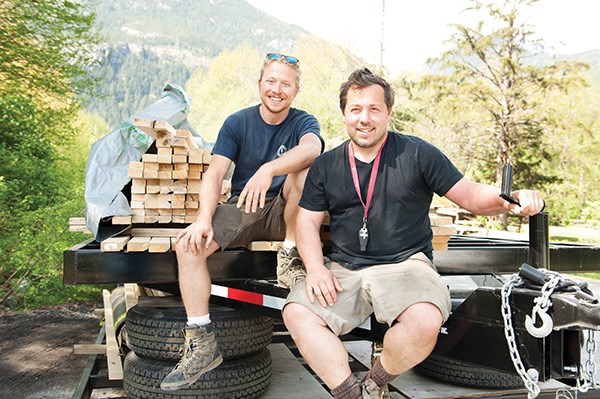 Housing market squeeze
With the current housing crunch in Squamish, more tiny houses will soon be popping up around Squamish as their owners wrap up construction and find a plot of land to call home.
The compact houses, which usually range in size from 150 to 350 square feet, are upheld as the perfect environmentally-friendly solution to rising real estate prices, which are affecting young people in particular. 
The benchmark price of an apartment in Squamish has jumped 17 per cent since last year to $310,500, out of reach of many households that have only one income earner. This upward trend has been happening for years – apartment prices are up 37 per cent from five years ago – and isn't showing any signs of slowing down as more people move from elsewhere in the Lower Mainland. 
The price of rent is also rising, making tiny houses even more desirable. According to tiny home owners, a piece of land, often in someone's backyard, usually costs between $350 and $500 a month to lease – far less than the cost of renting an apartment.
Quest University students Martin Schuster and Aaron Feicht built a tiny house with a footprint of only 105 square feet to study the benefits of living in a small space. They found financial savings to be one of the main perks. 
Mayor Patricia Heintzman says the district is in favour of adding tiny houses to the community to help people find affordable housing. 
"Housing is supply and demand, and it's a challenge. There are always affordability issues in any city where more people want to live," she says. 
"These houses provide more density and more price options."
Although the district doesn't keep track of how many tiny houses are in Squamish, Heintzman says the staff is aware they are becoming increasingly popular. She says no problems have come up, but further regulations and guidelines can be created if they do.  
When it comes to municipal zoning bylaws, building a tiny home can, in certain cases, be confusing. 
Since tiny houses are often built on trailers to avoid building codes that limit the minimum square footage of a habitable structure, they are put in the same category as RVs, which are inspected and insured by ICBC. This can make bylaws hard to navigate. 
However, more tiny houses built on the ground, rather than on trailers, may begin to pop up since council has recently relaxed the minimum allowable size of dwellings in Squamish.
Local resident Naomi Dunaway is building a 360-square-foot house. Her tight quarters will include a table with extendable legs that pops up from the floor and a peaked roof with a loft bedroom. She also plans to build a large deck around the house to extend the outdoor living space and provide storage. 
After searching for deals on Craigslist and in the Squamish ReBuild store and getting a deal from a friend who is a builder, Dunaway hopes to build her tiny house for under $30,000. 
"To me, the tiny house movement is often about people who want to downsize or don't have another option to buy. They want to find a solution to this and not have a 30-year mortgage," says Dunaway, who took out a loan at Squamish Savings to build her tiny house. 
"There are a lot of creative people in Squamish, so I'm not surprised we're seeing more tiny houses here," she said.
With an eye on the potential local market, Jesse Horn and Eric Hamel, owners of Timber Wolf Homes, plan to start building tiny houses in the next month or so. The idea was sparked after Horn, who owns a construction business, put a tiny house he was in the process of building up for sale online. 
Thirty-five offers came in overnight, causing a bidding war, and the partially-built house was sold over asking price. 
He says young people starting out and retired people are among those who have expressed interested in living small.
The retirees, he says, are "looking to downsize and want a small but accessible home. They can be snowbirds down south and come back to their tiny house that has no maintenance fees. It's a great option."
Depending on what the customer wants, including whether they want to live on or off the grid, the tiny houses will have a large range in price, from $35,000 to $120,000 at the top end.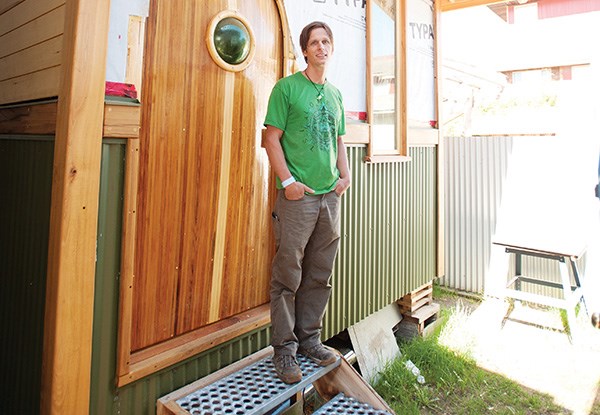 Tiny downtown lot
Todd Nichols, whose tiny house is in the downtown area, wants to one day move onto secluded property near Squamish.
"It's probably just a dream, but I would love to buy a piece of property that's completely unbuildable on a giant rock face and put my house there," he says. 
Since he did all his own work and salvaged most of the materials, including leftovers from a local woodturner, the total cost of his home was only about $12,000. The 360-square-foot house is built on wood blocks instead of a trailer and can be lifted to a new location. 
A carpenter by trade, Nichols treats his tiny house as a work of art. 
He used yellow cedar because of its strength and the intricate knots created by the wood, and he paid special attention to the door, which curves from the top to bottom. 
"Yellow cedar might not be the most beautiful, it's not like red cedar that has a pretty grain, but it's a special tree that grows high in the most adverse conditions. The knots look like comets shooting in the sky."
For Emmanuelle Beaulieu, an elementary school teacher in Squamish, sticking closer to the conveniences of downtown is ideal. 
She recently bought a small lot downtown and her goal is to move her tiny house, which she bought from a Whistler RV park, to the property. 
"A lot of people live in much larger spaces than they really need. For me, a tiny house is perfect because it has everything I need 95 per cent of the time. I'll go somewhere else for the five per cent," says Beaulieu. "Plus, living in tiny houses gives you more spending money so I can, say, go out to eat at a nice restaurant if I want."
According to bylaws, temporary dwellings can only be occupied for a year, so Beaulieu plans to build a permanent small house on her lot when the time comes. 
"I can see why tiny houses are becoming so popular. I know seven or eight people who are building one in Squamish alone."