A world map is pinned to the wall of his apartment. It's covered with marks – dots indicating where four-time British kiteboarding champion Lewis Crathern has kited. South Africa, China, Morocco – the list of exotic countries goes on. 
Then there are the points where Crathern wants to kite. Canada sat in his "to-do" category for a long time, beckoning him with every glance at the poster. 
Last year he checked it off, when six-time Canadian kiteboarding champion Sam Medysky invited Crathern to Kite Clash – the Canadian Freestyle Championship held at the Squamish Spit. This year, Crathern is coming back for the competition, which runs Aug. 26 to 28. 
"[Squamish] is in my top three places to kite," Crathern says, noting Cape Town, South Africa, and his hometown of Worthing are also in that group. "[Squamish] is one of the most visually breathtaking places I have been kiteboarding at."
Crathern grew up by the sea in his hometown of Worthing, a community 16 kilometres west of Brighton. Like Squamish is to Canada, Worthing's abundance of wind made it the United Kingdom's Mecca for the sport. In 2003, at the age of 18, Crathern jumped on a kiteboard. Two years later he earned the Kiteboard British Tour champion title. 
"Being the best kitesurfer I can be remains my ultimate dedication," Crathern says.
While Crathern's kiteboarding resume is full of accomplishments – first place in the Red Bull Megaloop Challenge, third place in the World Tour China Slalom and a first at Kite Clash Big Air competition in Squamish last year – the international spotlight landed on him in 2010 when he jumped the famed Brighton Pier.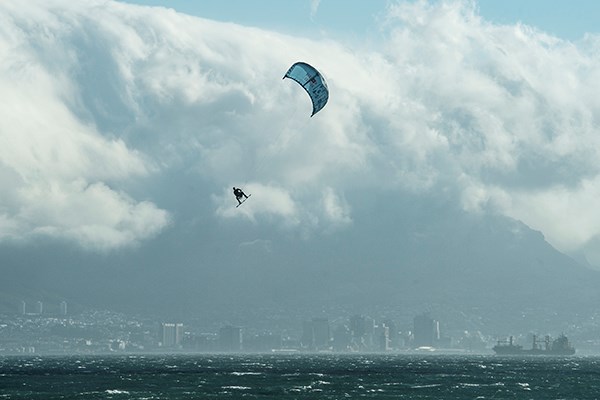 Crathern and Medysky met two years later in Cape Town at one of the kiteboarding community's most renowned events – Red Bull King of the Air. The invitational meet brings 24 of the world's best riders together to see who can jump the highest with the most style. The athletes soar approximately 15-plus metres above the sea – four-and-a-half storeys high. 
"We were doing a shoot," Medysky recalls. "I just knew him as the 'man that could touch the sky.'"
The two hit it off and before the meet was over, Medysky was making plans to visit Crathern in Europe. For three weeks they shared a van, exploring the wind spots along the Atlantic coastline. 
"We lived together, travelled together. He is kind of like an older brother to me," Medysky says.
Medysky started kiteboarding when he was nine years old. By 13, the Ontario native was a pro and upon high school graduation his bags were packed as he headed to Brazil for training. 
"Medysky is a very modest athlete," Crathern says. "He has time for everybody. He doesn't take [his position] for granted."
Both Medysky and Crathern work hard promoting the sport within their home countries where the kiteboarding communities have relatively low numbers. It's not easy, Medysky admits. Getting sponsors to give you gear is one thing, but getting sponsors to support you as an athlete is a different ballgame. It's a factor Medysky would like to see improved in the future, as it is one of the main ingredients in helping athletes reach the next level within the sport. 
Kiteboarding recently made a step forward toward becoming an Olympic sport. Young kiteboarders from around the world will be out on the water competing in the 2018 Youth Olympics in Buenos Aires. It's the type of move the sport needs to get onto the public's radar, Kite Clash organizer Steve Tulk says. While Kite Clash is one of the largest kiting events in North America, little is known about it outside of the kiting community, he noted. For the last four year's, Tulk has worked to change that. 
"People in Squamish are becoming more aware of kiteboarding, but people [in general] don't seem to know too much about the sport," he says.
This marks the fourth year of Kite Clash. The level of kiteboarding has progressed rapidly within that timeframe, Tulk notes, adding it has become "smoother and more fluid as the athletes push the equipment further."  
Tulk says he tries to improve upon every event, noting that this year he's adding Kiter Cross races to the weekend. 
"It's going to be a lot of fun to watch. They get going fast, and with four riders at a time and multiple gates, it will get very exciting.
"There might even be a couple of obstacles to navigate," Tulk says with a wink.
The next step in the progress of the sport is the park style, he adds. Park style is a cousin to wakeboard park riding, with kiters using ramps and sliders placed in the water. 
Next year, Tulk says he hopes to have some of those features at the event. 
Kite Clash kicks off with the Canadian Freestyle Championships on Friday. Over the weekend, 36 podium places will be up for grabs. Medysky, who currently sits seventh in the world in the Kite Park League, will be in the running for another title. Despite coming into the event with an acromiocavicular (AC) joint injury, he says he's looking forward to getting onto the water.
"I enjoy competition because I think it is healthy to check yourself and see where you are at with your riding," Medysky says. 
Crathern himself is making a comeback from a major accident during the semi-finals of this year's King of the Air. While attempting a double mega loop, he free fell an estimated 45-plus feet landing himself in the hospital in a coma for almost a week. But it didn't take long for him to return to his board. Six weeks later he was off to Egypt for the first leg of the 2016 World Kite Tour. 
"I am going back to Cape Town after Christmas," Crathern adds. "I have not been kiteboarding there since. It will be slightly emotional, but I have been kiting and I have been kiting strongly now."
Medysky and Carthern have some heavy competition. Local rider Matt Cooper constantly puts on the pressure with his powered tricks, Tulk says. Prince Edward Island's Lucas Arsenault, who won the 2014 Canadian Freestyle Junior Champion title, is sure to be in the mix. The former Shippagan Freestyle Wind Fest champion always puts on a good show, Tulk notes, as does local junior rider Jack Rieder.
As for the women, it's all up in the air. Last year's champion, Min Kim, is said to be in Europe, but there are plenty of talented women that will be battling it out for a chance on the podium, Tulk notes.
The Squamish Spit is the perfect venue for Kite Clash, he adds. Spectators are only a "finger-length" away from the kiteboarders as they soar overhead. During the event, DJs will be dishing out some tunes and beer will be on tap in the beer garden. 
This year a bus will shuttle people from the parking lot at Fraserwood, just past the West Coast Railway Heritage Park, and along the spit road – an attempt to avoid congestion in a place with already limited parking.
Crathern plans to be in Squamish for two weeks, commentating and riding in Kite Clash. He's excited to see if Medysky can hold back the "kids" this year, earning himself a seventh championship title.
"Six years in a row is pretty amazing and he's going for his seventh. That is a draw for me."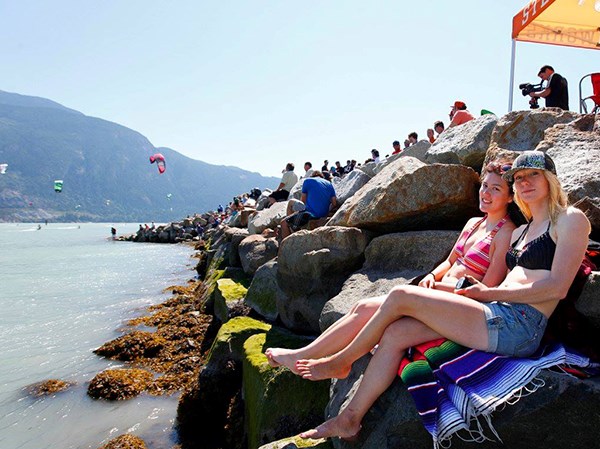 Kite Clash
(Aug. 26 to 28)

If wind cooperates, competition starts
at 11 a.m. 

Friday, Aug. 26 
Canadian Freestyle Championship
Twin Tip Slalom Cross (preliminary elimination)
Official Opening Party at the Match Eatery & Public House – 7 p.m.

Saturday, Aug. 27

Open Freestyle

Sunday, Aug. 28
Big Air
Twin tip Slalom Cross (finals)
Shuttle 

Throughout event from 10 a.m.
to 6 p.m. The bus will run from Fraserwood with stops along the Spit road.