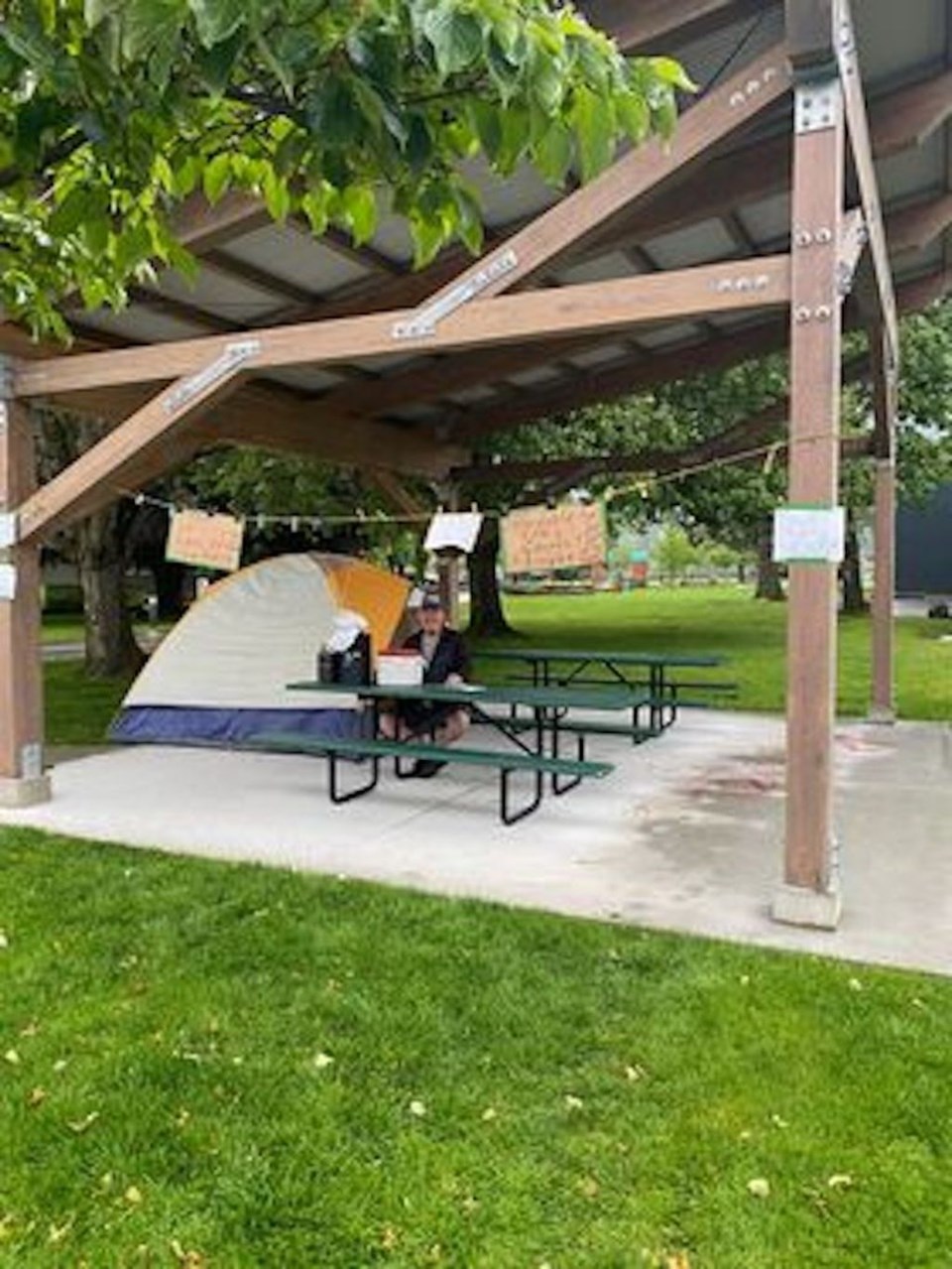 Rick Smith has called Squamish home for 48 years, but last week was the first time he took residence in a tent across from the Municipal Hall.
He was protesting the lack of affordable housing by camping out for 24 hours. He plans to do it again, he said, noting it is a peaceful demonstration — he even cleaned up all the cigarette butts in the area.
While he lives with his adult daughter, that isn't what he would choose for himself if there were somewhere he could afford to live on his own.
"If we don't control these rents right now, we're screwed here, man," he said.
Smith, 62, said he moved to Squamish in 1974, because there was affordable housing in Valleycliffe.
"We paid $175 a month for a full three-bedroom house in 1977," he said. "Since then, we have done very little to bring real affordability."
He acknowledges there have been a few government initiatives, such as Castle Rock Family Housing, the Buckley Avenue housing project and Under One Roof.
But it isn't nearly enough, he said.
"I'm homeless right now. Now, I've got places to stay. I'm staying with my daughter right now. But I don't want to. So, my plan is to probably get a truck, and I'll be living outside places. And I want to travel the province and preach the word that we need affordability [for] this whole province," he said. "Maybe we can be the first to do it, other than Europe."
Smith would like to see much more government-built housing like there was back in the day.
Ideally, the District would provide the land, and the federal and provincial governments would help fund housing that was truly affordable for low-income folks, he said.
To the assertion that the District doesn't have a lot of land of its own to pony up, Smith said it might have to be that the government expropriate it from a private landowner.
"We have to take some of that land and say sorry...or we have to tax the hell out of them. We have to do other things to get the rents down. I don't want to do that because that just hurts everybody. The best thing to do is to build affordable housing...I know there are logistics and problems like that, but I'm tired of hearing that. I've been listening to that for 48 years. Excuses after excuse after excuse," he said.
Smith noted that a District staffer did come out and hear his housing concerns during his camping protest.
What is the District doing about the housing crunch?
In response to Smith's protest, a spokesperson for the District of Squamish said the municipality recognizes the urgent need for affordable housing "to ensure a diverse and equitable community, and we hear the concerns and frustration raised by Mr. Smith."
The District's Rachel Boguski said in a written statement that increasing affordable housing supply has been a strategic focus of the current council and previous councils over the past few terms.
"And District staff have and will continue to explore all remaining available parcels of Crown land within the District of Squamish," the statement said.
The District is also reviewing the Community Amenity Contribution (CAC) Policy in an effort to secure more affordable housing and purpose-built rental units.
"This may also require us to revisit our Perpetually Affordable Housing Policy to ensure we are building across all income levels present within the community," Boguski said.
The District has no legal ability to expropriate lands to build affordable housing. Purchasing lands for affordable housing is a function of the provincial or federal government.
"A land purchase for affordable housing at open-market is beyond the District's financial means and would require extensive borrowing that would significantly impact our ability to borrow for critical facilities, infrastructure and other municipal projects, such as our fire halls and Brennan Park Recreation Centre upgrades," Boguski added.
"The District continues to work with non-profit partners and BC Housing to identify potential affordable housing projects and the provision of funding for both construction and operational costs. This work will remain ongoing through the Squamish Community Housing Society (SCHS) mandate of increasing affordable housing options across the community and the housing spectrum. The SCHS has hired an executive director and the society is anticipated to be fully operational by the fall."
Once operational, the SCHS will serve as a resource for residents wishing to access non-market and affordable housing units, and will maintain a waitlist for affordable housing in the community outside of individual non-profit housing providers.
The SCHS will also work to support the development of a new affordable housing project within the next few years.