During the first year of the pandemic, elected officials received an average raise of about roughly 2.6%, while top municipal bureaucrats received raises between 0.11% and 13%.
The annually-released statements of financial information reveal how much politicians and top bureaucrats in the District made during 2020.
Altogether, Squamish spent $17.32 million on all employee remuneration. In the previous year, 2019, the District spent $16.5 million — that's an overall increase of about 4.6%.
For elected officials in council, the municipality paid out $333,090 in remuneration in 2020. In 2019, they were paid $324,728 in remuneration. That's an overall increase of about 2.5%.
These pay increases were happening in what many considered to be a financially challenging year as a result of COVID-19. However, that same year, District council had also voted to decrease property taxes in an effort to give taxpayers some respite from the economically challenging times.
"It's one of those things where there's the mechanics of local governance and the image of really sound financial operations, as well, I think, just, really, public sensitivity," said Andy Yan, the director of SFU's city program.
"I think you're touching, really, upon that kind of gap in this type of conversation. Some of this stuff is political, particularly when it comes to municipal operations."
He noted that it's important to understand the context in which the pay increases are happening.
For example, are the raises pre-negotiated as part of a multi-year contract deal? Are they just adjustments for cost of living? Or were these discretionary raises that didn't have to be made?
"Some of them may have already been pre-done in terms of contracts, so I think it's just as the gear grinds through this with or without a pandemic. But then, of course, on the other side of it are the optics and how much of this is voluntary, if you will," said Yan.
"It's an important lens to kind of look over things — just how much of this is a pre-existing obligation? Let's say contracts that were negotiated two to three years ago as opposed to kind of discretionary spending."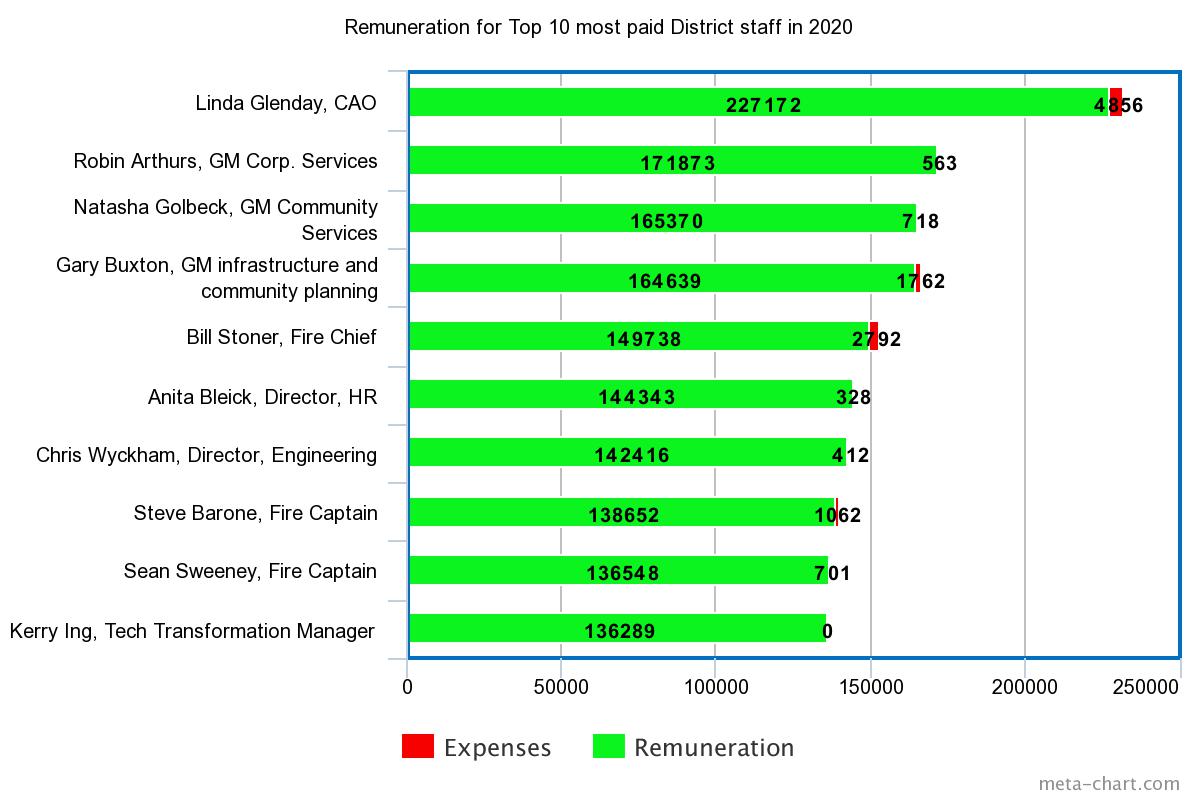 District spokesperson Rachel Boguski issued a written statement to The Chief explaining why municipal employees received pay bumps.
Aside from the CAO, or chief administrative officer, all municipal staff who are not included in the CUPE and IAFF union bargaining units have their pay adjusted based on the average of the following three indicators, read the statement.
The first is the change in B.C.'s Consumer Price Index, which is essentially the cost of living.
The second factor is the wage increases in the same year for CUPE Local 2269 members, or in the event there is no current contract, the wage settlement for the most recent year of the expired contract, with no further adjustment upon contract settlement, she said.
In this case, CUPE's contract was current.
Finally, the last factor is the wage increases in the same year for IAFF Local 2874. Again, if there is no current contract, the wage settlement for the most recent year of the expired contract, with no further adjustment upon contract settlement, Boguski said.
The IAFF is currently working with a 2019 expired contract, the union said.
Boguski added that the District does not increase staff salaries based on bonus incentives or performance-based rewards.
Lastly, the CAO's compensation is reviewed periodically by council to ensure that it remains competitive, Boguski said.
Yan noted there's also the issue of paying an amount that will attract and retain the right kind of talent, as you often pay for what you get.
As the job gets more complex, it shouldn't be a surprise that pay increases, Yan said, but there does need to be a feedback loop of accountability to ensure taxpayers are getting value for their buck.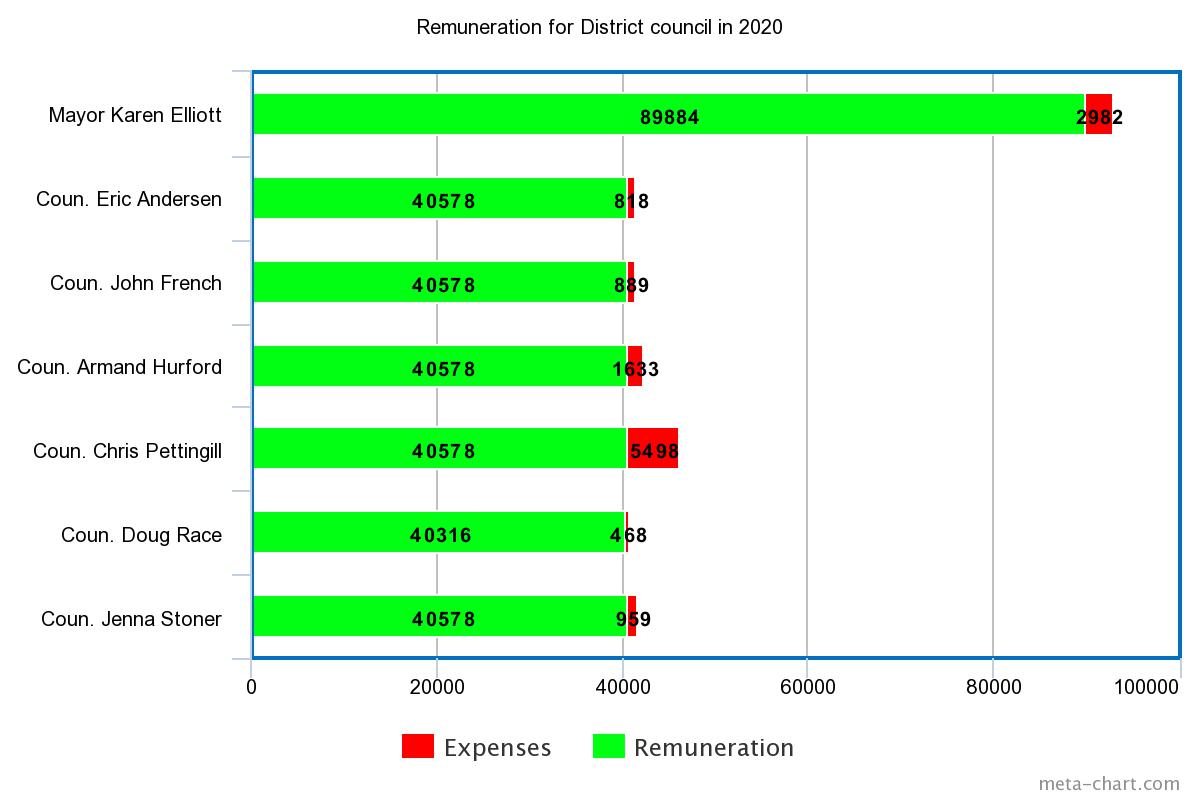 With respect to payment of politicians, Yan noted, municipal compensation is a different beast, because the assumption is that, at least for councillors in smaller communities, they would still keep their day jobs. As a result, councillors are generally paid a relatively small salary.
However, this becomes a little bit more nuanced as some complex municipalities may demand full-time attention from councillors.
Squamish, he said, is in an interesting position because it's traditionally been a small town, but it's been experiencing such a high level of growth and development that an elected position may be becoming an increasingly demanding job.
This growth may have been exacerbated by the pandemic. Remote work has made the town an increasingly attractive place to live, and an increasing number of home-bound workers created an uptick in demand for property.
The largest staff pay raises
Among the Top 10 most-paid employees at the District, the largest pay increase went to the municipality's top bureaucrat, CAO Linda Glenday.
Her pay was bumped to $227,172, up from $200,164, amounting to an increase of about 13.5%.
In second was Natasha Golbeck, general manager of community services.
Her pay was increased to $165,370, up from $148,031. That's an increase of 11.71%.
Golbeck has since left her post, and Dan Pagely has become the acting general manager of community services. His pay is not listed for 2020.
Anita Bleick, director of HR, almost doubled her pay to $144,343, up from $77,954, but this is due to annualization. In other words, Bleick started the job around May 2019, and therefore received half a salary for her first year at the job. The full amount kicked in starting 2020.
How does Squamish compare to other communities?
Again, Yan said that it would be helpful to benchmark the community with other municipalities of a similar size in order to get an idea of what a reasonable salary looks like.
However, he noted that Squamish's situation is still unique to others, and that should be kept in mind.
The town's position as an attractive remote workplace with booming residential developments in the middle of a pandemic is a situation that doesn't necessarily extend to other communities.
With this in mind, as in 2019, Yan again said that White Rock, Pitt Meadows and Cranbrook were reasonable comparisons.
They have respective populations of 19,952, 18,573 and 19,259, as of the latest census, but these numbers are old and expected to change — especially since a new census was conducted this year.
However, results from that survey are not yet available, though Squamish's headcount is expected to have increased to somewhere in the 20,000 to 25,000 range.
At $17.32 million, Squamish spent the most on staff remuneration in 2020. White Rock spent the second most at $14.14 million. Cranbrook spent $12.94 million and Pitt Meadows trailed with $7.38 million.
However, Squamish was second-last compared with those other communities' remuneration for elected officials.
White Rock paid the most, spending a total of $365,306 on its council members' salaries.
Pitt Meadows spent the second most, tallying in with $343,167. Squamish was in third place, paying $333,090. Cranbrook paid the least, spending $211,763 on salaries for its council members.
The Chief also compiled comparisons in pay for the mayors of all the municipalities, as well as the Top 2 municipal staffers, which can be viewed in the accompanying charts.