Citing health and safety reasons brought on by COVID-19, the District of Squamish will be considering a bylaw amendment that appears to greatly broaden its existing camping ban.
Language in a new proposed bylaw amendment suggests that the proposed camping ban may apply to the entirety of the District.
"With the onset of COVID-19 in the spring of 2020, Squamish saw a sudden increase in people living in vehicles in urban areas, outside the boundaries of Schedule A," reads a staff report.
Last year, in a high-profile move that garnered headlines across B.C., council passed a bylaw that stopped vanlifers and campers from staying overnight around the Estuary and Mamquam River Forest Service Road.
The camping ban was outlined in a map attached to the bylaw, which was designated as "Schedule A." This map showed the areas of the Estuary and Mamquam Forest Service Road where the camping ban applied.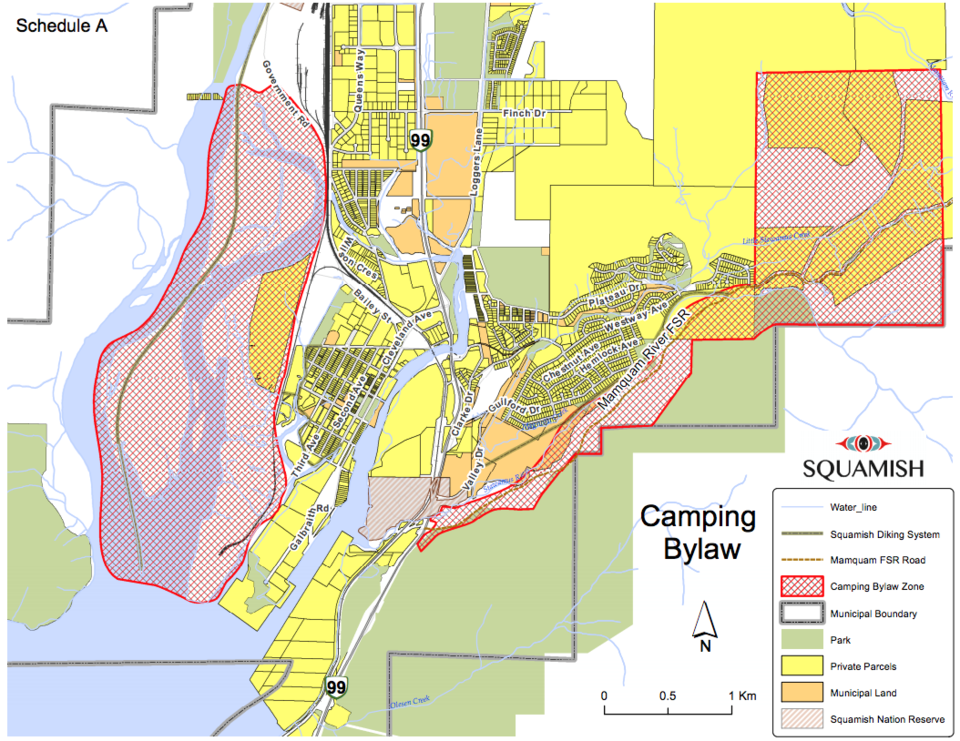 "These congregations of vehicles are causing public health risks due to the absence of sanitation infrastructure and pose a risk to the vehicle dwellers as well as the public," the report continues.
"Low-cost campsites are currently available, including reduced rates for the municipal campground. However, without enforceability of the Camping Bylaw across the District, van dwellers are reluctant to move to a designated campground."
According to the latest council agendas — which outline the items to be debated for the meeting this coming Tuesday — elected officials will be discussing the possibility of broadening that language.
Schedule A will be removed and excerpts from the proposed bylaw read: "a person must not: (a) camp in any public place; or (b) sleep overnight in any public place unless designated a camping place….A person must not erect, construct or build, or cause to be erected, constructed or built, a tent, shelter, structure, or building in any public place."
Currently, the extent of the camping ban is constrained by Schedule A.
An excerpt from the existing bylaw reads: "a person must not: (a) camp in any public place within the zone indicated in Schedule A of this bylaw; or (b) sleep overnight in any public place within the zone indicated in Schedule A of this bylaw."
At the moment, officers can still use traffic bylaws to penalize people vanlifing outside of areas marked by Schedule A, however a District staff report calls this "challenging."
"Outside of the areas in Schedule A, RCMP and Bylaw Enforcement are only able to enforce vehicle dwelling through the Traffic Bylaw's prohibition on sleeping in vehicles on roadways. This is operationally challenging and disruptive to vehicle dwellers," reads the report.
Nothing has been passed yet. The proposed bylaw will be up for three readings on July 21.
Due to COVID-19 restrictions, in-person attendance is banned, but the meeting will be livestreamed from the municipal website. Staff say that software will be installed that will allow the public to ask questions and participate.