Tanya Jamieson and her young family live in Raven's Plateau area of Valleycliffe and were quite familiar with the persistent neighbourhood bear that was recently euthanized.
"It had been a regular visitor for several weeks, at least — like every day," she said.
On Nov. 10, Sgt. Simon Gravel of the Conservation Officer Service confirmed a black bear was caught that morning and was to be destroyed.
Gravel told The Chief that the bear had been exhibiting problematic behaviour since the spring.
"People were trying to chase him away and he was charging back people," said Gravel. "It did escalate to a point where a kid was chased by the bear after school going home."
Jamieson, and many of her neighbours, were upset at the bear's death and would like to see changes in town to prevent more animals from dying.
At first, the bear was only active on garbage pick-up days, but then was rewarded a couple of times and became more active, Jamieson said.
"Squamish claims to be a bear aware community, but there is not enough being done. Certainly, the District is not entirely to blame for this, it is also the homeowners," she said in a letter to the District and council, which she copied to The Chief.
"At this time, we are not doing enough and these innocent animals are suffering from it."
In an interview with The Chief, Jamieson stressed that the conservation officer she dealt with was kind and helpful.
"I can't fault the conservation service in any way. They handled it really professionally and well," she said.
The bear was definitely blasé about people, she said.
"It took a lot to even scare it off," she said, noting that folks tried to discourage it, but it was too habituated. "It was not just us, it was our neighbours as well — honking car horns, yelling clapping. One of our neighbours was chasing after it banging a shovel against the ground."
Jamieson even recalled a time she was less than a metre from the bear, laying on her car horn and it was not fazed.
"It was just looking at me like, 'Oh, you are so annoying!'"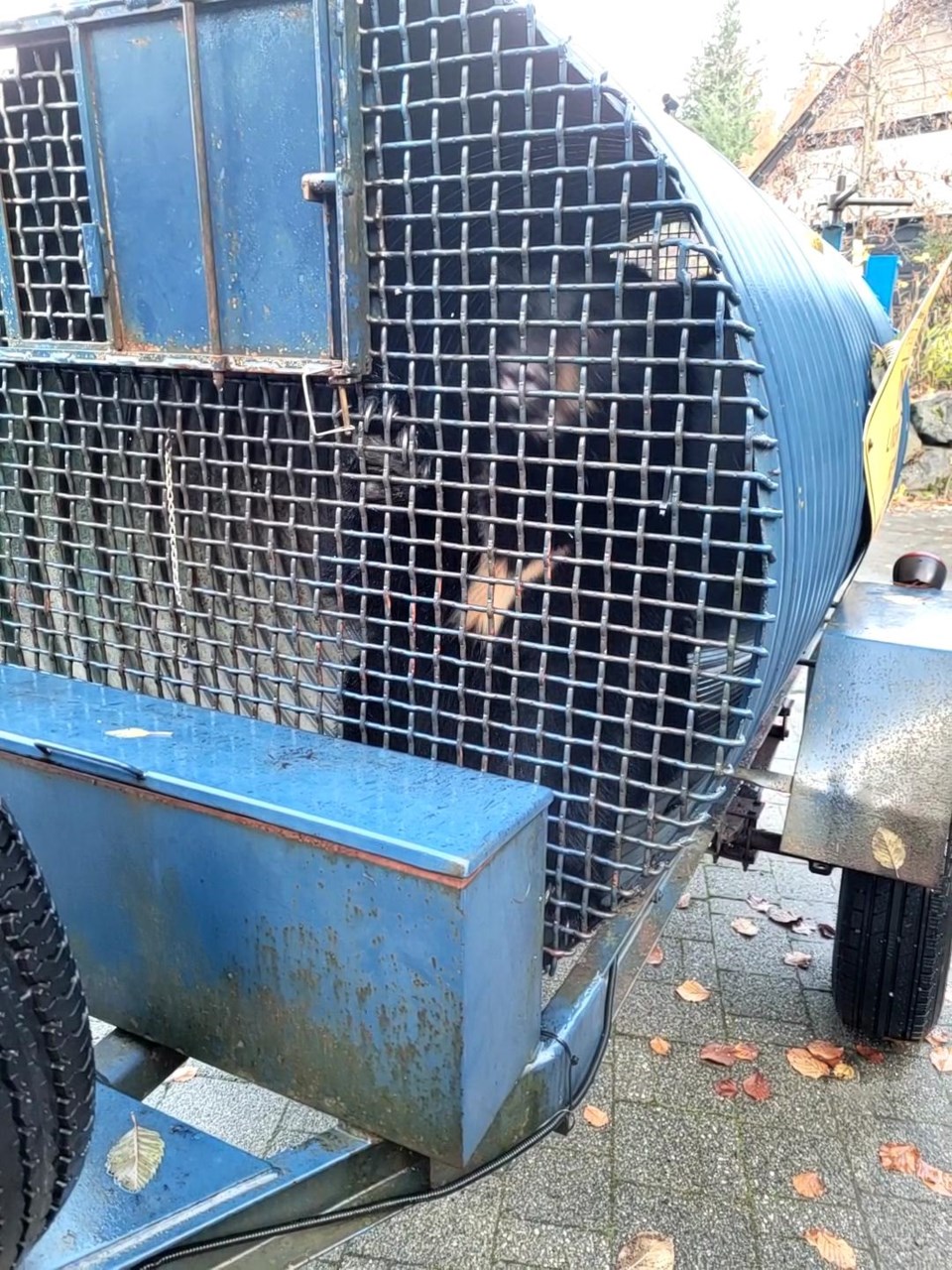 What would help?
Jamieson proposes some wide-ranging concrete actions that she feels would help protect the bears.
She would like to see the District employ a full-time wildlife/Bear Aware consultant to educate residents.
Further, she would like to see the District quickly ensure there are better bear-proof totes for residents.
She would like a person on each garbage truck to run ahead and unlock bins so that they can remain tight until the moment they are dumped.
She would also like the District to supply homeowners with cable/hooks so they can be secured to houses, and can't be tipped.
"Basically, the premise is, if we can get [totes] secured to the building — if they can't tip them — they can't get them open," she said. "One, we have to manage the attractants, people need to be responsible with what people are putting in the bins, and managing their fruit trees and everything. But it is not just that, if the bears can't get them open, they will go back looking for natural food sources."
If homeowners, such as some seniors, are unable to install them, she would like the District to have a staffer do so.
Ideally, she would like the muni to provide homes with bin enclosures, as well and change bylaws to require bins to be secured to a building or secured in an enclosure.
Then, increase inspections and fines once these new bylaws are in place.
Ultimately, she would like the council to halt new development encroaching on these animals' space and focus instead on wildlife land management/infrastructure management.
What does the District say?
The District's Rachel Boguski told the Chief that the former wildlife management staffer Meg Toom is no longer in the position and has not yet been replaced.
The District of Squamish posted a request for proposal (RFP) on Sept. 8 for wildlife management services to replace Toom.
"We anticipate a new contract will be in place by the end of November," said Boguski, a communications specialist with the District.
Regarding different bins, she added that municipal staff worked with its contractor GFL to test several different brands and models of bear-resistant totes in high conflict areas as recently as 2020 and found that the current bins are the best they could find.
"It was determined through testing that the current totes proved to be as reliable and repairable as other totes currently on the market," she said in an email to The Chief.
GFL repairs and replaces totes to keep totes in bear-resistant condition, with staff conducting preventative assessments of broken totes in the community on an ongoing basis, Boguski said.
Regarding a swamper or person to travel with the truck to unlock the totes, she said that is not within the scope of the contract the District has with GFL.
"And would add additional costs to the collection service which would be passed on to residents through Solid Waste Utility Fees. There is a budget set aside for a review of the collection system in 2023. This study would assess whether there is a collection system that would be better suited to the needs of the community while simultaneously reducing wildlife interactions," Boguski said.
The District is also not considering providing residents with cable/hooks to secure bins to houses.
"At certain times of the year where bears are actively in our neighbourhoods, it is highly recommended that residents keep bins stored indoors, such as inside a garage or shed, to prevent bears from accessing them," she said, adding that new multi-family housing developments are being built with centralized waste collection systems, instead of individual curbside collection totes, which involves keeping garbage and organics in a centralized, wildlife resistant enclosure.
This is a policy laid out in the Official Community Plan as a priority, she said.
"It is not possible for all residents to secure their totes in an enclosure and so a bylaw is not currently being considered."
~With files from Steven Chua/The Squamish Chief