The District of Squamish spent an extra $3.06 million on paying its employees in 2021, bringing total staff remuneration to $20.38 million.
This represents a 17% increase from 2020, when the municipality spent $17.3 million on its workers.
As is standard practice for every local government, the District recently released its statement of financial information for 2021, which details compensation for elected officials and staff.
While there was an overall 17% bump in the amount spent on bureaucrats, members of council saw an increase of about 4%, with a total amount of $346,318 spent on their pay that year.
Andy Yan, director of SFU's city program, said that the increases may be a knock-on effect of COVID-19.
"We are still in a pandemic, which, I think, has these additional costs for municipalities," said Yan.
"I think that it is mixed into the remuneration question, really, the kind of additional tasks as well as responsibilities that are happening through which they are trying to compensate staff to do these tasks."
In other words, the pandemic may have created more work for District staffers, and this means the municipality could be trying to increase pay accordingly.
Some examples of additional work include reporting to and working with provincial and public health authorities with respect to following and enforcing COVID regulations.
Increases in pay can also be pre-negotiated as part of a multi-year contract or adjustments for cost of living.
Another issue, Yan said, is the need to stay competitive.
A municipality needs to attract and retain talent, and higher pay can be a reflection of that necessity.
"There is a level of competition for municipal and regional governance," said Yan. "At a certain managerial level, it's a small pool, and you need to have that ability to attract and retain."
He said that if there's a revolving door of staff, things get more expensive.
District spokesperson Rachel Boguski said that pay is determined by municipal policies and may fluctuate based on the number of annual pay periods. 2021 included one additional pay period based on the calendar year.
Other contributing factors include contracted salary increases and vacation payouts.
The municipality's exempt-staff policy outlines compensation for those excluded from CUPE and IAFF bargaining units. Exempt staff are generally members of upper management or higher-level bureaucrats like planners.
The exempt-staff policy factors in elements such as an annual cost of living adjustment.
In 2021, the annual cost of living adjustment for exempt staff was 1.87%, said Boguski.
The compensation for all exempt staff positions, other than the CAO, is specified in the schedule of exempt staff salaries.
She said all exempt staff and council salaries are adjusted annually in January based on the average of the following three indicators.
The first is the change in the B.C. Consumer Price Index published as of Nov. 30 of the previous calendar year.
The second factor is the wage increases in the same year for CUPE Local 2269, or in the event there is no current contract, the wage settlement for the most recent year of the expired contract, with no further adjustment upon contract settlement. There are four pay steps for an exempt position, and each step is a 3% increase.
The third factor is wage increases in the same year for International Association of Firefighters Union Local 2874, or in the event there is no current contract, the wage settlement for the most recent year of the expired contract, with no further adjustment upon contract settlement.
"[Exempt staff increases are] based on a formula which is an average of CPI, CUPE negotiated increase for the year, and IAFF negotiated increase for the year," Boguski wrote.
CUPE Local 2269 and IAFF 2874 representatives did not reply by press time when asked by The Squamish Chief if their agreements called for raises between 2020 and 2021.
Boguski said that management reclassification, such as a title change with new responsibilities, can result in an increase. Also, serving in an acting position also generally bumps up a salary by at least 10%.
The District does not increase staff salaries based on bonus incentives or performance-based rewards, she said. Council also follows its own remuneration policy.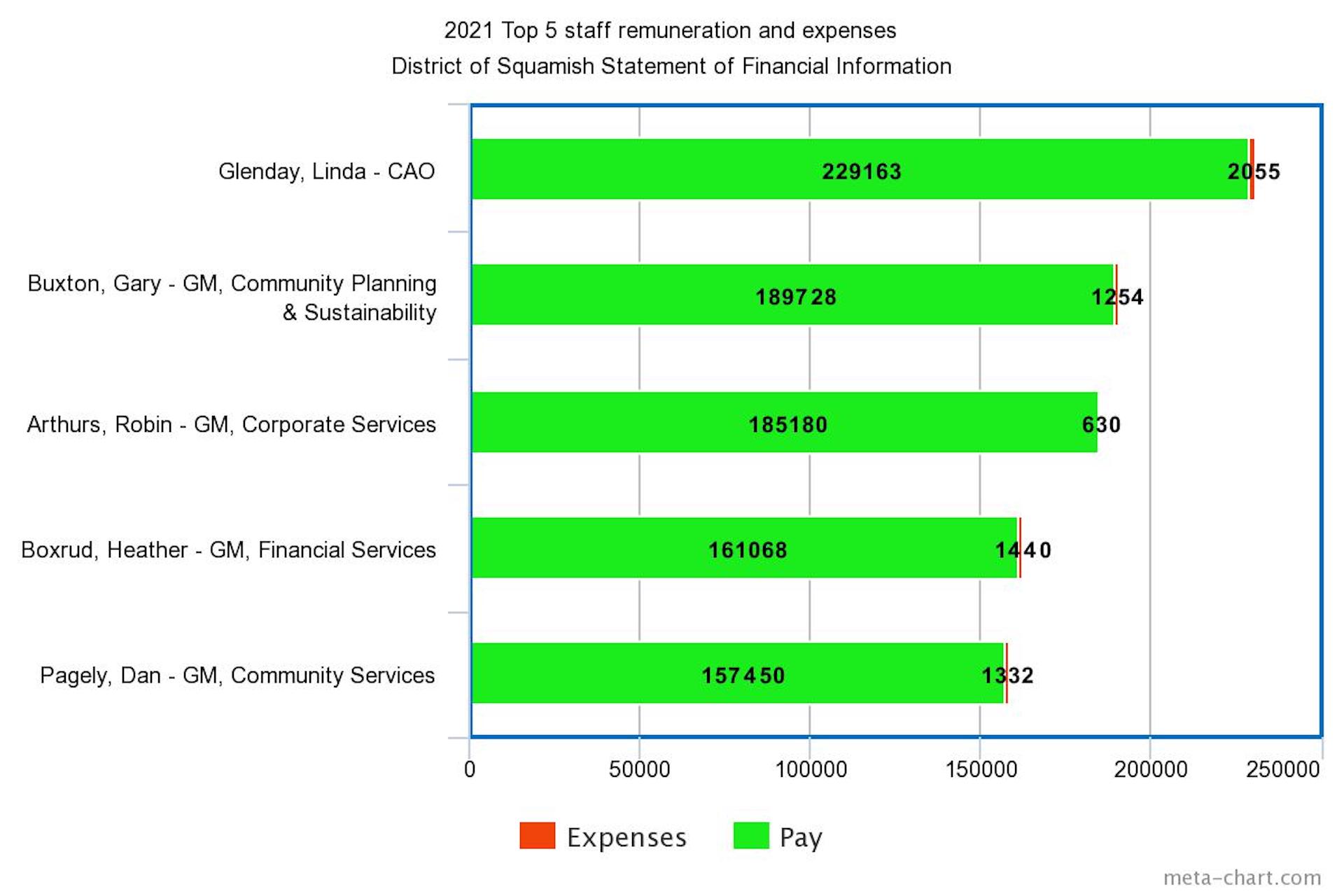 The largest staff pay raises
Among the Top 5 most highly-paid municipal bureaucrats, Gary Buxton, general manager of community planning and sustainability, had the largest percentage bump in 2021.
Buxton's pay increased to $189,728, up from $164,639 in 2020. This is a 15.2% increase in pay.
Robin Arthurs, the general manager of corporate services, had a salary uptick to $185,180, up from $171,873 in 2020. This amounts to a jump of 7.7%.
The municipality's top bureaucrat, CAO Linda Glenday, had a modest pay increase, as her salary crept up to $229,163, up from $227,172 — an increase of 0.87%.
Heather Boxrud, general manager of financial services, and Dan Pagely, general manager of community services, each made $161,068 and $157,450, respectively.
Previously, Boxrud was paid $86,936, but that's because she was hired in the middle of 2020. Her full annual salary kicked in during 2021.
Pagely is a relatively new hire, taking over for Natasha Golbeck. He is not listed in the 2020 financial statements.
Other officials just under the Top 5, such as Fire Chief Bill Stoner, engineering director Chris Wyckham, Fire Captain Steve Barone, technology modernization manager Kerry Ing and Deputy Fire Chief Aaron Foote, experienced pay increases between 3.6% and 6.6%. They were paid between roughly $139,000 to $157,000 each.
How does Squamish compare with other municipalities?
For this year, Yan said there are three other communities with similar populations that would serve as decent benchmark comparisons for Squamish, which, according to the 2021 census, has a population of 23,819.
He named Pitt Meadows, Cranbrook and White Rock, which each have populations of 19,146, 20,499 and 21,939, respectively.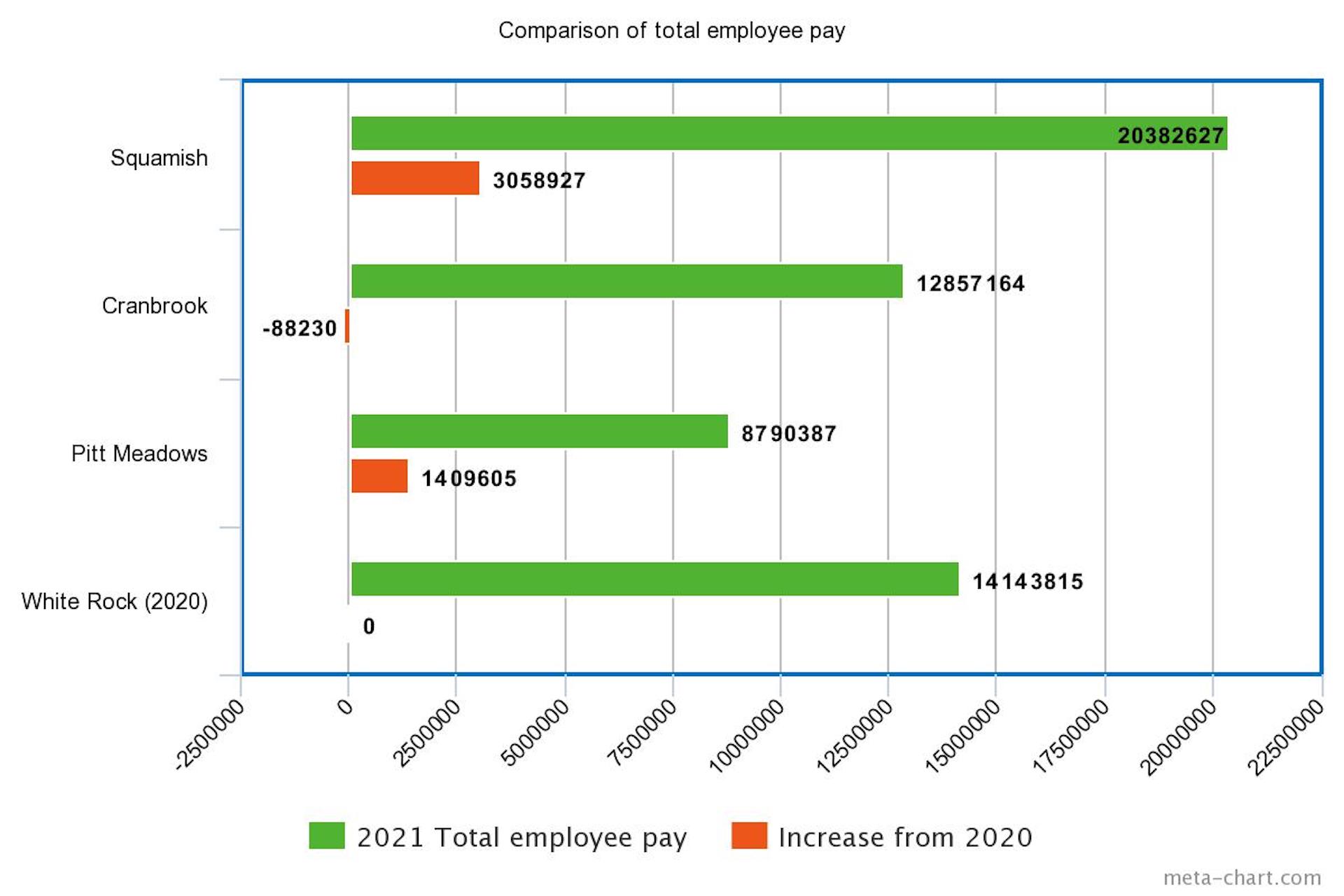 However, he cautioned that using population as a means of benchmarking has its limits. Squamish is different from those municipalities. Some things to consider are its rapidly growing population and the larger geographic area it occupies.
"There are going to be differences between the communities," said Yan. "So we just only looked at a very crude [measure] in terms of, say, population sizes. But then, I think, that being said, it's also about like — with these population sizes, how much can they support? How efficiently do their municipal governments operate?"
When it comes to staff pay, Squamish — compared to those other communities — is at the forefront, both spending the most and increasing its spending on employees by the largest margin.
As of 2021, it is spending $20.38 million, which is a $3.06 million increase from 2020.
However, on a percentage-increase basis, Pitt Meadows is the leader in overall spending on staff salaries. It's paying $8.79 million, up from $7.38 million the previous year. That's a jump of 19% — two percentage points higher than Squamish.
Cranbrook, on the other hand, actually had a decrease in spending on staff salaries. In 2021, it spent $12.86 million on its employees' pay. The previous year, it spent about $12.95 million. That's a difference of -0.68%.
White Rock, however, has not released its 2021 statement of financial information. As a result, this story is using that city's 2020 figures. Its most recent number on overall staff pay was $14.1 million.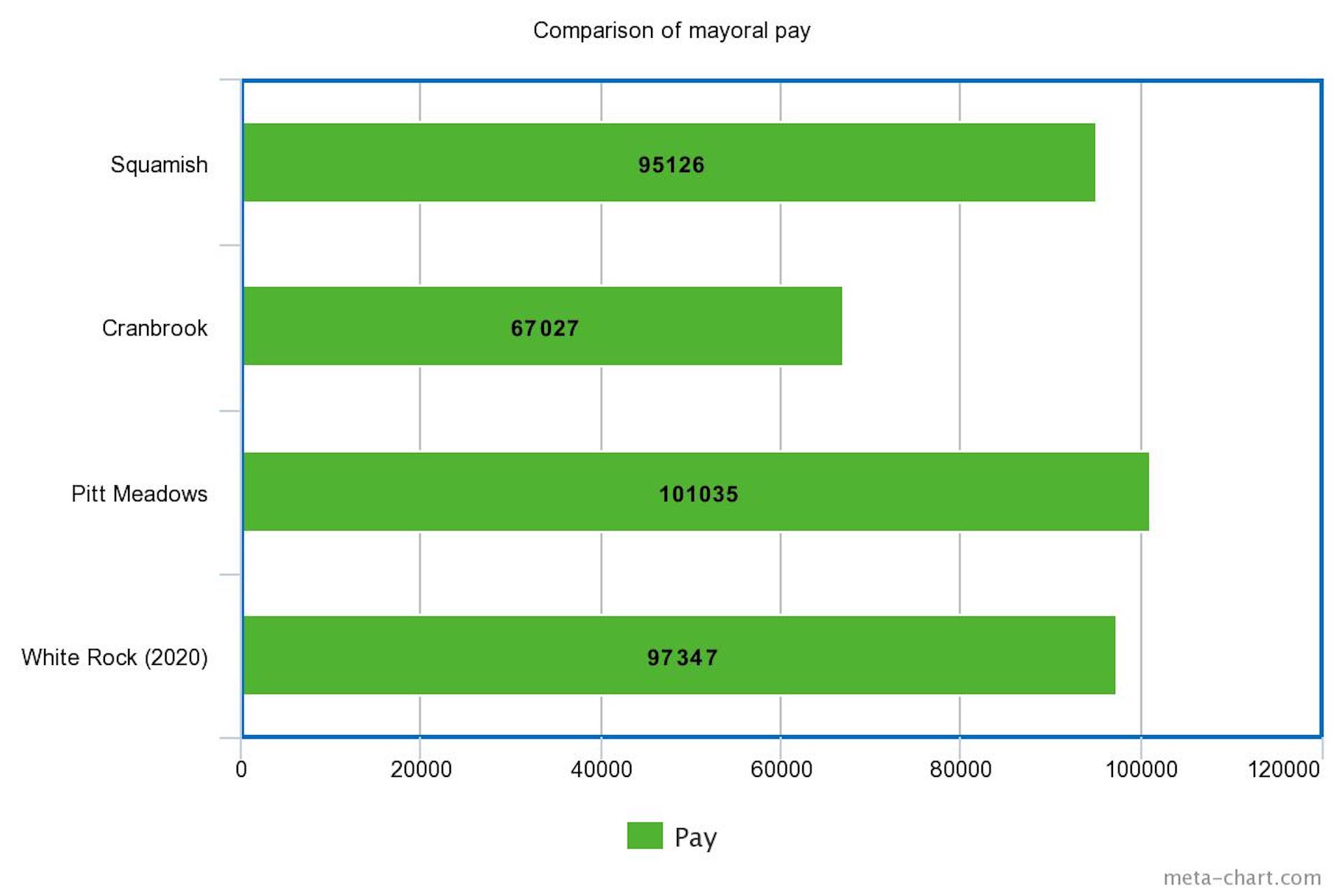 Mayoral pay compared
In terms of mayoral pay, Squamish is in third place, with Mayor Karen Elliott making about $95,000. Pitt Meadows' mayor made $101,000 and White Rock's mayor made about $97,000. Cranbrook's mayor was the least compensated, at $67,000.
Councillors in Squamish make an average of about $41,800, which puts them just behind White Rock, where the average salary is about $44,600.
However, the average pay for councillors in Pitt Meadows is about $40,400 and Cranbrook takes the last place with about $24,400.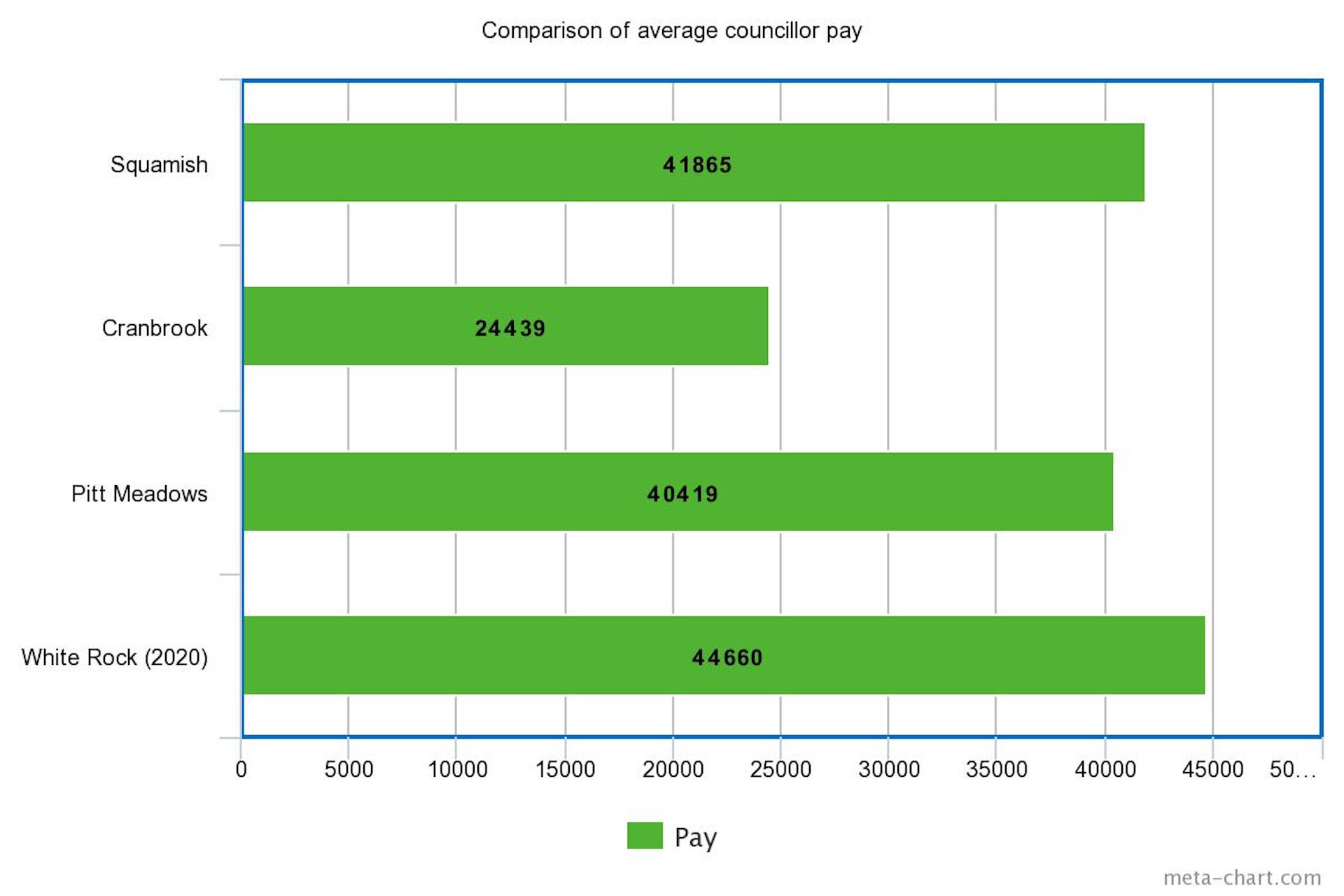 Bureaucrats' pay compared
Regarding top bureaucrats, Squamish's chief administrative officer, Linda Glenday, made about $229,000 — just above her counterparts in White Rock and Pitt Meadows, who respectively are paid about $220,00 and $219,000. Cranbrook's CAO makes about $194,000.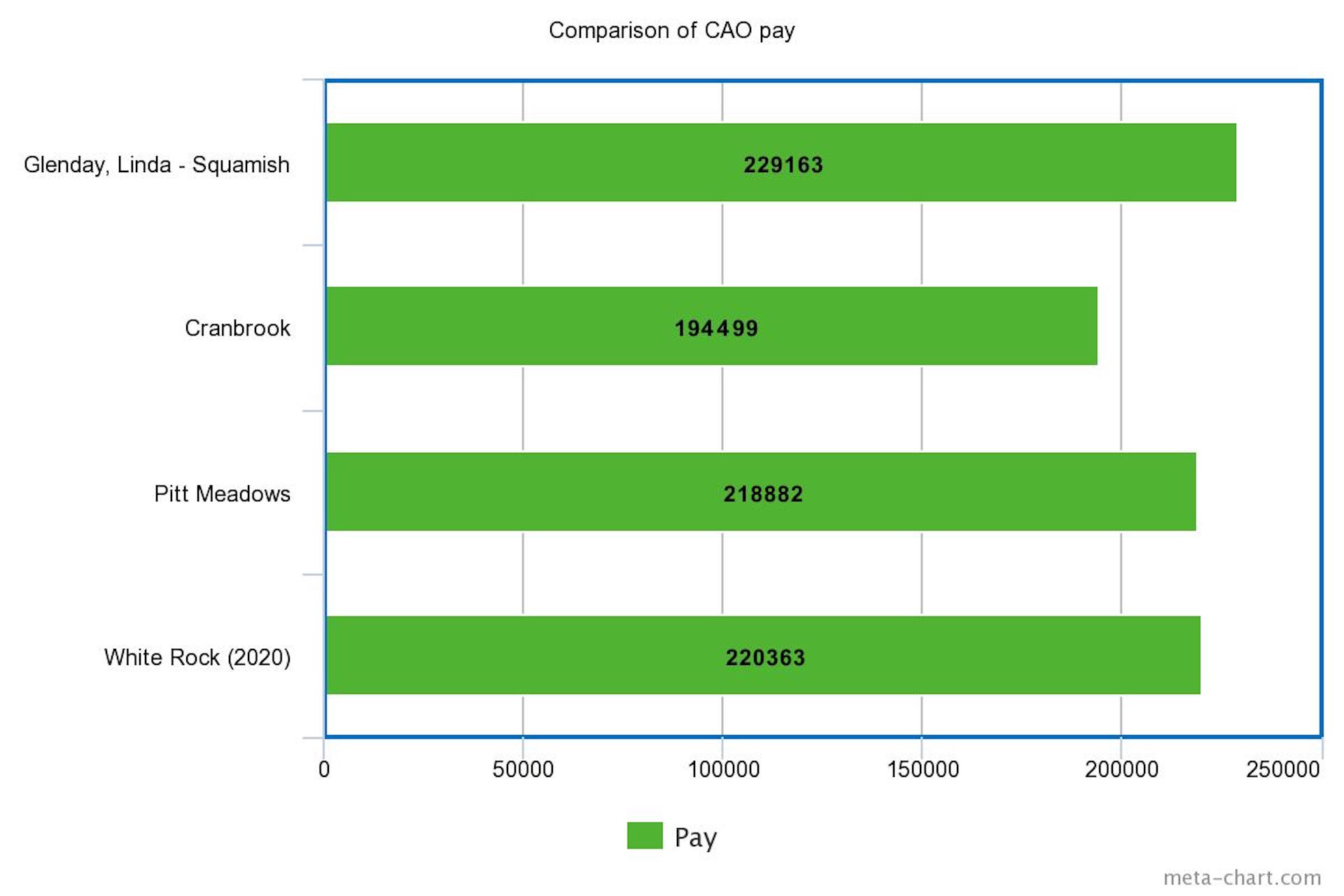 Gary Buxton, Squamish's general manager of community planning and sustainability, made close to $190,000. However, it's hard to compare his salary with any bureaucrat in the other three communities because of his unique title.
The closest match was Pitt Meadows' manager of community development, who makes $118,134. The other municipalities did not have any bureaucrats with a similar title.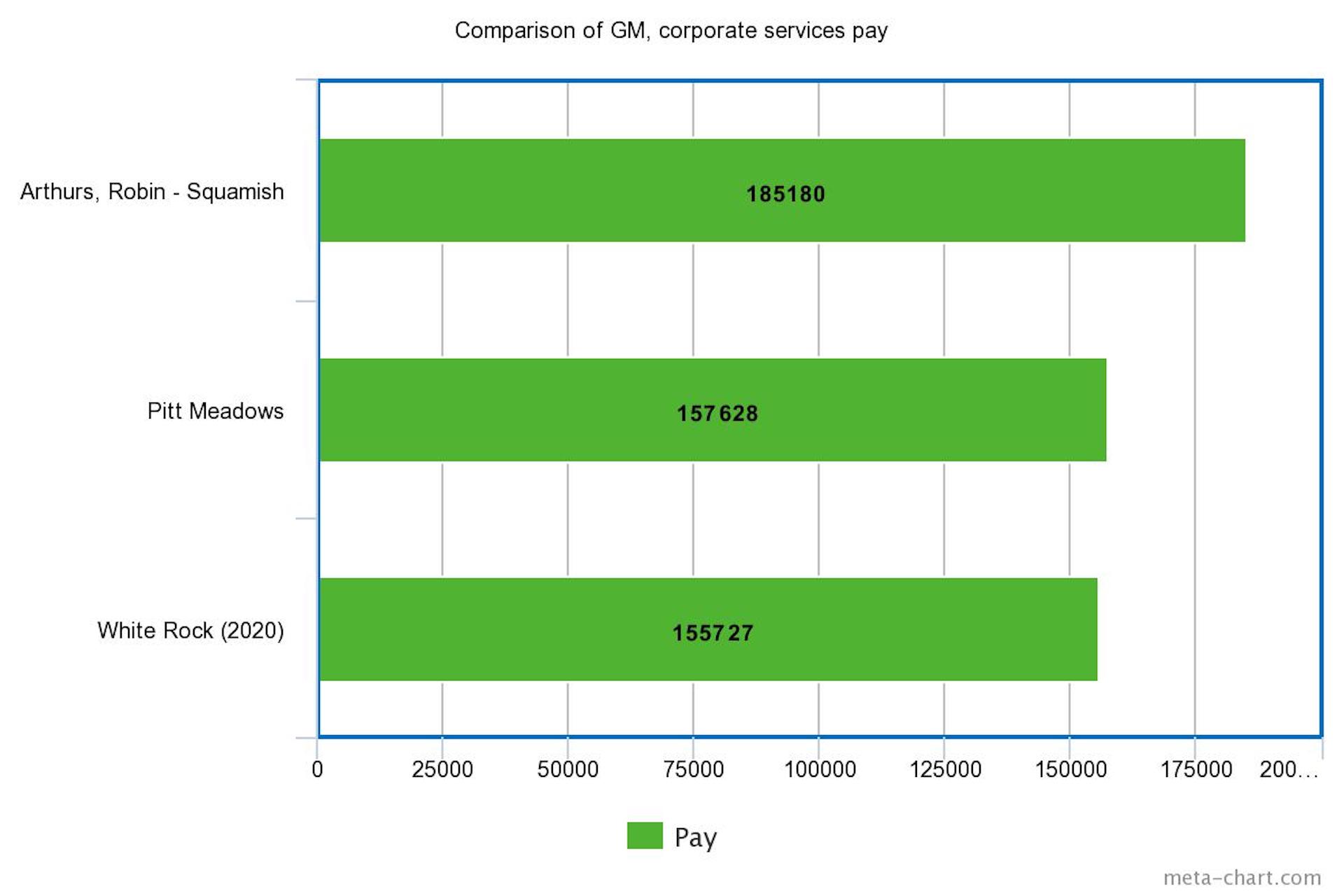 Robin Arthurs, Squamish's long-serving general manager of corporate services, came out on top compared with the three other benchmark communities. She made $185,180, outstripping her counterparts in Pitt Meadows and White Rock, who made $157,000 and $155,000, respectively.
Cranbrook's corporate services staffer made $107,959, but her title is that of a clerk rather than a manager.
"I think it's really coming in and understanding… the ongoing circumstances that we…need to ensure that there is this level of accountability and transparency in our public servants," said Yan.
"But then: also know that it will cost money for civilization. There are ongoing maintenance fees for civilization."