As teenage climate change activist Greta Thunberg sat down with Canadian Prime Minister Justin Trudeau, youth in Squamish also took up the cause, hosting their own march downtown.
On Sept. 27, more than 100 Squamish youth and adults spread across downtown streets, chanting and carrying signs. There was some police presence on their way to municipal hall, and District vehicles blocked traffic from passing in front of the hall while members of Squamish Nation, and representatives from local environmental groups spoke.
Twelve-year-old Cedar Pidgeon, who addressed Mayor Karen Elliott at the first local climate strike of 2019, took the mic again.
This is the third climate strike in Squamish this year, following two in May that inspired the District of Squamish to declare a climate emergency.
"I'm standing here today because I believe my generation and I deserve a future," Pidgeon said.
She spoke of the 2017 wildfires "that were so bad, the sky was orange and you could look directly at the sun without hurting your eyes noticeably. That was an effect of climate change."
Her passionate speech received applause from the crowd outside municipal hall, as she talked about politicians and corporations, and called for reduced carbon emissions.
"You mean you just tell the kids of the world that they just let go of their dreams because of climate change? No way. And that's why I'm standing here today — that's why we are standing here today — because no matter what, we will not let our future go to waste."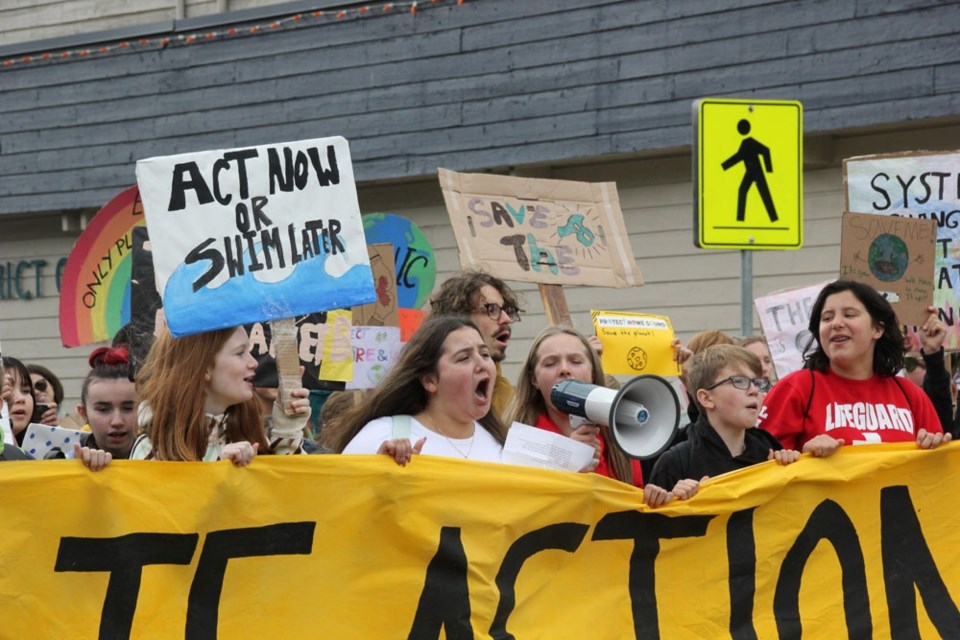 Chris Wyckham, the director of engineering for the District of Squamish, read a letter from Elliott, who was at the UBCM conference in Vancouver and could not attend the rally.
"It is time for Squamish to do more, but also provincial and federal governments need to do more. We have been disappointed this week to see and hear that our provincial government has still not adopted climate targets aligned with science and the international panel on climate change," Wyckham read.
Elliott's letter noted at least 26 B.C. communities have declared a climate emergency, including Squamish.
"It can't be just about words and rallies," her letter continued, telling residents to write to government officials and ask federal candidates about committing to climate action.
She wasn't the only local politician to ask residents to take more action. Dana Taylor, the Green Party candidate for the West Vancouver-Sunshine Coast-Sea to Sky Country riding, stopped in Squamish on his way to Whistler, joining both strikes. In front of Squamish's municipal hall, he spoke of his involvement with the Save Howe Sound Society and the cleanup of Britannia Beach.
"Thank you to all of you. The young people here, to the people who have come out everywhere in this riding, everywhere across the country, everywhere around the world. You are the future. We get it," Taylor said. 
"I implore the young people here, those of you who've taken to the streets, who've gone out, who got your day away from school — go to the polls with your parents. Ask them how they're going to vote. What choices are they making for you for your future? And when you do, if they make a choice you don't like, ask them why," he said. "Be part of this process."
When asked by The Chief whether the Sea to Sky school district is supporting the strike, communications person Jennifer Morris wrote, "Sea to Sky School District supports the importance of our students learning and taking action about the critical topic of climate change during their projects at school… Also, some schools and classrooms are organizing site-based climate change and related learning rallies at their school site.  In order to ensure the safety of our students, we do expect full attendance at school during organized times for protests. As is always the case, students may be absent from school with their parents' permission and supervision."
Organizers told The Chief that up to 500 people attended the day's Clime Strike event. Squamish RCMP said around 150 people attended the talks around municipal hall. 
See the photo gallery of the Global Climate Strike in Squamish here.
*This story has been updated to include estimated crowd numbers from organizers and the RCMP.