For Gurinder Hothi, one of the most touching moments he had on the picket lines of B.C.'s record-breaking transit strike was when children would stop by to bring food.
"That really shows us that the families are behind us. And the families — even though they were going through hard times — they kept their support with us." said the Sea to Sky bus driver on June 14.
Sitting outside of the Squamish division of his employer, PWTransit, he and a handful of other transit workers expressed relief that the longest transit strike in B.C. history could finally come to an end.
On its 137th day after the strike started on Jan. 29, both the Unifor Local 114 and PWTransit declared that they had come to an agreement. It's unclear what date workers will be back on the job, but authorities are expected to release more details soon.
"I'm so relieved to hear that both Unifor and PWT have accepted the terms of a new contract," said Squamish Mayor Karen Elliott in a written statement.
"This is too long to be without transit, and I'm incredibly pleased to hear that we will see buses back on our roads in the coming days. Many in our community have been extremely challenged throughout the strike and I want to thank them for their patience and express gratitude to those who offered rides and helped their neighbours."
Previously, the record for longest strike in B.C. history belonged to the 2001 job action, which sidelined transit in the Metro Vancouver area. Workers refused to clock in for 123 days.
Hothi said he understood what Sea to Sky communities had gone through.
During the last several months, it was a common sight to see hitchhikers trying to thumb rides on Highway 99. Others hired taxis. There were some who even turned down potential work because it was unaffordable for them to arrive at the job site.
"I want to thank the communities of Sea the Sky for their tremendous, tremendous support standing with us," said Hothi. "And we do understand that they have gone through a hard time. [But] we really didn't have any choice. [We] had to do what we did. That's kind of what we got cornered into."
Workers at the Squamish site said they were happy to get back on the job, but not everyone was happy with the compromise.
"I think it's good. Overall, we didn't get what we wanted, but at least we're close,"said Hardip Johal, who identified himself as part of the workers' bargaining committee.
By the numbers
The biggest sticking point was the difference in pay between Sea to Sky workers and those doing the same job in the Metro Vancouver area.
By the union's count, gaps between Sea to Sky and Metro Vancouver transit workers have been $2.60 per hour for drivers and $6 per hour for cleaners.
At the time the job action started, drivers in the Sea to Sky were making $31.92 per hour, while cleaners were getting paid $22.19​.
Johal said the language of the contract means that it will take until 2024 to address the pay gap, and inflation could still get in the way.
"With all the inflation, I think things are getting really expensive in our area," said Johal, who has been in the Sea to Sky since 1989. "Yeah, this is not the same Squamish and Whistler. It's gone big and gone really expensive."
Unifor announced that the new five-year collective agreement, retroactive to April 2020, includes annual wage increases of 1.5%, 2%, 3%, 3%, 4% for a total 13.5% increase over the term, plus a 2% signing bonus for 2022.
Pensions for the transit workers will migrate from an employer RRSP top-up to a CAAT pension plan. The union also won full benefit coverage for part-time workers, who were previously excluded from the benefits plan.
The deal was struck after the province's labour minister appointed Vince Ready, who has a long-held reputation as a top mediator, to move negotiations along.
In a news release, PWTransit said that it is working to return transit operations to the Sea to Sky Corridor.
The company said Ready met with the parties on June 6 and later submitted recommendations to the parties and the government late last week.
The company accepted the mediator's suggestions on Monday.
"In the hope the recommendations would be accepted, we understood why the mediator added a Letter of Understanding (LOU) 'unique to the circumstances,' that could possibly lead to a wage top-up in the final year of the agreement," PWTransit's statement read.
"While this was more than could be offered in negotiations, the company will abide by the term as laid out in the LOU."
The company said Ready found the yearly wage increases and signing bonus also "meet and exceed the general level of wage increases negotiated in collective agreements in different sectors/industries throughout the Province of B.C."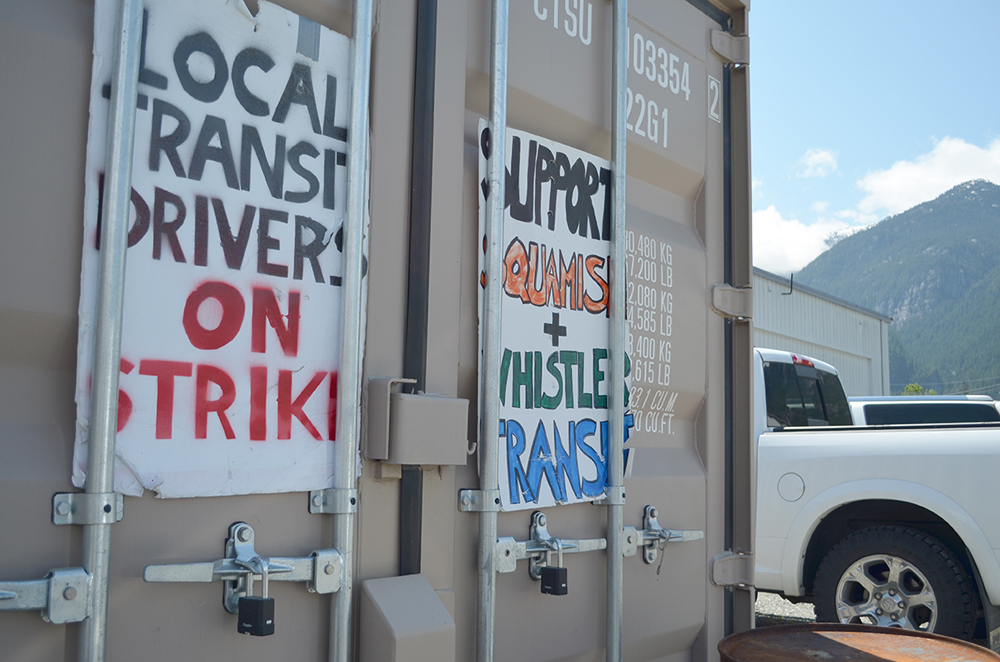 The affected
Squamish resident Lauren Baldwin has better things to do than campaigning for better transit service — she takes care of disabled children, and advocates politically on their behalf. And it's for them that she was writing letters to the government and everyone involved, pleading for a solution.
"Thank goodness. It's about time. I'm really glad that somebody finally decided to do something about what seemed like so little dialogue," she told The Squamish Chief.
"Clearly the mediator listened to a different side, and that's what you want in a mediator, but why wasn't he in there three months ago? Why did it take five months?"
She wants to see authorities keep people with mobility issues in mind when making decisions about transit funding.
"I feel the need to speak up about it, because other people need transit more than I do, and a lot of them aren't in the position to write letters."
Isla Robertson, who started a petition in support of striking workers, said she was excited to get back on the bus. She's been hitching rides with co-workers or spending money on taxis to get to work. It's been a financial drain, costing her about $50 a week, despite the fact that her job is only a 10-minute bus ride away.
"It's pretty scary when I look at my online banking to see how much money I've been spending on taxis every week,' Robertson said.
She's had it relatively easy, as she's observed others spending between $20 to $30 per ride.
"I'm really excited as a bus rider, obviously," said Robertson. "I'm relieved. I can't wait…to [take] the bus to work and not have to pay for taxis."
She said she fully supported the workers, regardless of how long the strike was.
"It took as long as it needed to," said Robertson. "As someone that lives in the Sea to Sky, I know how high the cost of living already is, and how difficult it is to pay your bills and try and save any money. It's a really expensive region of B.C. to live in. So I have a lot of empathy for the drivers."
The Ready effect
It was a last minute hail mary that ultimately saved the day.
As contract negotiations seemed deadlocked, the appointed mediator Vince Ready could see that there wasn't a happy medium that would appease both sides. That's when he made a suggestion that neither had considered — an additional clause that would raise wages in the face of inflation.
As it turned out, that was the tipping point, said Gavin McGarrigle, the western regional director for Unifor. McGarrigle said the transit workers he represents are breathing a giant sigh of relief, and are happy with the innovative compromise. The decision to settle was ratified with 72% voting in favour.
"Hats off to all those members who have been without a paycheck for almost six months now. They have been tremendously determined, and there has been a great deal of solidarity, so there was no question they were prepared to last as long as needed," McGarrigle told The Squamish Chief.
"Mr. Ready was persuaded by the rising cost of living. He called it irrefutable."
McGarrigle appreciated Ready's ability to come into a complex, politically fraught situation and identify and pursue sensible solutions.
"At the end of the day, he wrote his recommendations, and they're clear and straightforward. They strip right through the rhetoric," he said.
"He's recognizing that he's not offering exactly what we asked for, and he's not offering…all that the company asked for, but he asked for something that [is] based on an irrefutable fact. That's the advantage of somebody who can cut through and focus on a clear issue."