The number of sexual assaults reported to Vancouver police reached a total of 1,431 between 2016 and 2018, with the largest number responded to in the downtown central business district.
Statistics posted July 3 to the VPD's website, which included an explanation of the numbers, show there were 399 reports in the district, which includes the bar-heavy Granville strip.
Other neighbourhoods that generated a high volume of reports included the West End (116), Strathcona (104), Mount Pleasant (74), Renfrew-Collingwood (73) and Grandview-Woodland (72).
A category described as "NULL" generated 110 reports. The category represents those reports that occurred somewhere in the city but didn't translate to a neighbourhood on a police computer.
Typically, police said in the explanation, about 80 per cent of sexual assaults are "groping" incidents, where a victim is grabbed by an unknown person who does not remain at the scene.
The nature of such an offence often makes it difficult to obtain enough evidence to secure a charge, said police in the documents posted in response to a request under the Freedom of Information and Protection of Privacy Act.
That fact may explain the low number of charges recommended by police over the three-year span. Of the 1,431 reports, police recommended 271 charges to Crown counsel. (The data doesn't say how many were approved).
That low number of recommended charges was despite police concluding that 1,110 of the sexual assault reports were "founded." Another 50 were deemed "unfounded."
"You will notice that the number of founded incidents differs greatly from the number of recommended charges," police said. "It is important to note that there are several reasons a case could be coded as founded without charges."
Police said a case could be still under investigation, noting cases involving forensic analysis can take time. Other reasons are police have not identified an assailant, or there was not enough evidence to meet the Crown's charge approval threshold.
Though the central business district generated the highest number of reports, police pointed out the statistics don't necessarily mean a report downtown means the assault occurred downtown.
For example, a person could have been assaulted on the Granville strip but the victim reported it when returning home to Strathcona or another neighbourhood.
"The Vancouver Police Department therefore does not warrant the accuracy, reliability or completeness of the information provided in the requested premise history check," police said.
The highest increase in reports over the three-year span occurred in Renfrew-Collingwood, jumping from 17 in 2016 to 31 in 2018. Kensington-Cedar Cottage and West Point Grey saw the biggest decreases — a drop of six each — in reports from 2017 to 2018.
Of the 24 neighbourhoods identified by police — excluding the NULL category — Musqueam had the lowest number of reports over the three-year span with a total of four.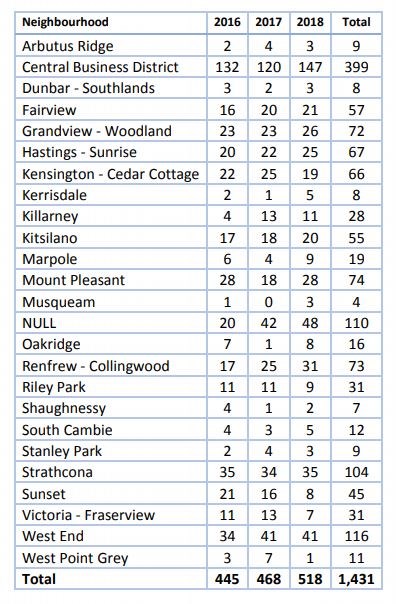 Sgt. Jason Robillard, a VPD media relations officer, said sexual assault reports across the city this year are down 17 per cent over last year for the same period.
That's a five-year low for reported sexual assaults, said Robillard, who acknowledged statistics are based on reports and don't capture all assaults in the city.
He encouraged victims to come forward, whether it be directly to police or a community victim service program such as Women Against Violence Against Women Rape Crisis Centre.
Under law in B.C., a victim of a sexual offence that is 19 or older can report the crime through a third party and remain anonymous to the police.
"If people don't feel comfortable coming to us, there's other avenues," Robillard said. "We've been using third-party reporting for over 10 years. It's a pretty valuable source of intelligence for our investigators, particularly for identification of repeat offenders."
Goodnight Out Vancouver is another organization, which was founded in the fall of 2017, that works to prevent harassment and violence against women and focuses on the Granville strip.
Co-founder Stacey Forrester said the 399 sexual assault reports generated in the central business district are alarming and it further justifies the need for organizations such as Goodnight Out.
Forrester said it is difficult to quantify how many assaults her group has prevented, but she is confident the work has made the strip safer for women.
"Even staying with someone who is really intoxicated and helping them get a cab, in a way is a prevention tool," she said, noting Goodnight Out is set to launch again the weekend of July 19.
"We do know that being down on the street and supporting people who may be more vulnerable, may be targets due to their intoxication is a prevention tool."
Asked about the low number of charges recommended to Crown, Forrester said it is reflective of the labour and the work that goes into a sexual assault investigation, particularly those tied to drugs and alcohol.
"There's a lot of stigma and shame and victim-blaming that don't make it a very easy process," she said. "So that number [271] doesn't necessarily mean that it didn't happen. It just means that the police don't feel that there's enough evidence collected to push it through the court system."
Forrester said the most common complaint that Goodnight Out receives is related to gropings, especially inside bars where people are assaulted on dance floors.
"People will be in a very large crowd, on a packed dance floor and will feel hands on them but they can't really pinpoint who it was," she said. "It's hard even for the venue staff security inside the club to follow up, never mind when it goes a level up to the police."
@Howellings