The Squamish Business Excellence Awards, held virtually on Dec. 10, shone a light on the businesses that went above and beyond to give back to the community in 2020.
The event "was more reflective of what has been happening during the pandemic," said Louise Walker, the emcee of the awards and executive director of the Squamish Chamber of Commerce.
"It definitely wasn't how we envisioned it a year ago, but like everyone else, we had to adapt our business," said Walker about moving to an online platform.
The awards recognized the businesses that continued to support and contribute to the community in 2020.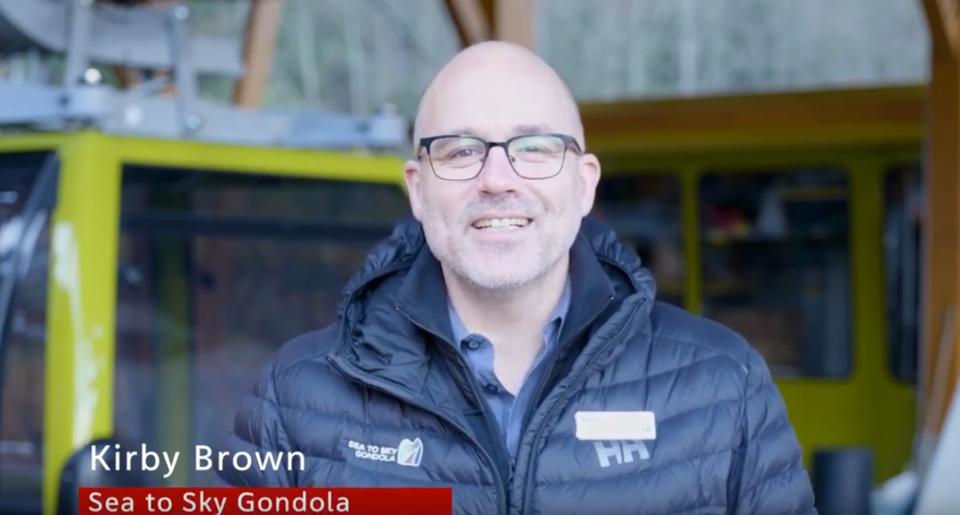 The Sea to Sky Gondola won the 2020 Squamish Business of the Year Award.
It has been another challenging year for the Sea to Sky Gondola.
Not only did they have to deal with the global pandemic, but they also suffered another blow to their business by an act of vandalism. The gondola cable was cut for a second time on Sept. 14.
Kirby Brown, the general manager of the Sea to Sky gondola, said in the company's acceptance speech that the team "have proved their metal through an incredibly challenging two years. [They] lead with heart, with experience, with incredible talent --- I just couldn't be more proud to be a part of that team."
The other nominees for this year's business of the year were Silverback Treeworks and Sky High Cannabis.
For her hard work and dedication helping Squamish people, TlatlaKwot (Christine Baker) won the Bill Manson Citizen of the Year Award.
The award recognizes her work on economic development and securing affordable housing for Squamish Nation via the Hiyam Housing Society.
 "I just love what I do working for the nation and working for our members, and I just do what I do," said Baker in her acceptance speech.
The other nominees were Dave Sweeney, a former volunteer firefighter for 35 years, and Christina Rupp, who currently supports seniors through the Better Home Program.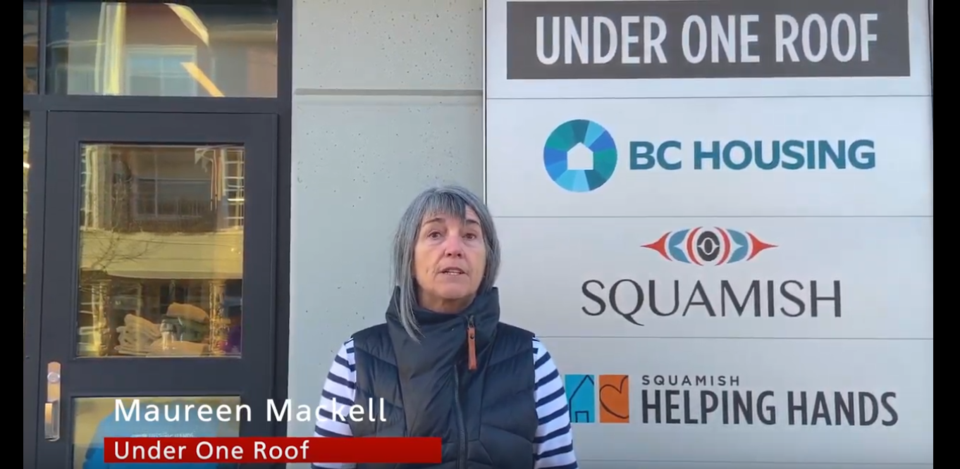 Under One Roof Squamish Helping Hands won the Community Collaboration Award for providing increased support for vulnerable residents, organizing shelter programs for the homeless, providing take-way hot meals, as well as for creating The Market, a grocery style food hub.
"For the last five years, this team has worked on nothing but collaboration, and collaboration is not easy," said Maureen Mackell, the executive director of Squamish Helping Hands.
"Under One Roof has experienced an amazing coming together of community."
"Whenever we turned to partners and asked the question 'can we have?' And the answer was always yes — and it was yes at every corner," said Mackell, in her victory speech.
"It affirmed my faith in this community."
The other nominees were Sushi Goemon who offered a weekend of free meals to pandemic frontline workers and Sunny Chibas Fried Chicken Mexican Cantina who launched a free dinner campaign to support local families as well as for their funding of hundreds of hot meals a day for various charities.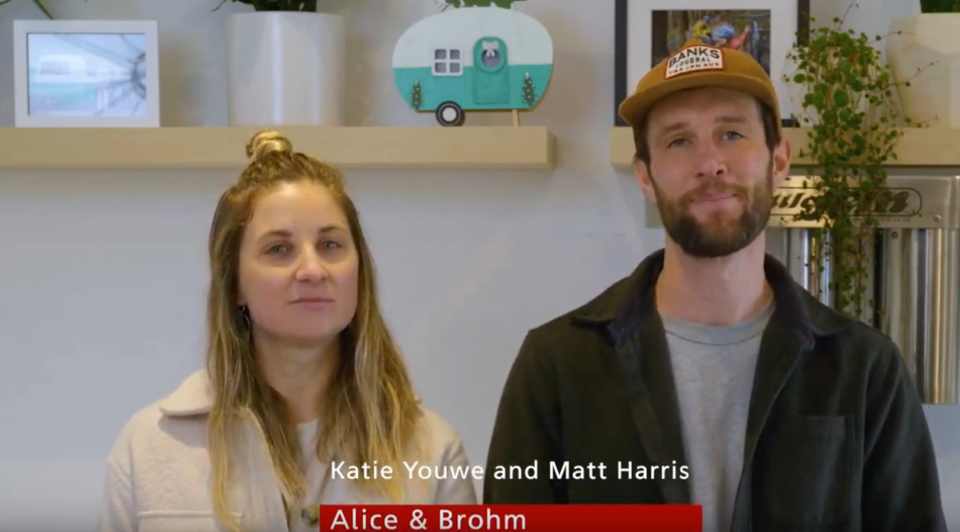 Alice & Brohm Real Fruit Ice Cream won this year's Innovation & Resilience Award for their ability to have shifted to a pint delivery service, in their Boler trailer, and offer new flavours to the doorsteps of their clients.
"It felt really cool to be a part of something," said Katie Youwe, the co-owner of Alice & Brohm, in her acceptance speech.
"When we were doing delivery, we were seeing other businesses out there also doing deliveries and giving them a wave and a honk," said Youwe.
Matt Harris, the other co-owner, said "the most rewarding moments of this year have been just seeing the roots of the community coming through."
"We felt so a part of the business community and being able to share the trials and tribulations with other business owners," said Youwe.
They say that this year had been a challenge for sure, but they are still trying to be proactive and trying to do even better moving forward.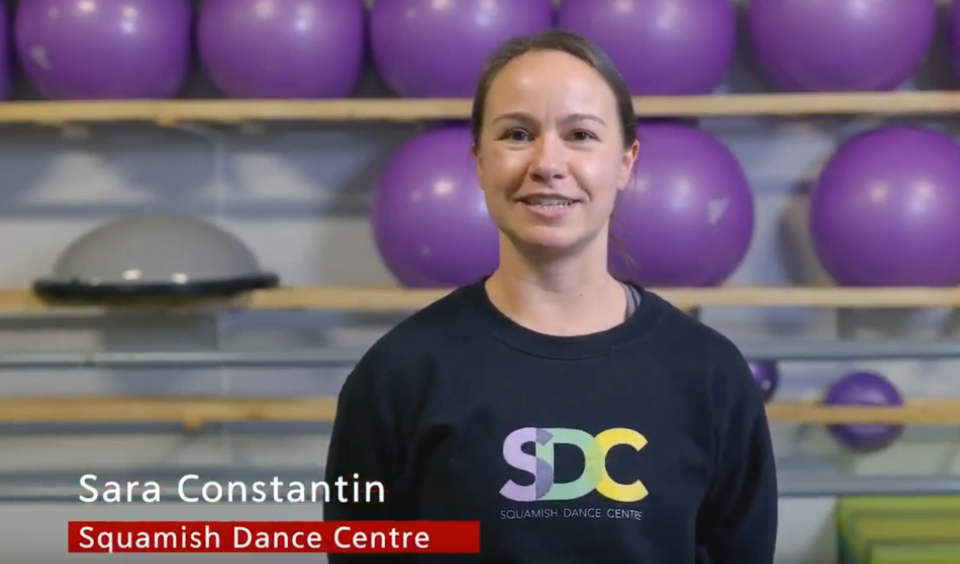 Sara Constantin was recognized as Youth Champion this year for introducing online classes, prioritizing the safety of staff and students and fostering connection and inclusivity.
Constantine is the owner of the Squamish Dance Centre, a supportive, inclusive and community-based dance studio.
"To be a young entrepreneur in Squamish, it feels absolutely amazing  --- not only amazing but motivating," said Constantine.
"I just can't bring to words how special and diverse and passionate that the youth in Squamish is."
Constantine said that "It's incredibly inspiring to see everybody doing their hardest work and most innovative work in this town and I'm inspired by them daily."
The other nominees were Christopher Cook, a younger leader of Squamish Pride, for going above and beyond his line of duty, and Healthy Hearts, Healthy Minds organization, for nurturing the mind, body and spirit of young people.
For next year's awards, Walker hopes that they return to "the gala again next year though. There's something special about it and everyone gets together, and we have a big party and celebrate."
If you didn't catch the awards live, you can watch the full ceremony here: