A local recreation officer with the Sea to Sky district says the trail usage in the region is ballooning, with 2020 prompting a significant increase likely due to COVID-19 restrictions.
"The recreational demand in this district is like a pressure cooker. You let a little bit out in each of the trailheads and each of the trails and each of the park accesses," said Alistair McCrone.
"You let a little bit out, but inside that...pressure cooker is more pressure than you can handle with all those little outlets. Every time you poke a hole in there with any trail or any parking lot or any new access, it just — boom — explodes up in use."
This has been the case with the area for years, he said, but there was a huge jump between the 2019 to 2020 season, likely as a result of coronavirus restrictions.
"The really interesting thing about all our trail use data and stuff or road use data has been showing that there has never been anything other than an increase in use in this district of all user types," McCrone told The Chief.
Last year's restrictions, however, likely made those figures more dramatic.
When Provincial Health Officer Dr. Bonnie Henry imposed tight rules around indoor gatherings and entertainment, it left many people throughout B.C. with few options other than outdoor recreation for their chosen leisure activity.
As a result, usage in the Sea to Sky boomed.
McCrone was able to provide figures from several popular mountain biking trails to illustrate the upward trend.
He said the biggest increases appear to be a result of local users.
"The locally ride-from-home accesses showed the most significant increase, the destination trails showed far less increase. That leads me to think that the increase may be more attributed to local users than visitors, but that's just my interpretation of pretty limited data," he said.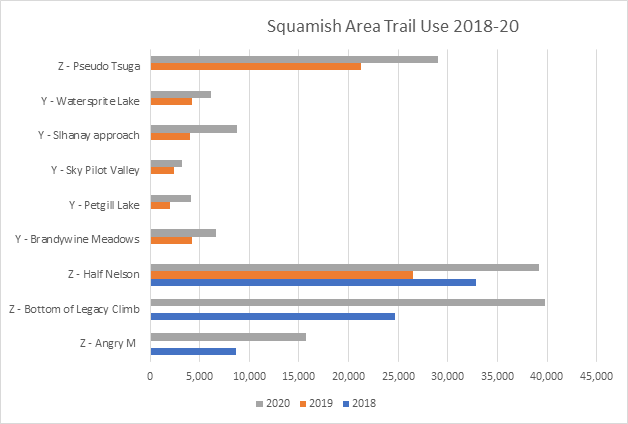 The biggest increase came from the Wonderland Trail, which he identified as a route used primarily by local users.
That trail more than quadrupled in rides to 32,181 in 2020 from 7,212 rides in 2019.
The next biggest increase was from another trail frequented by locals. Tracks from Hell recorded a more than threefold increase in 2020.
Its usage grew to 78,791 from 23,648.
The third-largest increase came from Debecks Hill Access — yet another locally used trail.
It tripled with 12,108 rides in 2020, up from 4,041 in 2019.
Routes that McCrone dubbed destination trails — circuits that are typically used by tourists and people from out of town — actually showed decreases in usage.
Perhaps the best known of these, Half Nelson, recorded an 11% drop during 2020 compared with 2019.
It had 39,069 rides in 2020, down from 43,748 the previous year.
Pseudo Tsuga also recorded an 11% drop, with rides declining to 32,060 in 2020, down from 36,199.
Squamish Off-Road Cycling Association president Jeffrey Norman said reports indicating increases of 200% or more seemed a little high, though he said it felt busier on the trails.
He said the province might not have had the counters out for the same amount of time each year.
"That being said, the lack of travellers last year means that much of the increase was driven by people new to the sport of mountain biking along with possibly an uptick in trail running and other activities on the trails," wrote Norman in an email.
With respect to how the increased usage may affect SORCA's trail maintenance plans, he said the society takes maintaining the network very seriously.
"In general, we missed our organized trail days in 2020, which was a great way to get people out working on the network," Norman continued.
"We were, however, able to co-ordinate and provide tools to a lot of volunteers to work independently in the forest to keep things in tip-top shape. In these cases, we are able to provide volunteers some guidance as to the form and character that the community expects a trail to retain. A big thanks to everyone who picked up a shovel, rake, or bucket to help out; it takes a whole community to make it happen."
He also added the society is maintaining a balancing act between putting in work on popular trails and those that aren't used as frequently.
"it's also important to us that we keep the lesser-used gems safe and enjoyable," Norman said.
For his part, McCrone said the increased numbers are accurate.
"If they look high, well, they are," he said.
McCrone said authorities used optical trail counters, which are triggered every time infrared heat from a trail user is detected.
Counters also make adjustments depending on whether a trail has the same entrance and exit, so riders don't get double-counted.
"We can get up to by-the-second data. We can tell what time every single count happened over every single day. We can burrow down into the data that deeply," McCrone said.
He said he initiated the counting program four years ago, back when it only had five trail counters.
It's since grown to a monitoring system of 70 counters, including those shared by other organizations aside from the province, like SORCA.
He said the findings will allow him to prioritize limited resources to trails that are most used.
"We're the only district in the province that actually has this data available," McCrone said.
However, the Ministry of Forests says McCrone's numbers should be viewed with some skepticism.
"The graph and some of the percentage increase/decrease are somewhat misleading, as the data was not collected over consistent/continuous time periods, especially pre-2020. Meaning, some locations only had a couple months' worth of data," said Susie Dain-Owens, a land and resource specialist.
***Updated on April 14, 9:08 a.m. to add a quote from the Ministry of Forests that adds greater context to the data.