Does the future of squamish lie in a skate park?
It doesn't look like much. Not yet, anyway. Standing under the bridge to Quest, in the Garibaldi Highlands, it's hard to imagine that a dusty half-bowl caused such a craze just a few months ago. Yet, in the aftermath of that craze, the skate bowl looks much the same as it did when the first stop-work order was issued back in January because adequate permits weren't in place. 
Save some graffiti, an orange fence boasting a no trespassing sign, and a few bags of what appears to be concrete mix, not much has changed. Confronted by this display, an onlooker might reasonably conclude that opposition mobilized, won the argument, and stopped the project altogether. However that's not what happened. Despite an outcry from several Highlands residents, the skate bowl survived the heated battle over differing visions for Squamish. 
Now, one might argue, it is a beacon for those hoping to move the town toward a recreation-first future.
Skate bowl status
In April, after a lengthy debate, council approved a one-year trial period for the skate bowl project. This decision allowed the Skateboarders' Mason Association (SMA) to work with the district to create a license agreement. It also meant that the skate bowl area would fall under park zoning laws. Some area residents were unsatisfied with this arrangement and filed a complaint to the Office of the Ombudsperson: B.C.'s public agency watchdog. The office could neither confirm nor deny that it had received the complaint, but did say that it takes several months to process every complaint it receives. 
Since the approval and the complaint – although the outward appearance of the bowl remains the same – a lot has happened. The project has received letters of assurance from geotechnical and structural engineers. A building permit for the site was granted this week by municipal hall and there is now a drafted license agreement between the district, an established user group, and the SMA. 
Despite its stagnant appearance, the project continues to move along behind the scenes in city hall, out of the public eye for all but the most enthusiastic municipal political junkies. If this avoids conflict, as it seems to, then it's probably better this way for proponents of the park.
The quiet has allowed the SMA to formalize and finalize its plans. It has given the SMA a chance to start afresh. As the group works to complete the skate bowl, Mike Quesnel, SMA member and owner of Stuntwood Skateboard shop, believes that it is building more than just a concrete bowl. It is redefining Squamish.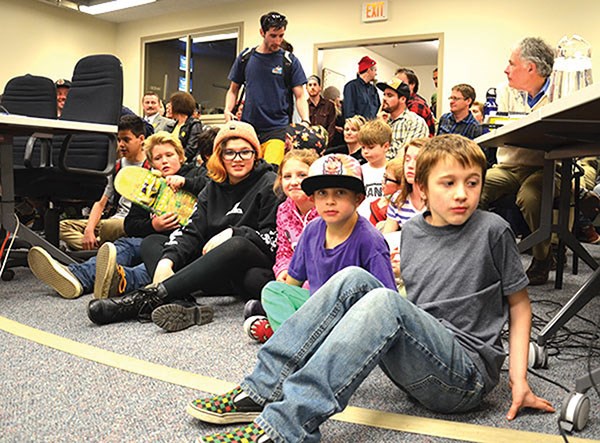 Kids and adults alike poured out for a district council meeting in April to show their support of the skate bowl park. Photo by Rebecca Aldous/The Squamish Chief
The 'Squamish lifestyle'
Highlands resident Oliver Snow, an avid mountain biker and skateboarder who lives very close to the skate bowl, defines the Squamish lifestyle as "outdoor sports and blue-collar work." He is perfectly content with coexistence amongst bikers and builders, yet, for some, he captures a possible conflict in the town's identity. Is Squamish a recreation or a blue-collar town? Can it be both?
When asked to define the Squamish lifestyle, Mike Quesnel could hardly contain himself. "There aren't many places like this," he said. "[Squamish] is passionate, progressive, and forward-thinking." 
Along the same lines as Snow, Quesnel says he feels as though Squamish is currently "trying to foster a new way of life in a beautiful place." 
Quesnel said that Squamish is so caught up arguing about tech jobs and blue-collar jobs that it is forgetting about the town's natural gifts. "What are our surroundings? What do we want to promote in this area?" he asks. 
He points out that people already use Squamish as a playground, and stakes ownership. "This is our playground. We really should be focusing on that playground mentality and doing everything we can to make this a better recreational area." 
He emphasizes that the focus on recreation should come at the expense of an "old school thought process on industry jobs." To this end, he hopes that the upcoming election will bring change to municipal hall. Quesnel simply feels that the "heavy, non-renewable industry" days are over, and that recreation is the ticket to a "better world, a better generation, and a better Squamish." 
Perhaps that's why, for him, the skate bowl project feels like a step in the right direction. Sure, it's just a slab of concrete under a bridge, but it's also proof that people are willing to work hard to create opportunities for their fellow citizens. It's proof that Squamish supports the recreation-first future, if only timidly. 
Quesnel's vision is innovative. In fact, he explicitly says that innovation is part of the Squamish lifestyle. He seems comfortable with this claim, even though it means that something could one day replace the recreational hub that he is trying to build. It might be a bit sensational to call his vision revolutionary, but it wouldn't be outrageous, in the sense that he so strongly resists turning back the clock in a town and a region that he believes is only beginning to find itself in the right place. 
At the end of the day, though, Quesnel is prepared to get his hands dirty in order to realize the future he wants for this town. He's also willing to work for free to make it happen. Love or hate the ideas: his determination elicits respect.
So what's next?
The skate bowl is still a work in progress. A crowd-funding campaign is in the works, as is a promise to hold a national auction for professional skateboarders' "one-of-a-kind" prints and signs. Local corporate sponsors have shown interest in the project. Together, proponents expect these efforts to raise the $15,000 needed for the security deposit, insurance, and remaining building costs associated with the project. The SMA plans to start construction in October. People interested in contributing, whether financially or in any other way, can contact Quesnel at Stuntwood Skateboard shop.
Advice for the future
Quesnel says he learned the hard way, and the best way to bring a new project forward is to follow the due processes. He advises innovators to do the best work possible, because, in his experience, Squamish demands excellence. He urges those with ideas to tap into the existing network of creative, passionate, active people who live in town. He also suggests that the district reach out to those who have ideas, keeping in mind that the biggest hindrances to new projects are the financial barriers and opposition that nearly all projects face. He wants to see a more approachable district bureaucracy that incorporates user groups into existing networks as that is the best way to incentivize those with ideas to come forward and share them.
There is no question that Squamish is on the cusp of a new future, and no saying where the town will go. 
If Squamish is on the cusp of a recreation boom, it will be because people like those in the SMA decide to contribute their unique ideas to the region and the community. It will be because the town supports and welcomes their ideas, and because the community collaborates to turn thoughts into actions.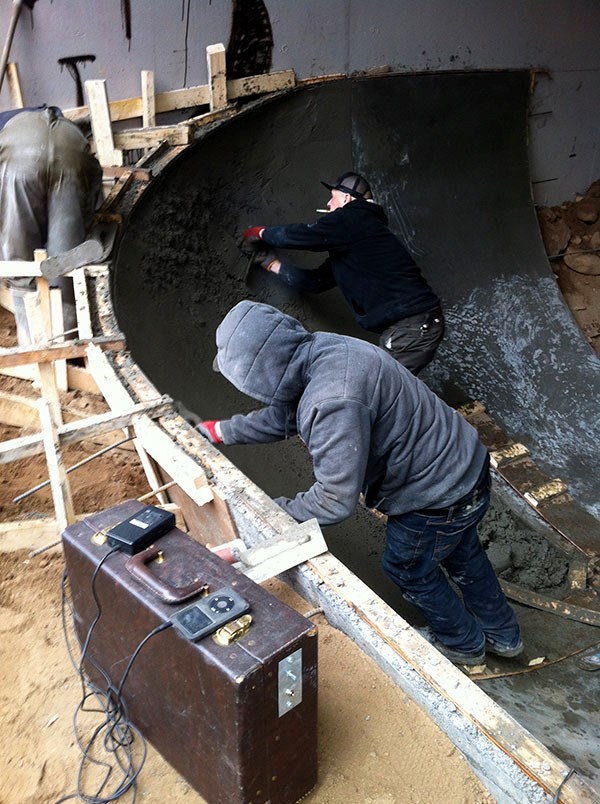 Mike Quesnel and friends volunteer their time building the curves on a new skate bowl park in the Highlands. Submitted photo