Under the cover of wildfire smoke blanketing the Squamish area, the Sea to Sky Gondola's cable was cut yet again.
As smog from forest fires burning in the United States enveloped town, the incident happened in the early morning hours of Sept. 14.
"Almost the exact same situation as last year," general manager Kirby Brown told The Chief. "An individual climbed the tower with the right tool with great speed and cut through the cable and brought the system down."
Police say they received word of the incident at around 4 a.m.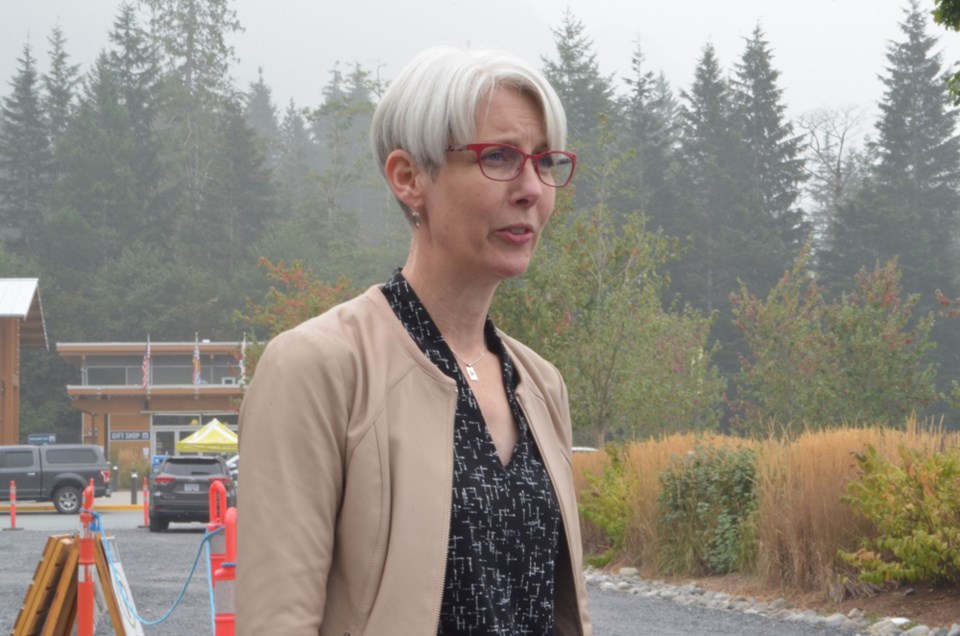 Déjà vu
Last year, on Aug. 10, 2019, workers arrived in the early morning to discover the gondola cable cut and on the ground, along with most of the cabins. The RCMP have been investigating since.
Brown said that the company is still working out numbers with insurance, but the 2019 incident cost upwards of $5 million.
He didn't say if there was any indication that it was the same perpetrator as last year, but noted that the crime was repeated in what appeared to be a proficient manner.
"You can draw your own conclusion on that one," he said. "He certainly knew when and how to do it."
There is an image from security cameras, Brown said, adding the RCMP has much more to work with this time around.
Brown said that no one was hurt in the latest incident, nor in the one last year.
"We'll be back. We are not going to let one person keep us down," said Brown.
As of now, the area is being treated as a crime scene.
"We've got insurance, they were on the phone with me first thing this morning asking what we needed and how big the cheque should be so we can buy what we need to buy to get back up and running," Brown said.
At a press briefing later Monday morning, Brown said that he believed the gondola will have the resources needed to get on its feet again.
"I have complete confidence that we will have the resources we need to rebuild and get back into business," he said. "The insurance marketplace this year is tough, so insurance will be ever more expensive until this person is caught, but we have nothing but a great relationship with the insurers we work with. So that's not my concern. Rebuilding safely is my concern."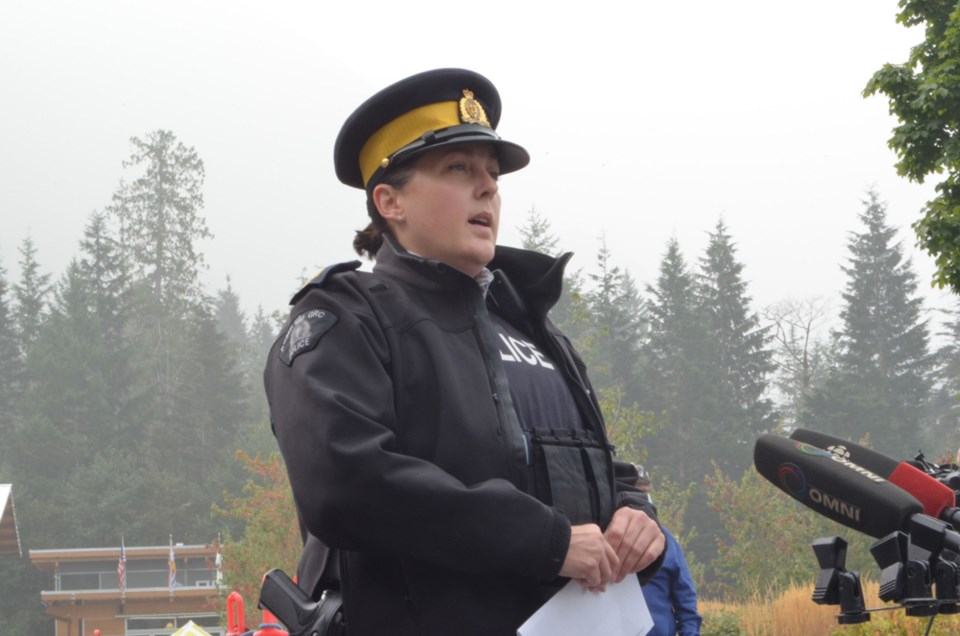 The extent of the damage
There are 39 passenger-carrying cabins. Only six are expected to be undamaged.
"The downhill cable is where it was cut. That's above Tower 6," Brown said.
"The uphill cable is actually still on the lift line. So that's very similar to last year. We have three cabins in the station at the bottom, and three at the top, we assume that most of the others will be lost."
The cabins are usually suspended between 20 to 300 metres above the ground, depending on where they are on the line.
But it's unclear what distance the cabins fell, because in some areas the cable may have stayed on the towers.
The method used to cut the gondola this time, like the last time, can only be done when the gondola is closed and the lift is turned off, he said.
This cable may be recoverable as it is brand new, said Brown. The previous rope was replaced completely because it was two years away from its end of life.
The lift team will be doing a detailed investigation, he said.
"These are unique and incredibly rare events, so to have it happen twice speaks more to the motivation of the person who wants to bring this team, this company and this community to its knees — and that's not going to happen," said Brown.
"We are on our feet and we are working to get back open to reinstill consumer confidence."
"We will get new cabins. We will rebuild. We will put physical protections in addition to this incredible security system to protect against that bad actor."
More security
It's clear from this incident that more physical protections need to be put in place, Brown said.
"We didn't want to militarize the base of the towers, but those are now steps that we're going to have to contemplate," he said.
"We are going to take additional measures regardless of what comes out of that analysis."
At the press briefing, Squamish RCMP Sgt. Sascha Banks said the cut during this incident was deliberate.
She said if anyone saw anything suspicious at all at about 4 a.m. to call officers.
"The investigation from last year is still ongoing," she said, but added it was too early to definitively say there is a link between the two incidents.
"I live in Squamish and it is disheartening to see this happen again in our community."
With the smoke, the officers have been searching on foot.
Banks said she didn't know whether there was any note or manifesto sent or posted by the suspect, but asked if anyone online sees anything like that, to contact the Squamish RCMP with that information.
She said that she couldn't speak to any risk to any other gondolas, but assumed security had been reviewed at other places after the last incident.
She was asked whether she was concerned about the possibility of a future attack on the gondola — should it get up and running again — that may occur when people are on board.
"That is obviously always a thought," Banks answered. "These are questions that need to be answered when the time comes."
Banks noted that there was a case a few weeks ago where two people were caught climbing a gondola tower, setting off alarms. However, at the time, police didn't consider it a sabotage attempt, because the people who scaled the tower did not have any tools or means to damage the structure.
"We've identified who they are, and, at that point in time, we didn't deem them to be somebody who was up there at a risk of cutting the gondola," she said.
However, Banks said that it's an avenue officers will be looking at after this incident.
Squamish local Kevin Conway, whose partner Denise works at The Chief, was on his way to the ferry at 4:30 a.m. this morning and was stopped by a police officer at Sunset Marina. The officer asked where he was going and where he lived, Conway said.
Police were stopping everyone who was driving south, he said.
"[The officer] cut the one lane off so you had to go by him," Conway added.
The officer checked the backseat, as well.
When Conway, who was heading to work in a forestry camp on Vancouver Island, got on the ferry to Departure Bay, he saw the news online.
"I couldn't believe it," he said.
The associate director of SFU's school of criminology speculated that the incident could be an act of protest.
"It feels like a fairly exotic and purposeful action and because it is associated with a landmark — people could be using that as a symbol to protest the way we're using that space," said criminologist Bryan Kinney, who added he thought there would be an accompanying note or manifesto if it were meant to send a message about the gondola.
"Usually when those kinds of protests are being made, they are usually accompanied by some kind of... broadcasting of the reason," he said. "It sounds like destruction for destruction's sake, unless it is accompanied by some kind of statement about people not agreeing with having [the land] accessed that way. That is what is strange to me."
He said this is obviously a very serious act of vandalism, especially given that people could have been underneath at the time.
"This is big stuff," he said.
Squamish mayor reacts
Squamish Mayor Karen Elliott reiterated that RCMP officers have been on site since the early morning hours and added that resources including the Integrated Police Dog Services, and West Vancouver Police Department, and more will be called as required as the day goes on.
"There are so many emotions we're feeling as a result of this second act of vandalism," Elliott told The Chief. "Certainly, we are shocked, saddened and extremely concerned to hear this news this morning. Our hearts go out to the Sea to Sky Gondola team, who are such an important and valuable part of our community. We are so thankful that, once again, no-one was on the gondola when this happened," she said.
A frequent rider of the gondola reacts
Squamish's Doug Brubacher, who has ridden the gondola 1,400 times, said it was "shocking and heartbreaking" to hear someone could hit the gondola again, after all it — and the town — has been through.
"To kick them while they, and everybody else is down, is just that much worse."
His biggest concern is for the "incredible, wonderful employees" who work at the gondola, he said.
"We felt really close to a lot of them, and we feel incredibly dreadful for them. How do you come back from a second time?"
What will neighbouring gondolas do?
Julia Grant, communications manager with Grouse Mountain, which has its Skyride gondola told The Chief its staff was "devastated" to hear the news this morning.
"Definitely our thoughts are with our colleagues and friends and just the Squamish community this morning," she said, adding that they hadn't heard directly from the Sea to Sky Gondola as of yet.
There are no plans to beef up the Skyride's already robust security, she said.
"Obviously, it is concerning for anyone in this industry — all the resort operations around so it is really concerning, but we hope that they are able to get back and up on their feet as soon as possible and our thoughts are with them."
Whistler Blackcomb
In the wake of the Squamish incident, Whistler's resort operator responded with support and reassurance.
"The team at Whistler Blackcomb would like to extend our support to the management and staff of the Sea to Sky Gondola as they manage through this difficult time," said Marc Riddell, director of communications with Vail Resorts Management Company in a written statement.
"In response to the incident at the Sea to Sky Gondola, Whistler Blackcomb has inspected our lifts and can confirm they are in working order. As a matter of routine, a pre-operational inspection is always conducted prior to opening. We are vigilant in upholding our robust lift safety standards and practices."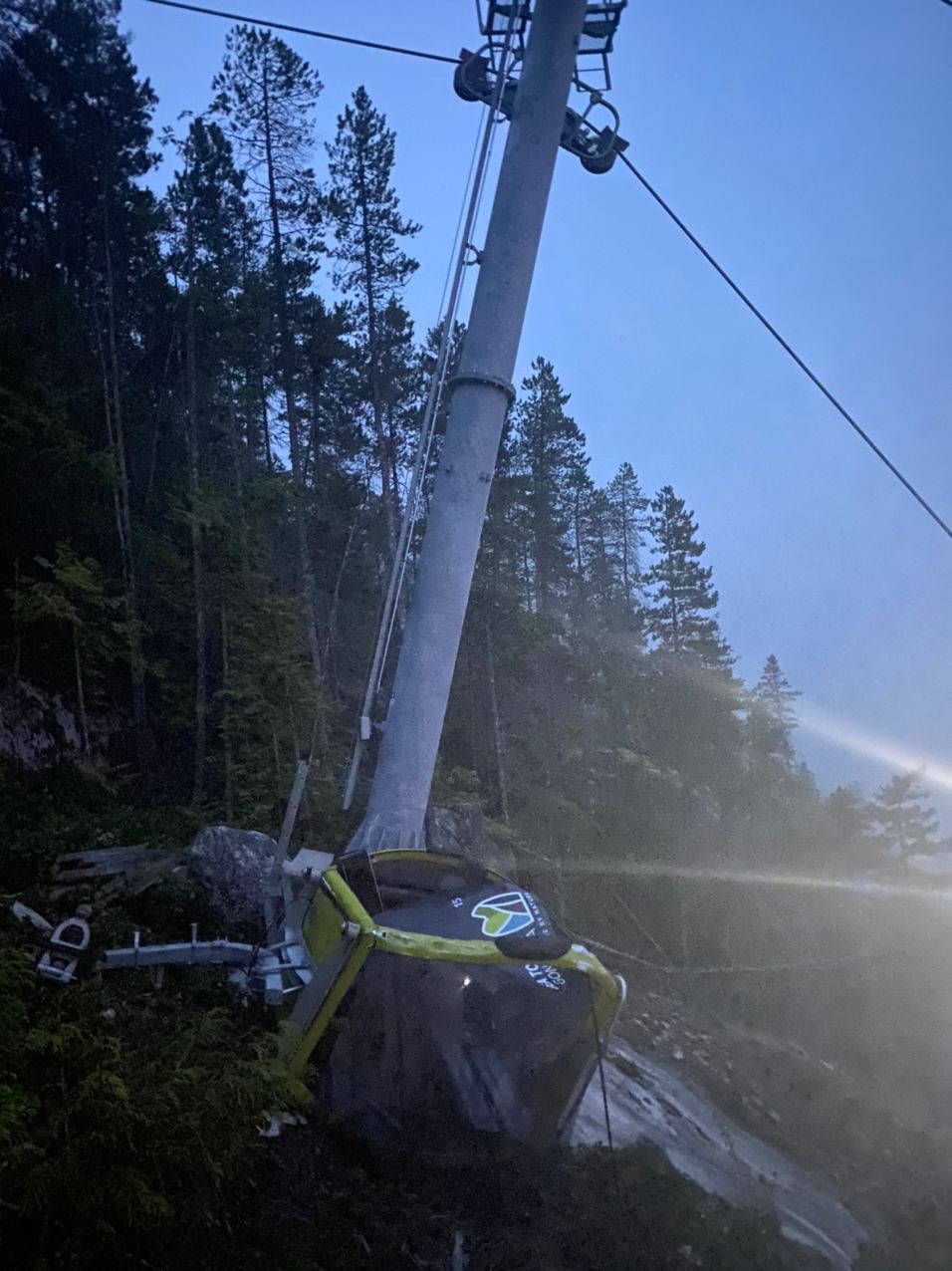 Terrorism?
Edward H. Taylor, associate dean with the Faculty of Health and Social Development at UBC's Okanagan campus said while he wouldn't be able to define this as terrorism legally or academically, it certainly could be terrorizing for people.
"We can think of it [as] terrorism in the sense that it is terrorizing to people who routinely use the facility who start to worry that it is safe to participate. That is a form of certainly impact on the community that feels like terrorism," he said.
"The big thing is that it has a psychological point of view of making the community have hesitancy in participating in things that generally don't carry risk, but carry a minimal kind of risk — the cable could.. accidentally break, but people have faith that it is not going to, but then when you have this kind of sabotage, it causes people to have second thoughts of whether it is safe.
"It can start to create imaginary fears that are not only connected with the fact of wondering what the intent of the person is and the danger and, 'What if I was up in this and it broke?' It shows vulnerability and that is always frightening to community people and that causes people to withdraw. That is one of the last things we want to happen in a community."
But the good news is that people, communities and businesses are resilient, Taylor said.
"All of the research shows that with a short period of time… that people will rebound back to full use of the facility," he said. "We aren't talking about tomorrow; we are talking about enough time passing. But generally, I think you will find that the research shows that people come back."
"Life will renormalize itself in a relatively short period of time," he said.
Crisis communication
Kylie McMullan with Finch Media, which helps companies with crisis communications, said much of what the Sea to Sky Gondola general manager Kirby Brown has done so far hits the mark in terms of calming public nerves.
"They have done a great job so far in terms of: their statements have been really consistent and clear. Safety is obviously the Number 1 priority, which is what I think most people care about — that no one was hurt — and they have been transparent," she said.
She noted that with COVID-19 emotions are already running high and people are feeling vulnerable.
As a next step, McMullan said she would suggest the company bring in outside security experts.
"To put together a really concrete plan that can be communicated out and shared with the community, in order to rebuild that confidence," she said.
"I do also think this is an industry issue. It is just not the Sea to Sky Gondola that is going to have to put out statements... SFU is thinking of putting in a gondola and we have gondolas around the world and so I think that a lot of people are going to be looking at, 'How do we know that these gondolas are safe industry-wide — both from an operators' perspective and a manufacturers' perspective. I would expect to see statements and communications put out from a variety of industry players about the safety measures they are taking to ensure communities are safe and that they are able to keep operating."
McMullan said that so far, there seems to be support for the gondola online, but the company needs to be sure to continue delivering the facts and squashing the rumour-mongering that tends to go into overdrive at these times.
"People are going to speculate on social media, but I think the company has to stick to the facts of the matter."
Anyone with any information about the gondola sabotage is asked to contact the Squamish RCMP at 604-892-6100 or contact Crime Stoppers at 1-800-222-TIPS, or go to the website www.solvecrime.ca.