As students around the world walked out of classrooms to demand action against climate change, around 100 protestors in Squamish gathered on May 24 to add their voices to the global call.
Students came from Howe Sound Secondary, Don Ross Middle School and Sea to Sky Learning Connections to join the protest at the O'Siyam Pavilion in downtown Squamish.
Brothers Randall and Bebe Lewis, members of the Squamish Nation, spoke to the protestors about the importance of the land, and the effects colonization has had on the environment.
"You're protecting your health and safety. You're protecting the health and safety of who you are, your young brothers and sisters," Randall said of the students' restorative justice efforts.
Randall Lewis, who was the environmental co-ordinator with the Squamish Nation and helped form the Squamish River Watershed Society, said the students have already participated in helping to release fish fry, and said they can continue to join local partnerships to help the environment. Bebe Lewis said people also need to pay attention to where their food is coming from, and buy local to be more sustainable.
Mayor Karen Elliott was also invited on stage where she told the students she was excited to see them protesting. She asked where MP Pamela Goldsmith-Jones and MLA Jordan Sturdy — who did not attend the protest — were.
"We should all be listening," Elliott said. "Part of a politician's job is to elevate the voices that are not being heard. Now it is your voices that need to be heard, and they need to be heard here and in Victoria and in Ottawa."
Elliott told the students to keep pushing politicians and to ask for facts and plans.
"If they don't have them, demand them," Elliott said. Although most of the protestors are too young to vote in the upcoming 2019 federal election, the mayor told them they can still have their voices heard at events such as this, and by speaking with people who are old enough to vote.
Organizers Annie Malpass and Trina Fearon, Grade 11 Howe Sound Secondary students, said they weren't sure what to expect for turnout to the event.
"This is crazy to know this many like-minded teenagers have the same passion," Malpass said.
"It's a small town, so we really didn't expect much, but I'm actually a little overwhelmed," Fearon added.
When asked what they hope people will take away from their protest, Malpass said, "We care, and there are teenagers who are not just going to sit around while our planet's being destroyed."
"If we can do it," Fearon said, "then the fully grown adults in charge should be able to do it as well."
When the students marched, most stuck to the sidewalks, but a small cohort marched on the street, briefly blocking traffic on Cleveland Avenue.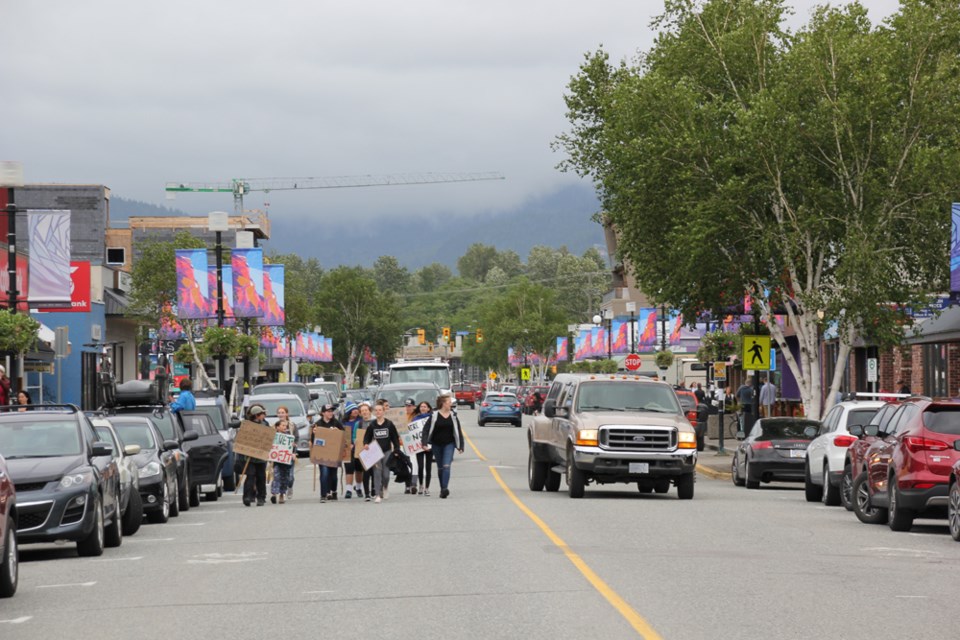 Squamish's Darleen Bowman came across the youth while she was driving downtown and said while she supported the students' right to protest, the gathering seemed unsafe at times. Some of the youth were walking on the road and at one point, a vehicle had to swerve around them, she said.
It is a safety concern more than anything, she said, though she also wondered if all the students' parents knew they were off school in the middle of the day.
"It is a wonderful thing, but a stupid thing at the same time," she said, adding that she contacted RCMP. Bowman said she hopes the youth will be more aware of vehicles in the future.
Squamish RCMP told The Chief the detachment did receive one call of concern about safety.
"The complainant believed the students were walking into traffic and not taking any safety precautions in traffic. They were concerned they were going to get hit by a vehicle," said Cpl. Sascha Banks. "Members attended and found everything to be safe."
Back at the pavilion, the protestors listed the demands they have for each level of government, and suggestions for what people could do individually.
This strike comes a week after around a dozen students from Sea to Sky Learning Connections joined the #FridaysforFuture movement by protesting outside the District of Squamish Municipal Hall on May 17.
- With a file from Jennifer Thuncher
*Please note, this story has been updated since it was first posted to include comment from the Squamish RCMP.