The Squamish-area mountain range has captured the attention of prospective developers for decades. Now, a new application proposes a wilderness lodge at the top of Brohm Ridge, near man-made Natasha Lake.
Don Worthington has owned a private cabin on Brohm Ridge since the 1970s, and has made similar applications to provide remote accommodations in the area before. Now, he's proposed a new three-storey lodge, which would house up to 18 clients and four staff within the proposed Garibaldi At Squamish resort area.
"I've always wanted to have some kind of a lodge, a sanctuary," Worthington, a North Vancouver resident, told The Chief.
Barrens Expeditions, Worthington's company, has submitted three applications to the government. One is requesting a tenure agreement for a 45-year Intensive Use term to develop and operate a wilderness lodge on Crown land. The second is a permit to use the untenured road that continues past the Brohm Ridge Forest Service Road. A third application, for the right to use the water from Natasha Lake, has been backlogged, Don Van Der Horst, Worthington's consultant for the project, said.
A five-year License of Occupation would also be needed during the construction of the lodge and services. The application states Barren Expeditions would not provide guided recreational activities on land outside of the lodge.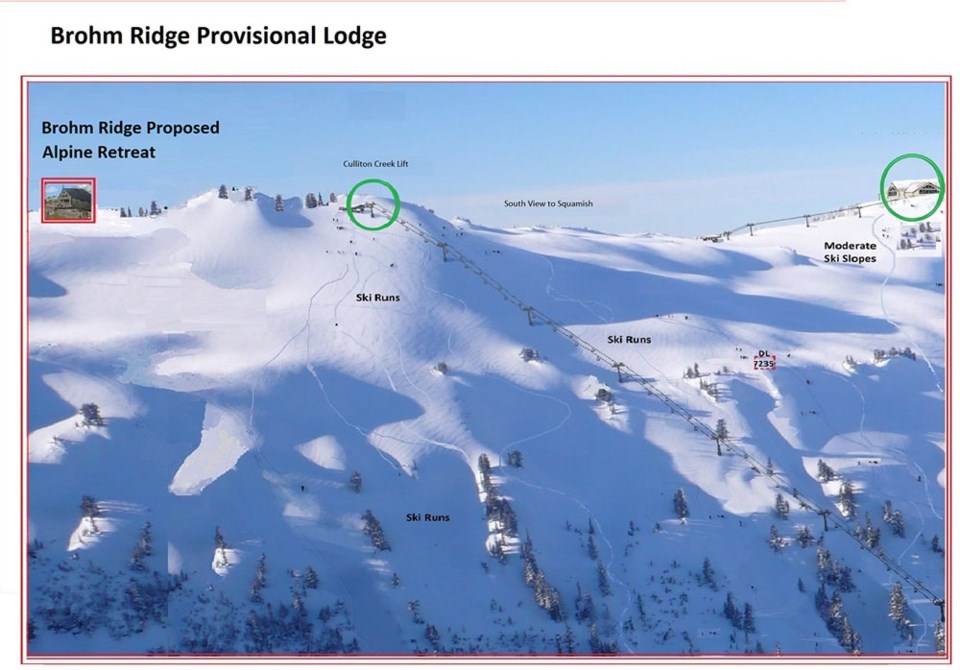 Since 1977, Worthington has taken care of and then owned the cabin on Brohm Ridge, which sits approximately 1.1 kilometres from the site of his latest proposal. Originally built in the '60s for a ski resort development that never came to be, in 1984 Worthington proposed to redevelop his cabin as a get-away venture. At the time, the province denied the application. Barrens Expeditions' application states the province found the 1984 proposal "was 'not feasible at this time', given the potential for conflict and impact to the proposed Garibaldi project."
This time, Worthington's proposed lodge is farther from the proposed GAS ski runs. The government told Worthington to speak with Garibaldi At Squamish, so he said he showed them the applications for the new lodge before submitting it.
"After some consideration, Don felt a wilderness lodge site for commercial purposes would be much better suited in the site he's applied for. It has a number of other attributes in terms of its location, its views, recreational activities that can go from it," Van Der Horst said.
Rod MacLeod, GAS's vice president of planning, told The Chief the developers have no issue with the proposal at this point. "We will be writing a letter in response to the application, and it will talk about we are not opposing the project, the way it's proposed. Both Don's proposal and our proposal have a lot of hurdles to get through before they become approved. If both of ours are approved, then we would sit down with Don and negotiate an agreement on how to operate together.
"Lots of resorts throughout Europe have similar privately-owned lodges on their area. It works very well, and is an advantage in fact. Lots of people would rather stay in a lodge like that than in a hotel in a village. There are lots of advantages to both of us if it goes ahead. The concerns that we will talk about is safety of both the guests up there and mountain staff that are working at night, for instance."
The Garibaldi at Squamish resort, MacLeod said, will have a controlled recreation area boundary, which would include access to Worthington's lodge.
"You can't have people accessing a lodge in the middle of a ski area by a private snowmobile without some kind of controls or agreements or a protocol. Most likely their guests would arrive by the lift, by the gondola," he said.
As for the current cabin, Worthington has 13 years left on a 15-year Crown lease. He doesn't know yet what he will do with it. MacLeod said the current cabin is essentially in the middle of some of the resort's proposed ski runs, and the forest service road would also be a ski run or access for maintenance vehicles like snowcats.
"It's a gorgeous spot, but if we are an operating year-round resort, we'll have to have discussions about that," MacLeod said of the '60s cabin.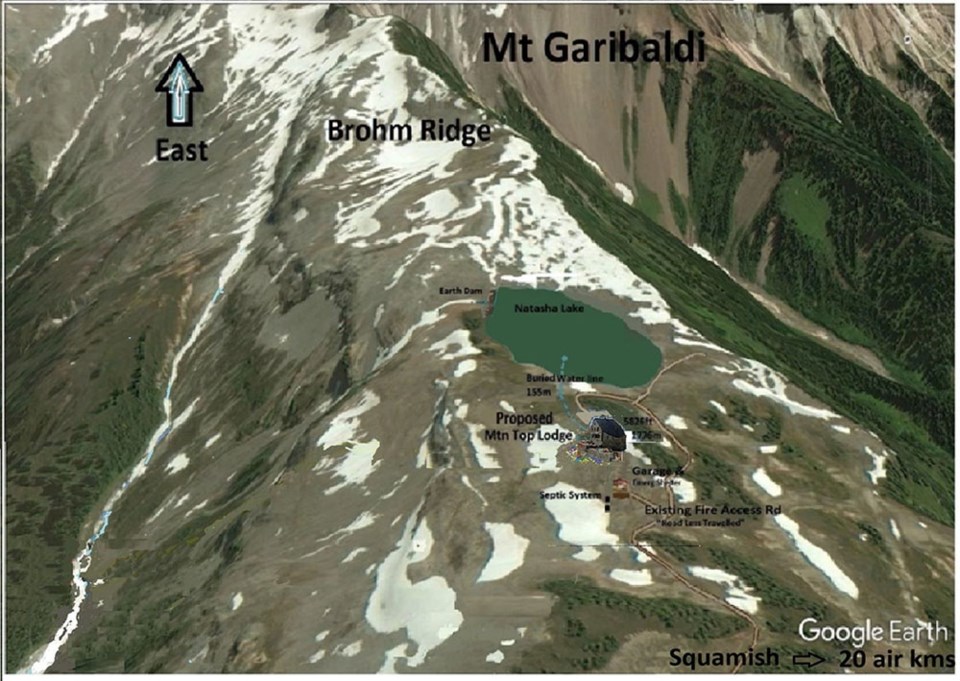 Van Der Horst said Barrens Expeditions is trying to be mutually supportive with GAS.
"Don's got a site that is not right in the centre of the resort. He's got it off to the side, so even if that resort were to go ahead, it's not going to negatively impact what his original goal was. We can still create that, have that entity, but you can benefit from the resort," Van Der Horst said.
"The other thing for some people is just to get into the mountains. They're not people who want to go on a two-week hike and go camping, they're looking at amenities that can provide really nice amenities, accommodation, meals."
Worthington added that he'd like to cater to people with disabilities who may not otherwise be able to access remote mountain lodging.
The Black Tusk Snowmobiling Club also has a License of Operation for existing facilities on Brohm Ridge, and its members snowmobile there during the winter. The group's five-year tenure expires this year on July 31. Worthington said he is a member of the snowmobile club, and has been in discussions with the organization about his proposed lodge.
Tony Cailes, the president of the Black Tusk Snowmobile Club said he could not speak on behalf of the board without consulting them first.
"My personal opinion, as a [resident] of Squamish and a snowmobiler coming up on Brohm, I endorse his proposal. The fact that he needs the snowmobile club to be a part of it makes it beneficial for everybody in Squamish," Cailes said.
The public comment period for the Barrens Expeditions proposal is open until April 15. Van Der Horst said they hope to have the review process complete this summer.