For years, the low start to Lesson 6 has been a testing ground for climbers around the world who wanted to try ascending one of Squamish's last unclimbed bouldering routes.
As of recently, that may have changed.
It has been discovered that this line has been chipped, presumably by a climber who wanted to carve out handholds that would make it easier to top out. It's unclear if this person was able to attain the coveted first ascent.
The response has been sharp. Many feel this is akin to cheating to climb a world-class bouldering route for the first time – and then forcing everyone who climbs that line afterwards to cheat as well.
As of now, no one will ever know if it's possible to ascend the low start to Lesson 6 without man-made alterations.
"The person that did that... they stole that from everyone else that's been trying it," Thomasina Pidgeon told The Chief.
Pidgeon, who's part of the board of directors for the Grand Wall Bouldering Cooperative, was one of the main voices who drew attention to the incident on social media.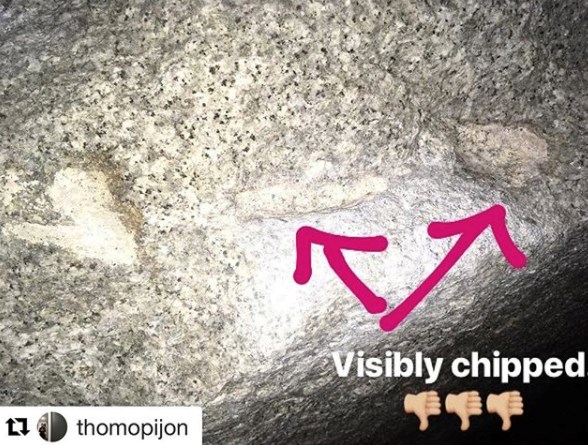 This occurrence also represents the first documented case of boulder chipping in Squamish. Boulder chipping has occurred in other locations, but this area has been free of such cases until this point.
Around the same time, in a separate incident, handholds on two popular boulder problems – climber slang for routes – were blackened by the heat of a blowtorch in order to dry the wet rock.
It's reigniting an intense discussion in the local climbing community about whether routes should be altered in order to make them easier to ascend, while also prompting an answer from the province.
The response appears to be a resounding 'no.'
With respect to chipping boulders, the Squamish Access Society, which maintains the climbing routes in town, condemned the incident.
"While there are examples of historic hold manufacturing in the boulders... the modern consensus is that this is not an acceptable practice," reads a statement issued by the society on Nov. 16.
"There is some grey area when cleaning loose rock during a first ascent, but carving holds in solid granite in order to reduce the difficulty of a climb is clearly outside of that grey area."
Following inquiries from The Chief, the province has also begun its own response.
"BC Parks was not aware of this issue, however, we are looking into the matter," reads an emailed statement issued to The Chief by the Ministry of Environment.
There have been no reported issues related to the chipping incident, nor have there been previous reports of the occurence, the message reads.
"We do not support chipping," reads the statement. "We support climbing as per the Rock Climbing Strategy and the Best Practices Guide found on the Stawamus webpage."
The guide strongly discourages chipping and gluing. Using chemicals to clean the rocks is forbidden, it says.
Furthermore, park regulations state that unless authorized by an officer, people "must not damage or destroy any natural resource or property in a park, conservancy or recreation area."
The penalty would be a $288 violation ticket.
But aside from it being an fineable offense, boulder chipping has profound implications for the sport of climbing.
The low start to Lesson 6 was one of Squamish's standout routes.
"It's like pushing the boundary of climbing," Pidgeon said. "It's one of Squamish's last hard boulders, and now it's been altered so it's like we're never going to know if that was possible, even though we think it was."
Some of the world's best climbers have tried the problem but haven't made the first ascent, she said.
It's been estimated to be a V15 problem. For context, boulder route difficulty ratings range from V0 to V17, with the latter being the hardest climb.
"That could've been the only V15 [in Squamish], you know?" said Pidgeon.
"It's tarnished. It has a scar on it. They took the beauty away from it."
She said the perpetrator was likely a person climbing at a very high level, which narrows down the number of suspects considerably.
There is still no word on who may have done the damage.
Pidgeon called attention to the incident after her friend, California climber Randy Puro, made a trip up to Squamish to give the problem a try during the unusually sunny spell in October.
She said Puro noticed the route felt different, and realized it had been altered.
It's especially disappointing, given that Puro has been trying the problem on-and-off for the last 15 years, Pidgeon noted.
There's been speculation that another problem may have been altered, but that has yet to be confirmed.
Then came the separate case of blowtorching boulders.
Keith Chan and his friend were in the Grand Wall forest when they stumbled upon a group of people surrounding a route called Tim's Sloper Problem.
"There was this fire," said Chan, who's been a regular climber in Grand Wall for over two years.
"We went up to it and then realized that there was actually three people, torching – putting a flame near the climbing hold – just to dry it off."
This occurred over the Remembrance Day weekend, where a period of sun had settled in just after extensive rainfall.
Blowtorching holds dry was previously done by climbers, but the practice was quickly abandoned once it was realized that it could weaken the rock.
Superheating the holds – especially during colder seasons – can cause one portion of the rock to expand, leaving it susceptible to cracking and breaking off.
In some cases, if climbing chalk is on the hold, the heat could fuse the powder into the rock and make the surface too smooth to grip.
Chan said his friend called out the group.
In response, they stopped and said they were unaware that it could damage the rock.
By then, however, some handholds on the route had been scorched charcoal black.
Chan also discovered torch marks on another popular problem called Titanic. It's unclear if the burns were caused by the same group he saw at Tim's Sloper Problem.
However, at least in these blowtorching cases, it appears as if the damage wasn't lasting.
Chan took it upon himself to return to Tim's Sloper Problem and Titanic with a brush and bucket of water.
He scrubbed the burn marks off the routes.
"We got lucky that not much damage was done, and I just hope that people just get educated from this, learn from their mistakes, and hopefully it never happens in Squamish ever again," said Chan.
"I think the most important thing is that people need to be educated."