Even with the race season trimmed to five — and later, down to three — events because of the COVID-19 pandemic, Squamish's Enduro World Series racers had plenty to chew on when the campaign wrapped in late September.
Up-and-comer Rhys Verner, 23, had some strong results and that consistency landed him in 10th in the global rankings heading into 2021.
At Pietra Ligure, Verner finished a career-best 11th, including taking a victory in the Queen Stage, which gives the winner a 50-point boost in the overall standings. Verner said he enjoys the lengthier stages, noting that it was a fast course as well.
"It was the longest stage of the day and to win that was kind of a surprise but I'm super happy with that," he said. "I was happy with the whole day. After I won that stage, I was a bit conservative on the remaining stages and held back a bit.
"At the time of the stage win, I was in fifth and I definitely didn't want to blow what would be my best result."
The first two races came in wild conditions, with snow in a shortened Zermatt event and rain in Pietra, which provided additional challenges.
"It was kind of a guessing game. I don't really like racing in conditions like that. I was definitely a bit nervous," he said. "In Pietra … none of us had ever ridden there in anything but the dust.
"You had to figure out where you could push and where you had to take it chill. The rocks were really slippery but the dirt was really good."
Heading into next season, Verner feels ready to take another step forward, especially after having graduated university, leaving him more time to train.
"I definitely bring a lot of confidence with that stage win," he said. "It's knowing I can get there and shoot for top-10s next year."
The atmosphere of travelling and being overseas during a global health crisis was "definitely weird," Verner said. Among the changes were that there were no spectators in attendance, and even course maps were locked down and limited to riders.
During the downtime of three weeks between the first and second races, riders stayed in Switzerland, heading to Verbier for its bike park. The one excursion Verner took was to see the Leaning Tower of Pisa, roughly a three-hour drive from the Ligure area.
Aside from that trip, "we were focused on riding and not putting ourselves out there more than we needed to."
Andréane Lanthier Nadeau, meanwhile, suffered an injury leading up to the first race at Zermatt, Switzerland — not ideal at the best of times, but with added worry during the pandemic.
Lanthier Nadeau was able to get herself to a private local clinic for six stitches in her elbow and three in her hip.
"I was in and I was stitched up in an hour. It was very smooth," she said. "For sure, I didn't want to get injured. That was my worst-case scenario. But that ended up being super easy."
Lanthier Nadeau recovered physically for the final two Italian races at Pietra Ligure and Finale Ligure. However, two pro women's riders on the circuit tested positive in advance of Pietra, leaving the even-keeled Lanthier Nadeau shaken up.
"That made me stress out really, really bad. I was super anxious and I was this close to wanting to leave and come back home," she said. "During that race, I was not focused at all."
Still, despite not riding to her standards, Lanthier Nadeau placed sixth and was the top non-French rider.
A week later, on Sept. 27, she was much happier with her performance as she earned another sixth-place finish as she placed sixth overall in the global rankings.
"By then, I had been healthy for 14 days so I was relaxed … I was applying a lot of coping strategies to manage my anxiety," she said, noting that one mistake in Stage 2 was the culprit that increased her time. "I was riding much faster, but I ended up in sixth again."
Heading into next season, Lanthier Nadeau hopes that 2021 will resemble a typical year, but will prepare for another topsy-turvy experience to perform the way she knows she can.
"I will be working on how to manage this, assessing what I can do to feel better when I travel and monitor the situation," she said. "At the end of the day, it's in your power to control your exposure but it's just tiring mentally to constantly control your exposure."
Miranda Miller, meanwhile, was "a little weirded out" at the start, but was more confident as she saw Canadians tended to keep to themselves more than some others and kept her bubble to Canucks. As well, it was generally easy to maintain distance.
"We weren't really in any big cities. You had your spacing out," she said. "You'd do your training for the day and then go home."
When the positive tests were announced, Miller said while it was "frustrating" to see, she was confident that she'd kept her bubble small enough to avoid being compromised.
On the course, Miller's results weren't where she wanted them to be, sneaking into the top 10 in Zermatt before taking finishes of 20th and 15th. Miller finished the season ranked 20th globally.
 "It definitely wasn't my best racing," she said. "I felt pretty good energy-wise. I didn't feel as snappy as I did during Crankworx [Summer Series]. The whole three weeks of Crankworx to five days off to three EWS [races] could have been part of that. It was a whole lot in a short amount of time."
However, she noted she was breaking in a new bike on some unfamiliar terrain.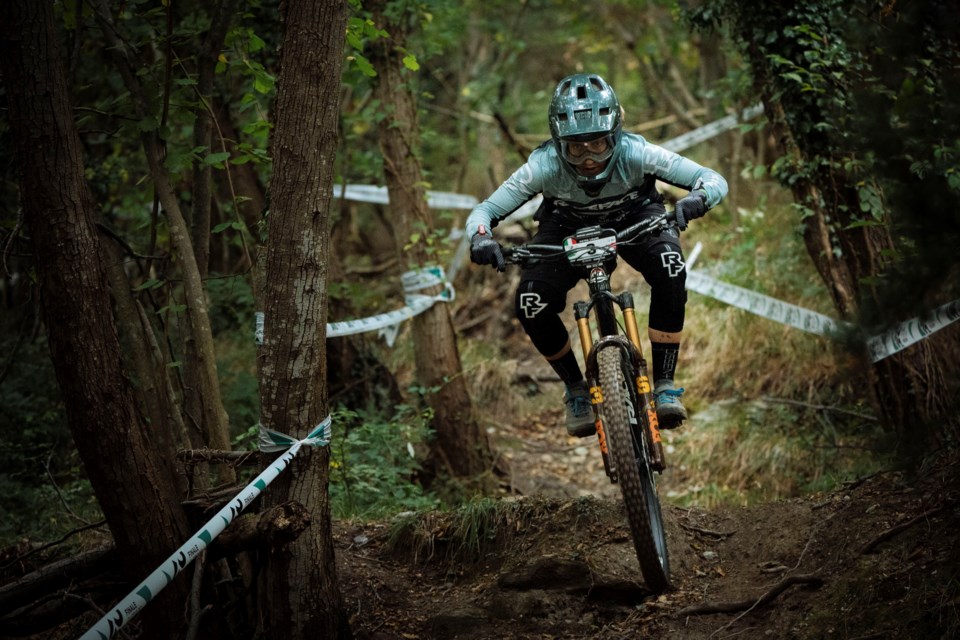 "It's a different bike from what I've raced in the past. The angles are far more aggressive and it changes your body positioning.
"The suspension setup is all different. It's a lot to learn in a relatively short period of time."
After her quarantine is up, Miller plans to take her new bike out onto familiar trails where it'll be easier to get a feel for it.
"When you go to these places in Europe, a lot of them are hiking paths … Even the top people don't really feel good on them," she said. "It makes your biking harder when you don't have that familiar terrain and the positive reinforcement to know that you're riding it correctly."
Despite the challenges, all three riders were grateful for the opportunity to ply their trade, thanking the series and their respective teams (Rocky Mountain Race Face for Lanthier Nadeau and Kona Factory Racing for Verner and Miller) for making them feel safe and cared for while competing.
"We're all racers, so to be given the chance to do what we trained for was really cool," Lanthier Nadeau said.